Westgate Lakes Treasure Cove Water Park
Discover the ultimate water fun at the Westgate Lakes Treasure Cove Water Park. Families can't get enough of the thrilling adventures that await them. Immerse yourself in a water park wonderland while staying on the resort grounds. Prepare for an unforgettable experience as you step into the fun at Treasure Cove Water Park, with many attractions you might find at larger parks.
Jump to Treasure Cove Water Park Sections:
Start with a journey along the lazy river, effortlessly gliding through the water park's enchanting surroundings. Nestled beside the Lazy River, the wave pool calls you with its gentle slopes, creating a safe haven for little ones while the older kids and adults dive into the waves and deeper waters. And let's not forget the heart-pounding thrills provided by the two towering twisting water slides nearby. In addition, a kid's splash area awaits the younger crowd, providing lasting enjoyment.
Treasure Cove Water Park Information:
Water Park Hours (Guests & Owners): Open from 10 am until 7 pm (Subject to change)
Large Water Slides: Two (2) long twisting water slides from a 30-foot tower are located beside the wave pool for adults and older kids.
Kids Smaller Water Slides: Three (3) smaller water slides at the Little Parrots Splash Zone
Lazy River: Step into the 575-foot Castaway Creek Lazy River and float around the park, avoiding or enjoying the multiple water splash features along the way. Small dumping water buckets and multiple sprinklers in the lazy river path are a fun way to stay cool.
Little Parrots Splash Park: Little ones love playing in the water, and the kid's splash zone is a perfect place for them to enjoy. Climbing, exploring the water features, and sliding down the 3 smaller water slides start the fun, but watch out for the large dumping water bucket. You will get soaked if you are anywhere near the splash area when it drops hundreds of gallons below.
Zero Entry: Zero entry access to the water makes for a more safe place for little ones. The wave pool has a zero-entry opening where kids can safely enjoy the splashing waters.
Wave Pool: The wave pool is quite an impressive find in a Resort. Holding over 41,000 gallons of water, enjoy the bobbing of the water in the deeper section or the waves as they roll into shore.
Hot Tub: There are no hot tubs at the Treasure Cove Water Park, but you will find hot tubs at the pools around the Westgate Lakes Resort.
Towels: Towels are provided at the entrance to the water park
Notice: Water Park Hours can change without notice. Always check the daily schedule at the Westgate Lakes for any updated hours to the water park.
Admission: Owners have complimentary access to the Treasure Cove Water Park. Other Westgate Property Owners (outside of Westgate Lakes) get a discount to the water park. For guests staying at Westgate Lakes, there is a fee for each person wanting to enter Treasure Cove Water Park. Please check with the Front Desk when booking for additional fees.
Cabanas: For some additional pampering, reserve one of the cabanas around the water park. Cabanas offer great amenities like a refrigerator, TV, safe, lawn chairs, and a sofa. You also get a server to handle any food and beverage orders. Cabanas are an additional fee and limited, so book yours as soon as possible.
Bathrooms: Bathrooms are conveniently located near the large water slides at Treasure Cove Water Park.
Lifeguards: Lifeguards are on duty to keep an eye on your kids as they are splashing and playing around the Treasure Cove Water Park.
Dining Options: No need to leave the water park when you get hungry. Walk across one of the bridges, over the lazy river to the Tiki Bar to get your favorite adult beverages, burgers, hot dogs, and great sandwiches.
Getting in the Water Park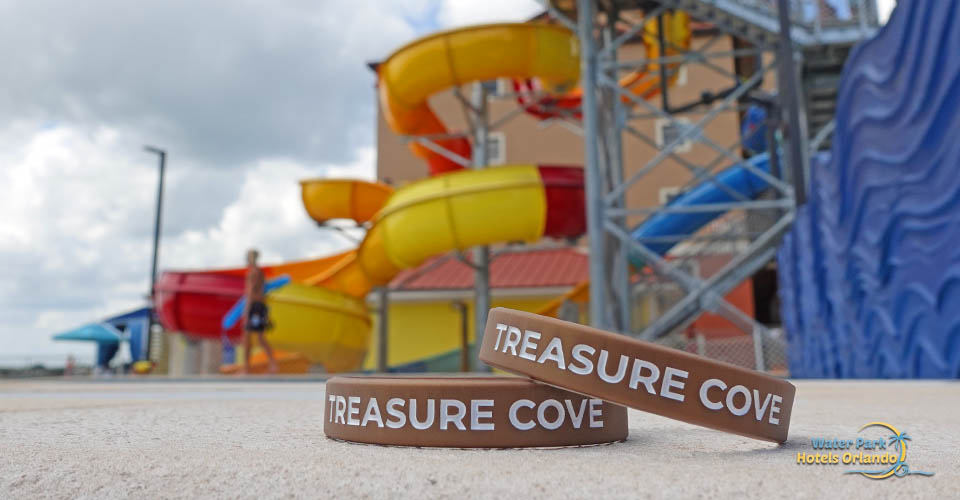 It's important to note that Treasure Cove Water Park requires a separate admission fee for guests at the Westgate Lakes Resort (Owners have complimentary access). Once you have purchased your ticket, you are given rubber wristbands granting you access to the water park fun. So, why not capture the opportunity to add an extra dose of excitement to your stay? Dive into the Westgate Lakes Treasure Cove Water Park, making your family vacation extraordinary.
The Treasure Cove Water Park has two (2) entrances. The main entrance can be accessed by walking through the Citrus Breeze Pool. The other entrance is on the back side of the water park as you walk down the parking area behind the 30-foot tall water slides.
---
Water Slides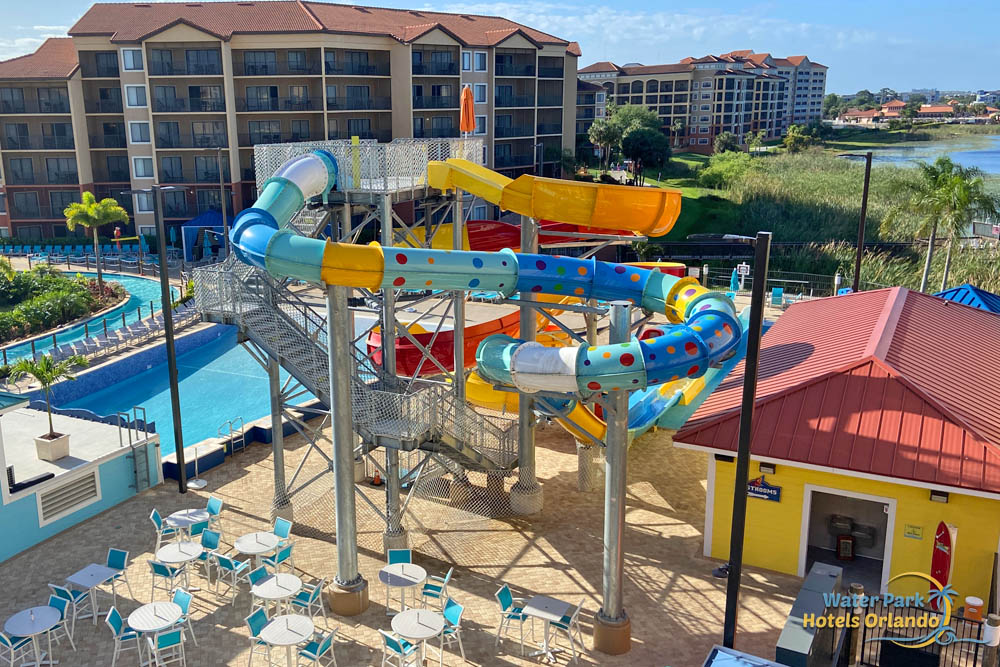 Prepare for an adventure at the Treasure Cove Water Park, where excitement awaits with two water slides atop a towering 30-foot structure. Ascending to the top of the tower provides anticipation. It rewards you with panoramic views of the entire water park, the sprawling resort grounds, and the expanse of Big Sand Lake. As you reach the top landing, a lifeguard guides you to your chosen slide, building up the tension for the exciting plunge that awaits. With two sensational water slides to choose from, the Dolphin Drop and Pirates Plunge, you're faced with an epic decision.
Pirates Plunge
Length: Approximately 240 Feet long
Height Restrictions: Must be 40″ or taller
The Pirates Plunge is the perfect choice if you're looking for a water slide with twists and turns. This water slide is approximately 240 feet long and is red, orange, and yellow. It provides a more moderate and winding ride, allowing you to enjoy a thrilling experience while maintaining a slightly slower pace than other slides.
It's a great option for those seeking excitement and a more relaxed water slide experience. If you have been to the Shipwreck Island Water Park in Westgate Town Center, you might be surprised that they also have a water slide named "The Pirates Plunge." Trust me when I tell you, they are very different from one another.
Dolphin Drop

Length: Approximately 165 Feet long
Height Restrictions: Must be 40″ or taller
If you're up for an adventure fit for a swashbuckler, the Dolphin Drop is your ultimate challenge. Prepare for a more intense experience as you start in an enclosed tube, not knowing where the twists and turns will take you. Colorful lights distract you as you pass through the polka-dot section of the slide before the final event.
You will take a steep drop to the splash zone at the end of the ride. Even though the Dolphin Drop is shorter (about 165 feet) than the Pirate's Plunge, it was still our favorite of Treasure Cove Water Park's two large water slides.
---
Little Parrots Splash Zone
Water Slides: Approximately Four (4) Kids Water Slides
Interactive: Bubbling Fountains, Sprinklers and a Large Dumping Water Bucket
Safety: Soft Rubber Pad for walking on. Lifeguards present to keep the little ones safe.
Parents: Seating with Lounge Chairs are provided under a shady zone as well as seating around the perimeter to watch your kids while they are playing.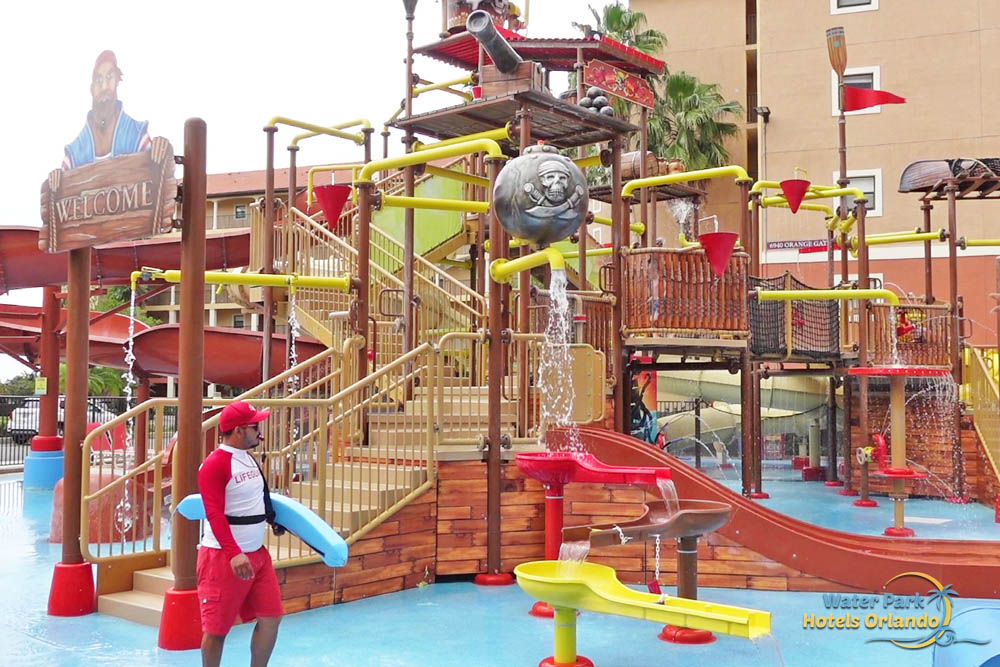 As you get closer to the Treasure Cove Water Park, the excitement builds. First, a large mixture of sounds can be heard, from water sprinklers, splashing water, and laughter from the kids playing.
Then, a sudden loud downpour of water commences, and squeals of excitement are heard through the park as the large bucket, full of hundreds of gallons of water, tips and soaks everyone below. Fun is never ending, at least until the park closes, at the Little Parrots Splash Zone at Treasure Cove Water Park.
Kids-sized Water Slides
The Little Parrots Splash Zone offers four (4) fun water slides designed for younger children who cannot ride the larger slides at the 30-foot tower. The Red Slide takes kids through thrilling turns in a figure-eight shape. The enclosed Yellow and Tan slides provide surprises along the way. There's also a two-lane slide for kids to enjoy together. These smaller slides have individual splash zones, making them safer for everyone. It's a fun and safe water play experience for smaller children.
Seating for the Parents
In addition to the exciting water slides, multiple comfortable seating areas are provided for the parents. These seating areas are strategically positioned near the action, allowing grown-ups to relax and watch their little ones closely. Shaded and comfortable spaces enable parents to relax and keep an eye on their children having a great time. With convenient seating options, the kids' splash zone ensures that children and adults can have a fantastic and enjoyable experience at the water park.
---
Castaway Creek Lazy River
Length: 575-Feet in Length
Entrances: There are two (2) Entrance/Exit points
Inner Tubes:
Safety: Lifeguards are stationed at multiple points around the lazy river
Depth: The Castaway Creek Lazy River is 3 Feet Deep
Interactive Elements: Multiple small dumping water buckets, sprinklers and raining fountains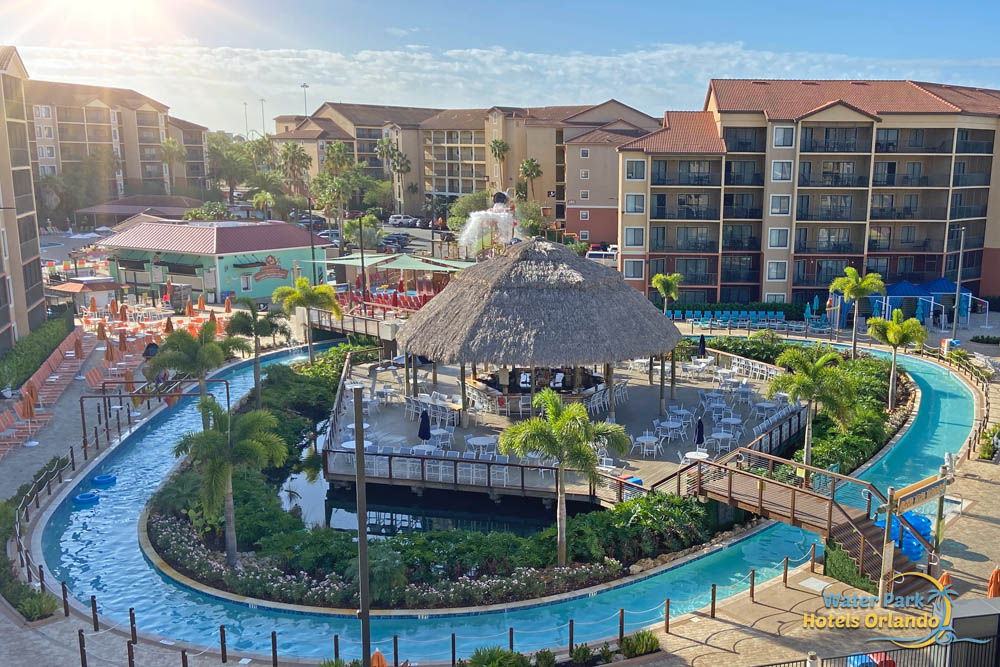 Enjoy the relaxing and leisurely experience of the Castaway Creek Lazy River, one of the prominent attractions at Treasure Cove Water Park. This 575-foot peaceful waterway is an ideal escape for those seeking a more laid-back adventure. Stretching throughout the water park, the Castaway Creek Lazy River lets you unwind as you float gently along the three-foot-deep tranquil currents.
With its scenic surroundings and gentle flow, the lazy river offers a soothing and refreshing retreat from the bustling water park activities.
Grab a Tube, and Enjoy the Scenery
Grab an inner tube provided at the water park and enter the Castaway Creek Lazy River at one of the two (2) entry points. Unfortunately, this lazy river has no zero-entry location, but there are two entry points with steps leading into the flowing water. As you drift along the winding route, you will enjoy the beautiful landscape, including lush tropical foliage and vibrant water features. However, there are many fun water features as well. Watch out for the dumping buckets above, large raining sprinklers, and other interactive items to keep you cool on your floating journey.
The lazy river is suitable for all ages, making it a popular attraction for families. Children can comfortably float alongside their parents or siblings, creating precious moments of togetherness and relaxation. The gentle current of the lazy river ensures a safe and enjoyable experience for everyone.
---
Buccaneer Bay Wave Pool
Length: 258-Feet Long
Depth: Zero entry to 4 Feet
Inner Tubes: Tubes are not allowed in the Wave Pool
Safety: Lifeguards are located around the Pool for Safety
Wave Action: Intesity is higher in the deep end and small waves lap up on the zero entry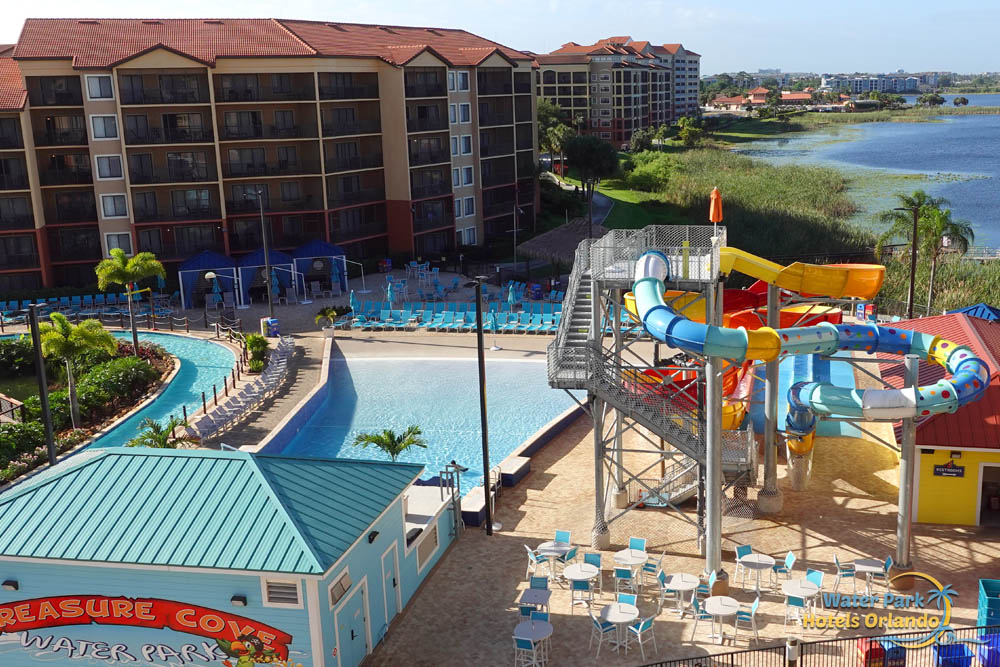 Experience the Buccaneer Bay Wave Pool, a thrilling attraction within the Treasure Cove Water Park at Westgate Lakes Resort. This expansive pool replicates the dynamic rhythm of ocean waves, creating an exciting and engaging environment.
With its 41,540-gallon capacity and stretching 258 feet, the Buccaneer Bay Wave Pool offers an exhilarating adventure. As the waves surge through the pool, you'll feel the rush of an ocean-like experience. Whether you choose to bob up and down with the action of the waves, leap over them, or float along, the wave pool provides endless fun and excitement.
Intesity of the Waves
As the waves approach the final shore destination, their power becomes relatively mild. Smaller waves create a better environment for smaller children who can enjoy sitting in the zero-entry section of the wave pool, feeling the gentle waves flow over them. For older kids and adults seeking a more exhilarating experience, the pool's deepest area is the most turbulent, causing intense bobbing and providing endless fun.
Safety is important, and having Lifeguards stationed around the wave pool area ensures the safety of all visitors.
---
Cabanas for an Extra Special Day
Elevate your experience at Treasure Cove Water Park by renting a cabana, and make your day even more enjoyable. While there is an additional cost per day for cabana rentals, the benefits of having a reserved covered spot with added amenities are well worth it. Discover the array of amenities provided when you opt for a cabana:
Exclusive Cabana Amenities:

Refreshing Fan
Entertainment with a Flat Screen TV
Convenient Refrigerator
Secure Lock Box
Comfortable Sofa and Lawn Chairs
Complimentary Towels
Personal Server to cater to your food and beverage needs
Prioritized Reservations can be made in advance at the Water Park Admissions desk
Renting a cabana provides you with a private sanctuary amidst the lively atmosphere of the water park. Relax in style, enjoy personalized service, and have a dedicated space to unwind and rejuvenate. To secure your cabana and ensure a seamless experience, make your reservations in advance at the Water Park Admissions desk.
---
Food, Dining, and Drinks
At Treasure Cove Water Park, you'll find various dining options to fuel your fun-filled adventures and refresh you throughout your stay. Discover the delightful culinary offerings available at each location:
Buccaneer Galley Snack Bar
The Buccaneer Galley Snack Bar is the perfect spot to grab a quick and satisfying bite while enjoying the water park. Open from 11 AM until 5 PM, this snack bar offers a range of delectable snacks and light meals to energize you throughout the day.
Highlights from the menu include classic favorites like a Turkey Wrap, Captain Cook's Nachos, Burgers, Hot Dogs, Ice Cream, and Hawaiian Shaved Ice. Satisfy your hunger and thirst with these convenient options, ensuring you can refuel without missing a moment of excitement at Treasure Cove Water Park.
Rikki Tiki Tavern
For a more adult experience, head to Rikki Tiki Tavern in the center of the water park. Walk across one of the raised bridges, over the lazy river, to this vibrant tropical-themed bar. The Rikki Tiki Tavern is open from 11 AM to 5 PM and offers the same menu as the Buccaneer Galley.
Pair your meal with a refreshing beverage from their extensive selection from the Rikki Tiki Bar. Sip on a chilled soda, savor a revitalizing fruit smoothie, or enjoy a tropical mocktail, perfectly complementing your water park adventures.
With the Buccaneer Galley Snack Bar and Rikki Tiki Tavern, you have options to suit your dining preferences at Treasure Cove Water Park.
Whether you want a quick snack or a relaxed place to sit and enjoy your meal with tropical vibes, the dining options at Treasure Cove Water Park at Westgate Lakes Resort ensure you can satisfy your cravings and stay refreshed during your visit.
Refillable Souvenir Cups
Enhance your thirst-quenching experience with a refillable souvenir cup. These specially designed cups allow unlimited daily refills at a much-reduced cost. These large cups also keep you refreshed as you enjoy the park's attractions. Refill your cup with a variety of refreshing drinks such as soda and iced tea, and other beverages at the Rikki Tiki Bar and the Buccaneer Galley Snack Bar.
Frequently Asked Questions: Westgate Lakes Treasure Cove Water Park
Is there a restaurant by the pool?
Yes! Stop by Buccaneer Gally Snack Bar for some great outdoor food. Choose from items like burgers, wraps, salads, and other sandwiches. There is also a kid's menu with smaller items that will taste great for a day at the park. Ice cream is also served and is a great treat later in the day.
---
What are the hours for the Treasure Cove Water Park?
The water park is open from 10 am until 7 pm each day as long as the weather permits.
---
How many water slides are at the water park?
There are 2 large water slides for big kids and adults located by the wave pool. Additional smaller water slides are perfect for the little ones at the kid's splash park.
---
Is there a Lazy River?
Yes, you will have access to a 575-foot lazy river that gently moves you around the park and has some interactive water sprinklers to keep you cool along the way.
---
Is the Treasue Cove Water Park free (included with my reservation)?
No, the water park is an additional fee per person, per day. Please check with the resort when booking, for the latest pricing on the water park.
RESERVATIONS
Westgate Lakes Resort & Spa