What to pack for Disney World 2022
At the start of any vacation, it is a good idea to know what to bring. Visiting Disney World might be one of the best trips you ever take with your family. In order to make things run as smoothly as possible, it is a good idea to know what to pack for Disney World 2022.
Scrambling at the Last Minute is not the best option
It might be easy to plan a trip to other locations without a tremendous amount of thought. A little preparation goes a long way when planning your vacation to Disney World. Where will you start? How does the Disney Genie work? What clothes should you pack? There are so many questions and we want to help you be prepared for this magical journey. So, let's get started.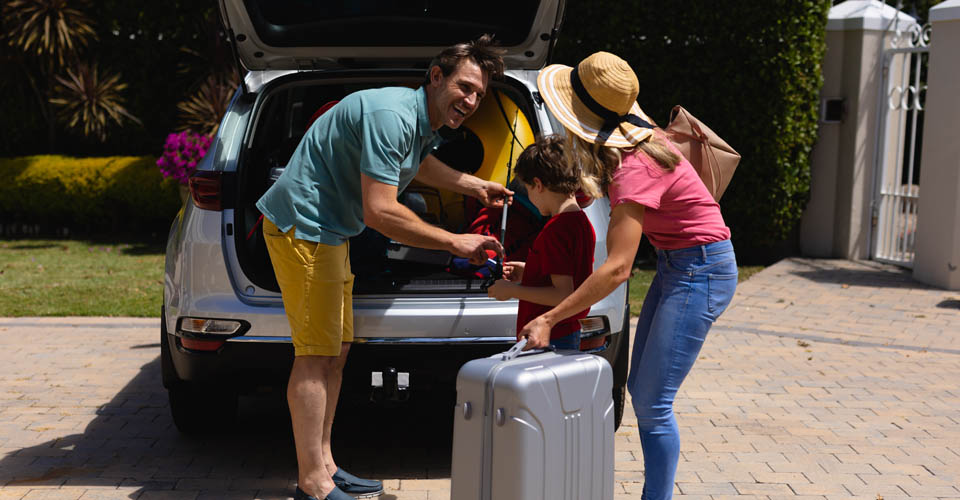 Magic Bands

This should be at the top of your list. In fact, put these in your suitcase first and then verify that you packed them. If you are staying at any of the Disney Resorts,

Value

,

Moderate

, or

Deluxe

, and have booked ahead of time, you can get your Magic Bands ready through your account and have them shipped to your home. It is an exciting day when you first get to open that Magic Band box when it comes through the mail. Whatever you do, don't forget to pack them when you head out for Disney World.

How to carry your stuff?

It is very important to consider the items you want to take with you to the park. If you are just a couple, enjoying your days and can make it around without much more than your magic band, that might be all you need. A fanny pack works pretty well if you are able to pack light in the parks. The wonderful thing about the Disney rides is, you can carry a small backpack along with your as you ride. Disney is not like some of the other parks where you have to use a locker (free or an extra charge). Having this option to carry your bag with you makes the ride experience very convenient.

If you are a family and you have kids to take care of throughout the day, having extra storage space is a necessity. Babies require their own special food, formulas, and other toys and fun items. Toddlers might have their own special needs as well. Having a bag also comes in handy if you are wearing your clothes in layers. A place to take place jackets as you go through the day can be very helpful.

Try not to overdo it when packing a backpack, shoulder pack, or any other carry bag. Remember, the more you put in the bag, the more weight you have to deal with throughout the day. Walking 10+ miles in a day can really add up with the extra weight.

Stay Hydrated

Having enough water is important when you go to Disney World in 2022 (or any time really). Orlando Florida tends to be pretty warm all year round. In the summer it gets downright hot. Water is essential and having some water packed for the day is a good idea. Water bottles are a good option but you can also bring your favorite thermal cup or mug with cold water as well. If you didn't bring water with you, a tip in the park is, you can go to just about any food location in Disney World and ask for a cup of water. The Cast member will provide this to you for free. It will be tap water but it will keep you hydrated through your day.

Keep Cool

Cooling towels are fantastic. They are designed to get rid of the heat and keep you cool even on the hottest days. They are simple to use as well, just soak them in a little water, get rid of the excess, and then put them over your head, around your neck, and bye-bye heat. A great way to weather the hot conditions anywhere you go but these are a wonderful addition to your Disney World Trip in 2022.

Capture the memories

What would a trip to Disney be without bringing a way to capture all of those memories? Almost everyone has a high-end cell phone with a great camera nowadays. Many of the shots you want can easily be taken with this type of camera and it will do well. Video is also a great way to get in some action shots and have some sound added in. Of course, if you want some additional shots, bringing a more professional camera with optical zoom can help you get the best photos.

Tip: Disney PhotoPass

Does it sound incredible to have your pictures taken for you? We have used the Disney PhotoPass and I have to say, for what it costs, it is well worth it. No matter where you are in the Disney Parks or anywhere a cast member is using a camera, the PhotoPass can be used to have the memory captured forever. Then, you can download your pictures from the PhotoPass site (for a limited time) and store your great vacation forever. Be sure to check this out when you book your magical adventure.

Will you have enough charge?

Batteries! Yes, the amount of battery power is always important on a trip where you will be using your device a lot. We know that "Capturing the memories" is an important part of going to Disney World. This is true for a couples getaway for a family trip. Since you will be snapping all of these pictures with your phone or camera, be sure you have enough battery power for each day. For your phone, it is always a good idea to keep an extra battery charging pack so you can charge your device any time it gets low. For a camera, bringing extra batteries along is a must.

Stay Dry

Going to Orlando is so much fun but don't forget where you are. It is a normal occurrence to have a storm blow through at any time across Florida. On hot days, it is a welcomed event but no matter what time of year you visit, it is best to be prepared for a little (or a lot) rain. Ponchos are a great option when it comes to staying dry. If you forget your rain gear, you can always pick up an umbrella or a Poncho in the park at one of the shops. The Resorts also keep raingear in their shops as well. It might be a little more expensive in the parks, but having a Disney branded umbrella or poncho is kind of fun.

Storage Bags

Once you take a ziplock storage bag in the park, you will never go without one again. Zipper locking backs are invaluable for so many reasons. But you might learn something on this one that you did not think of before. Sure, putting your extra snacks in a zipper bag is a great way to keep them from going stale and not falling into the bottom of your backpack. But, have you ever thought of using a quart ziplock bag to keep your phone safe? Many of the phones today can deal with some water but is it really worth damaging the device you use for everything in life? Probably not, so consider taking a couple of extra bags along, and when you go on one of the soaking water rides, just zip it up and place it back in your pocket. Another great thing is, most of these devices will still work inside the bag.

Reusable Straws

I bet you didn't think of this one! Yes, Disney has done away with standard plastic straws. Sure, this is great for the environment but have you tried drinking through a paper straw? It is just an odd feeling on your lips and tongue. You do get used to it but there is an alternative. If you get some reusable metal or silicone straws, you can wash them after use and pull them out when you need them.

Protect your skin

Your skin is very important and with the hot sun in Orlando Florida, protecting your skin from burns can make or break your vacation. Sunscreen, lip balm with sun protection, sunglasses, wide-brimmed hats. All of these items can help keep the sun from causing a burn on your skin. If you miss a spot, be sure to also have some topical aloe vera gel to help soothe the pain. Heeding these recommendations will give you a much better week and keep you comfortable as well.

Spray Bottle

Definitely something to consider and it will likely be cheaper to get before you go to the Disney Parks. A spray bottle with water is great, add a fan to the spray bottle and you have a portable air conditioner (well, not quite but it sure does help). Giving a little squirt to your kids is a welcome cool down as you walk around the parks. Your family will love you for being this prepared.

Keep Germs Away

As we have all learned, germs are everywhere. Not just in the past couple of years but they are always around you. Stashing away a bottle of hand sanitizer is always a wise decision. Using it before meals, after riding on rides, touching the walls and rails heading into the rides. Hand sanitizer is a must.

Wet Wipes

When you think of wet wipes, it might turn your thoughts into something you would need if you have a baby or toddler on the go with you. While this is true, wet wipes can be used for so much more. Wiping down surfaces and sanitizing where you will be sitting and eating is a great use for a wet wipe. Any time you need to wipe something down, a travel pack of wet wipes can save the day.

First Aid Kit

Scrapes, cuts and scratches happen. Disney World is probably one of the safest places for any age to visit but sometimes things just happen. Kids playing around and falling on the concrete or blacktop is possible. A first aid kit with some simple medical items can be a lifesaver for your trip. Bandaids, triple-antibiotic ointment, gauze are just a few items you might want to keep on hand for any emergency that might come up.

Medication

Rides are so much fun but different people react in different ways to rides. Have you ever been on a roller coaster that looked pretty tame but realized when you got off that it was a little more jarring than you imagined? Keeping some simple medication on hand is a good idea. Maybe a small bottle of ibuprofen, Tylenol, Tums and even some Pepto Bismol are all solutions to simple ailments.

Important Documents

Just a couple of things to consider that you will probably have anyway are necessary documents. Such as, your photo ID, and Insurance Cards. You never know when you might need to use something like this in an emergency.

Cash

Cash is nice to have in some circumstances. It may be needed less in today's world but having a little on hand is usually a good idea. Most of the hotels and resorts in Disney World have an ATM in the lobby but you will pay much heavier fees to get cash from easy access locations like these.

Another option that works really well in Disney World is binding your credit card to your Magic Band. This is nice because you can use your Magic Band for Disney purchases and not have to worry about carrying any other form of payment with you. Of course, if you get outside of Disney World, you will have to have another way to pay for things. If you go to the Publix Grocery Store down the street and try to swipe your Magic Band, you might get some funny looks. Credit Cards are another easy way to pay for things outside of the Disney World arena.

Shampoo/Bodywash

The Disney Resorts all provide shampoo and body wash as complimentary amenities for all guest rooms. Having your own brand might be important and something to get a travel version of to bring on the Disney World trip.

Extra space for the extras you will bring home

Flying in, or driving? Either way, you only have so much space when you leave. This will likely affect the flying traveler the most as you can only carry with you the bags that you brought. In this case, leaving a little extra space in your suitcase or carry-on bags for those little souvenirs you will pick up on your trip is a good idea. This can also be a problem when you drive if you are packed out with no additional space. Think about any items you might want to bring home and leave yourself some ample room.
For the Kids
Kids are a good reason to head off on your Disney World vacation in the first place. While packing for all of the fun you will have, keep them in mind as well. Make sure they bring the special items they need to have a memorable trip.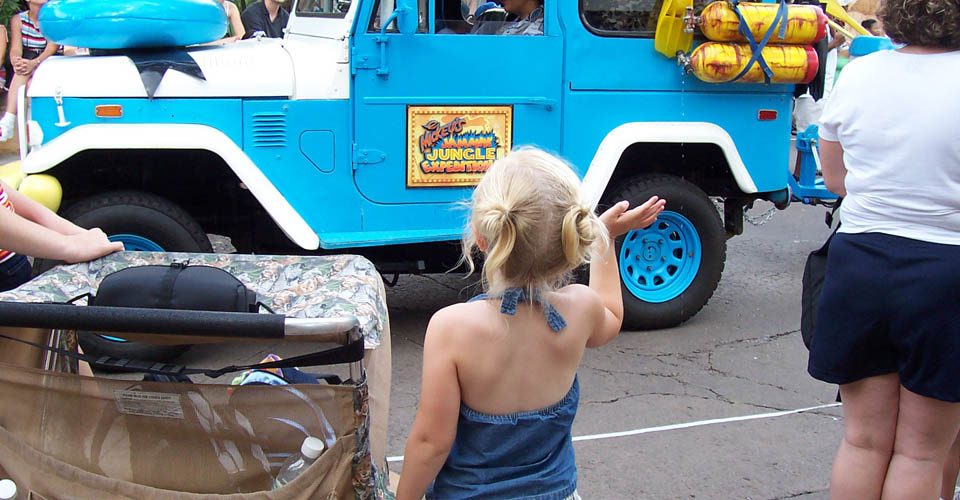 Autograph Book

There is no better way to light up smiles on your child's face than to stand in line and let them meet their Disney Hero's, life, and in person. It is just part of the adventure! No matter who they want to see, a Princess like Ariel, everyone's favorite snowman, Olaf, or even one of the characters in Star Wars, they are all at Disney World. Even standing in line is part of the fun. Use this time to learn more about what your child might ask or what each character might say. Be sure to get Mickey and Minnie on your list as well. The Autograph book is something your child, and you will cherish for an entire lifetime. Looking back over the signatures and talking about the Disney World Trip brings the trip to life over and over again.

Blanket and Pillow

This might even be something you want for yourself, especially if you are taking a long drive to Orlando. Having your own pillow and thin blanket in the car makes the trip much easier to bear. Propping your kids up in the back seat with pillows will make them more comfortable on the drive and a blanket allows them to control their own temperature a little easier.

Pennies and Quarters

What can you do with pennies and quarters in today's market? A whole lot actually. If you are interested in a unique souvenir hunt, track down all of the penny presses around Disney World. It will take a few quarters and a penny to squish and press in the Disney Character, location, or other memory in Disney World. Make it a fun event and over time, try to collect them all.

Stroller

As much for the parents as it is for the kids, a stroller is a "must-have" item when you have a baby or a toddler in Disney World. On a typical day in Disney World, many guests will walk between 5 – 15 miles each day. That is a lot of little steps for toddlers. Even kids a little older than toddlers will get worn out pretty easily. Add in the heat of Orlando on top of all of the walking and a stroller just makes sense. There are a couple of options, you can bring your own stroller or rent one for the day at the parks. You will find that there are benefits to both so you will just have to make this decision before you head off to the parks. Another nice thing about having a stroller is, you have a place to put some of your stuff. Did you read earlier that bringing a pack with you of some type could be a good idea? If you have a large enough stroller, you can roll your kids around and have a place to store everything that you brought with you. Can you feel your back thanking you?

Favorite items for kids

Kids have their favorite toys, plush animals, and things to play with. When we would leave for any trip, our daughter had to have her Boo Boo Bear. This bear was soft, plush, and colorful with multiple patches of pale colors. We lost this "Favorite Item", left it behind and completely forgot it on multiple trips. It was a nightmare, to say the least. Having that special toy or plushy is a great way to keep your kids happy so don't forget to pack it for them.
What to wear
This is a very important section. Be sure to bring your Mickey Ears along with all of the other items in this list.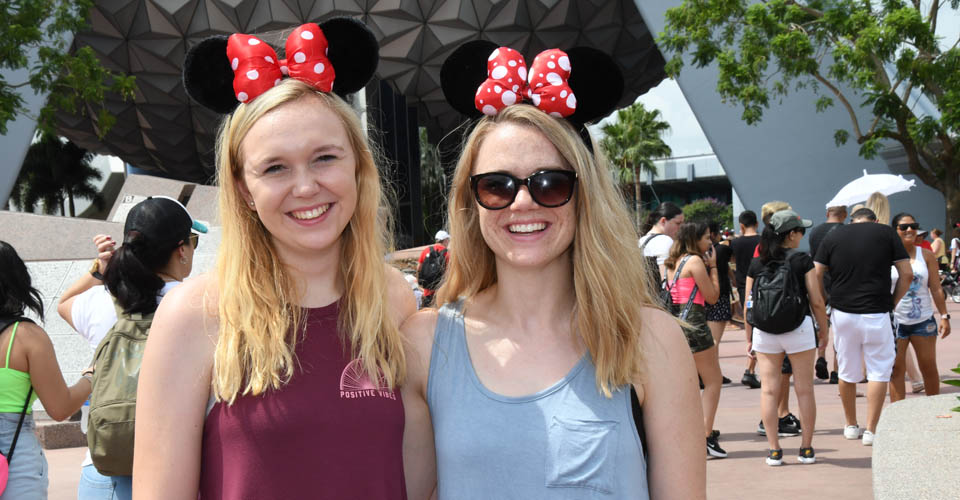 Mickey Ears

Okay, so this was a tough one. Not because they are Mickey Ears but should they be under the clothing section or kids? Adults love Mickey Ears as much as kids so I think clothing is the best location. You have your Mickey/Minnie ears so you might as well bring them with you. Nothing screams "I love Disney" more than wearing a set of ears. If you don't have any, you can get so many different varieties from the shops around Disney World. Show your love and bring your ears.

Comfortable Shoes

We really don't understand the importance of the shoe until we start walking a lot in them. We already know that each day in Disney World can add up to 10, 12, even 15 miles of walking. Some might walk less and others a little more, but that is a lot of wear and tear on your feet. Having a nice pair of comfortable shoes is so important when going on a trip to Disney World. A couple of tips here; it is best to get a pair of shoes a few weeks to a few months ahead of time so you can break them in a bit before doing all of this Disney walking. While pulling a brand new pair of shoes straight from the box and heading out of the door on your first Disney day may seem fun, it might cause some pain and struggles along the way. So, break those shoes in some, comfort is the most important thing to keep in mind.

Layers

Depending on the season you visit Disney World, it can be a little cool in the early morning and very hot in the afternoon. Dressing in layers becomes an important process to stay comfortable throughout the day. Leaving in the morning with a t-shirt and a light jacket is a good option for mild days. Once it starts getting warm, you can pull off the jacket and place it in your backpack until the evening. So, just think in multiple light layers and you will have a much better time in the parks at Disney World in 2022.

Nice clothes for that adult night out

One of the things my wife and I have always worked into our Disney vacations is a night out for ourselves. If you are staying at a Disney Resort, many of them offer a Kids-nite-out program. This program is not free but it is a place you can drop off your child and have some time to yourself. There are also child-sitting programs as well if you want someone to come to your room and care for your child while you take a night out.

Be sure to pack a nice set of clothes for your night out. Spend the evening at Disney Springs, walking around, looking in the shops and eating at one of the many wonderful restaurants. Or, take an adventure through Epcot and just take in the night festivities while dining at one of the World Showcase's restaurants. There is more to do at Disney World than you could ever imagine. New places are added and changing all the time so each time you go, you can have a wonderful date night that is unique and special.

Hat, Sunglasses, Sunscreen

Keep yourself safe from the sun with a wide-brimmed hat, sunglasses and sunscreen. Florida gets hot and the sun can bake your skin in a short amount of time. Being prepared for the sun is an important step.

Bathing suit

For some reason, a bathing suit is not always on the list of items to bring when visiting Disney World. All of the Disney Resorts have amazing pools. Some of the

Disney World Moderate Resorts

and

Deluxe Resorts

even have a wonderful water slide. If you are staying at the

Disney Beach Club Resort

or

Yacht Club Resort

, you have full access to a

3-acre water park

complete with a pirate ship water slide, lazy river, and a sand bottom pool. So, be sure to bring your swimsuit along. You will be happy that you did.

Face Mask
The most updated information will be released from Disney's latest information page. However, here at Water Park Hotels Orlando, we will keep you posted as we receive details.