Quick Facts about Disney All Star Movies Resort
Airport Transportation
The Resort provides complimentary airport transportation (Orlando International Airport) via Disney's Magical Express.
Age Minimum
21
Balconies
Each room is accessible from a walkway that spans the entire building length. This is similar to what you would find if staying at a standard motel. This could sort of be considered a Balcony area for those people staying on the second and third floor but it is not private by any means. I know that the design was compared to what you would find at a motel but this is a Disney property and even though the rooms might not be huge, they will be clean and secure.
Check In Time
Check In time is 3pm
Check Out Time
Check Out is 11am
Express Check In and Express Check Out
Yes
Internet
Wi-Fi is free in all guestrooms
Public Areas have Complimentary Wireless
Laundry
Self service laundry areas are available 24 hours a day near the Fantasia and Duck Pond Pool areas for your Convenience
Dry Cleaning and Valet Laundry services are available – please contact housekeeping for additional information
Near
Disney Hollywood Studios
Epcot Theme Park
ATM
In lobby area
Parking
Free Self Parking
Valet Parking is

not

Available at the All Star Music Resort
Resort Fee
There are not any additional Resort Fees
Pet Friendly
Pets are not allowed
Smoking Rooms
All rooms are non-smoking
Wheelchair Accessible/Hearing Impaired Accessible Rooms
Both wheelchair and hearing impaired accessible room are available
TTY equipment can be requested
Service Animals Welcome
Plan Ahead
This property is very large and you will quickly find this out as you start walking around. It is always smart to consider your walking distance when selecting the accommodations that fit your families needs. The 101 Dalmatians, Fantasia and Toy Story Themed areas are the closest to Cinema Hall. These will give you the shortest walking distance to grab something to eat at the food court or take the Disney transportation to any of the Disney Themed locations. If you are more interested in one of the quietest places to stay, The Love Bug would fit the bill. It is at the back side of the property away from all of the pools and the main buildings.
Freebies
Disney treats all of their guests the same whether you are staying at a Value, Moderate or Deluxe Resort, the staff is well trained to take care of the needs that you might have during your visit. Free Shuttle service to and from all of the Disney Parks is a definite plus when staying at a Disney resort even one of the Value Properties like All Star Movies Resort. Shuttle Service will get you to and from all of these great Disney Locations and more. Orlando International Airport, Magic Kingdom, Epcot, Animal Kingdom, Downtown Disney, Typhoon Lagoon Water Park, Blizzard Beach Water Park, Summerland Mini Golf Course, Fantasia Gardens Mini Golf Course, ESPN Wide World of Sports Complex, Other Disney Resort Hotels. You also get access to the Disney Parks when others are still lined up at the gates.
Extended Theme Park Hours
Complimentary Wheelchairs
Concierge Assistance
Free in room Wi-Fi
Property Perks
1 Large Fantasia Themed Swimming Pool
1 Hockey Rink Swimming Pool
Kiddie Water Play Area
Video Arcade
Dining Area
5 Different Themed locations to stay
Guest Room Perks
Standard Rooms with 2 Full Beds – Sleeps up to 4
Handicapped Rooms with 1 King Bed – Sleeps up to 4
Flat Panel TV's
Handicapped Accessible Rooms Available
Take a look at all of the Disney All Star Movies Room Accommodations
Please note the information and fees provided can change without notice, however, was accurate when published. To confirm all details you will need to check directly with the properties in question before completing your vacation planning.
Activities and Amenities
Pools
Exercise Room
There is

NOT

a Health or Fitness Club at this Resort. There is a Jogging trail.
Playground
Dry Playground to the left of the Fantasia Pool
Multiple slides and areas to climb
White Sandy location surrounded by trees
Plenty of shade
Fishing
Fishing is

NOT

available at this resort
Full Arcade
Jogging Trails
Jogging, Walking or Running can be done on the 1 mile length track that runs around the All Star Movies Resort Property. Enjoy the views and all of the Disney Excitement while travelling around this track system.
Bike and Surrey Rentals
There are

NOT

any bike rentals at All Star Sports Resort
Movies Under the Stars
Take in a great family film at the end of your busy day at the Fantasia Pool with Movies Under the Stars
Tennis Courts
There is

NOT

a tennis court at this Resort
Basketball Court
There is

NOT

a basketball court at this Resort
Playgrounds
Dry Playground at The Main Pool
Dry Playground at Old Turtle Pond
Wet Playground at South Point
Campfire
There is

NOT

a campfire setting at this Resort
Concierge Desk
We all need some help putting things together at times and for that reason there is a Concierge Desk in the Main Building, Stadium Hall. You will be able to get Disney Theme Park Tickets and Dining reservations done at this location. They are also very knowledgeable about anything Disney related.
ATM
There is an ATM located near the Front Desk in Cinema Hall for your convenience and access to quick cash
Babysitting and Childcare Services
Childcare Services with One-on-One Babysitting
If you are looking for a helping hand during your stay, you might consider the option of hiring staff from the Kid's Nite Out Program. These child helpers are insured and bonded with hands on training with CPR and First Aid. So sit back and take a night off while you enjoy your vacation by having an in-room babysitter for your children from 6 months to 12 years of age. You can even reserve a childcare professional to join you on your days at the parks to give you that extra little help with the kids when you need it. Anyone who has kids and has been to the parks can see how this would be a great service. Take advantage of this service by calling

1-800-696-8105

.
Guest with Disabilities Services
Accessible Path to Lobby
Accessible Guest Rooms Available (Wheelchair and Hearing)
TTY equipment can be requested
Service Animals Welcome
Complimentary Wheelchairs – First Come First Serve basis
Guests can bring their own Wheelchairs
2 Large Swimming Pools
Fantasia Pool
The Biggest Pool at the Resort
Pool shaped like a Giant Shell
In the Fantasia Mickey Themed Accommodations area
Pool is heated when needed
Towels are not provided at the Pool
Recreational Activities Held Each Day by Disney Staff
Lifeguards on Duty to watch the Pool areas
Duck Pond Pool in the Mighty Ducks
Quieter Pool but not as large as the Fantasia Pool
Shaped like a Hockey Rink
Plenty of Seating
Number of Water Slide
There are

NOT

any Water Slides at the All Star Movies Resort
Kiddie Pool located near the Fantasia Pool
Just out of the way of the main pool area
Worry free environment for the little ones
Seating for the parents to watch over the kids while they play
Number of Hot Tubs
There are

NOT

any Hot Tubs or Whirlpools at the All Star Movies Resort
Cabanas
Cabanas are

NOT

available at this resort
Resort Pool Hours
Fantasia Pool Hours – Daily | 8 AM to Midnight
Duck Pond Pool Hours – Daily | 8 AM to Midnight
Themed Buildings and Accommodations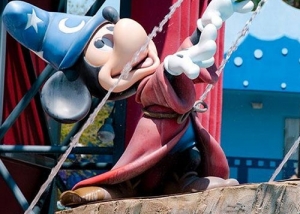 Fantasia
Sorcerers Hat and Giant Dancing Brooms
The Love Bug
Herbie, Wrenches and Screwdrivers
101 Dalmations
Pongo, Perdita and Dog Bones
The Mighty Ducks
Giant Face Masks and Hockey Sticks
Toy Story
Buzz Lightyear, Woody and Army Men
Disney All Star Movies Resort Rooms
Types of Rooms
1920 Guest Rooms
260 Square Feet of living Space
2 Full Size Beds or 1 King Bed
2 Different Room Types: Standard Rooms and Suites
Many different Themed Areas to Choose from
Wireless Internet Access
Disney Theme Park Transportation
In-Room Complimentary Local Phone Calls
Coffee Maker is only available in the Suites
Iron and Ironing Board
In Room Safe (Small but large enough for items like jewelry and tickets)
Alarm Clock Radio
Hair Dryer
Some Disability Accessible Rooms Available (Please check on availability when booking)
All Rooms are Non-Smoking
Standard Rooms
Maximum Occupancy
Bedding Configurations Available
2 Double Beds
Additional Charge for Each Extra Adult per night for more than 2 Adults
Available Views
Courtyard
Pool
Parking Area
Internet Access
Room Amenities
Flat Screen TV (with Disney Programming)
Free Wi-Fi
Table and 2 Chairs
Hair Dryer
Iron and Ironing Board
Non-Smoking
Crib Pack n Play
Optional: Wheelchair Accessible Rooms Available
Bathroom
Full Bath
Tub/Shower
Single Sink
Maximum Occupancy
Bedding Configurations Available
2 Double Beds

or

1 King Bed
Additional Charge for Each Extra Adult per night for more than 2 Adults
Available Views
Courtyard
Pool
Parking Area
Internet Access
Room Amenities
Flat Screen TV (with Disney Programming)
Free Wi-Fi
Table and 2 Chairs
Hair Dryer
Iron and Ironing Board
Non-Smoking
Crib Pack n Play
Optional: Wheelchair Accessible Rooms Available
Bathroom
Full Bath
Tub/Shower
Single Sink
Dining Options
World Premiere Food Court
Casual Dining options in a relaxed, open seating setting. Everyone in the family will be able to find something to their liking at the World Premiere Food Court at Disney's All Star Movie Resort
Open from 6:00am to 12:00am
Serving Breakfast, Lunch and Dinner – Daily
Casual Attire
Located in the main building, Cinema Hall
Silver Screen Spirits Pool Bar
A nice place to grab your favorite Frozen or Specialty beverage and sit by the Fantasia pool enjoying a nice relaxing time with your family and friends
Open from 12:00pm to 12:00am
Casual or Bathing Suite Attire
Pizza Delivery to your room available
RESERVATIONS
Disney's All Star Movies