Value and Comfort in the All-Star Movies Rooms
Toy Story, 101 Dalmatians, Mighty Ducks, the Love Bug or Fantasia? This might be the biggest decision you make when you Book a Room at Disney's All-Star Movies Resort. Sure the All-Star Movies is one of Disney's Value Resorts but some of these Value locations are the most fun for the younger kids. The rooms at the Disney All-Star Movies went through renovations in 2018 & 2019 and changed from having two (2) double beds to a Queen Bed with a Queen Murphy, or pull down bed. This added a lot of space to get around and a more comfortable night sleep.
Types of Rooms and Themed Area's
What a thrill it is to meet the Disney Characters you watched in the movies in a larger than life setting. Walking down each section you will see the Disney Characters towering above at 50 – 60 feet in height. The All-Star Movies might be one of the best themed All-Star Value resorts having characters from Toy Story and 101 Dalmatians. All of the rooms at the All-Star Movies are the same in size, about 260 square feet, and layout. Keep in mind that the main reason you are staying at a Disney Value Resorts is because you are trying to keep the cost down while you give your family a great Disney experience. That is precisely what you will get when you stay at the All-Star Movies Resort in Disney World. When you think about it, you are going to be spending most of your days in the parks anyway. The room is just a place to lay your head down at night before you head out on a day of fun on the next day. Your kids might be interested in staying near one of the Pools and if this is the case, you will want to book a room in Fantasia or the Mighty Ducks area.
List of Rooms at the All-Star Movies Resort
Standard Room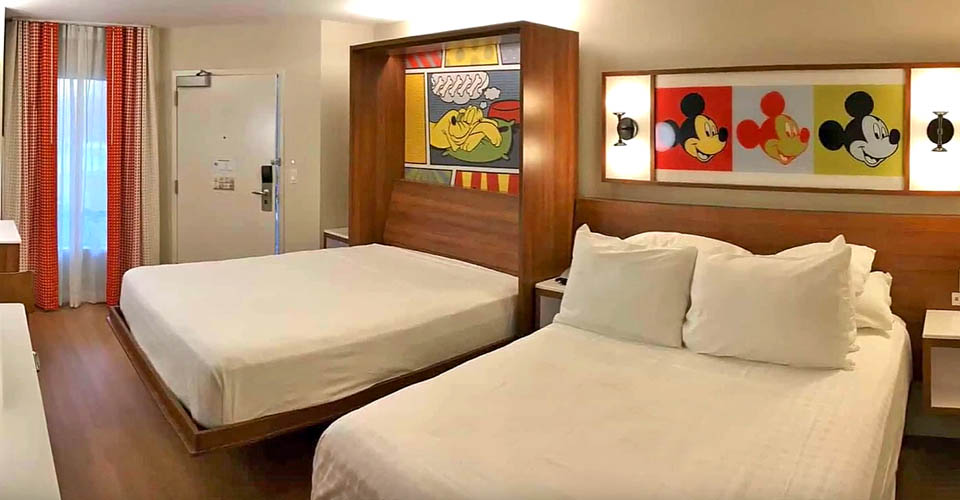 All of the rooms at the Disney All-Star Movies Resort are 260 sq ft and have a queen bed with pull-down queen murphy-style bed allowing up to 4 guests in each room. Having a pull-down bed makes the room seem much larger when the bed is in the upright position. Bathrooms make use of the small space by having the sink in one area and the toilet and shower in another.
Standard Room Amenities:
Size: 260 Square Feet
Sleeps: 4 Guests
Internet: WiFi included with your stay
Bedroom: One Queen Bed with a Queen Murphy Bed and Flat Screen TV table and chairs
Bathroom: Sectioned Bath with Sink in one area and toilet with Tub / Shower unit in a private area
Additional Amenities: Hair Dryer, Iron and Ironing Board, small Refrigerator
TV's: 1 Flat Screen
Outdoor Space: There are no Balconies
Frequently Asked Questions: Disney All Star Movie Resort Rooms
What is the best room location?
It really depends on what you are looking for. If you want to be close to the front (Cinema Hall) with faster access to the Food Court and Shuttle Bus service to the parks, you might consider getting a Preferred Room. That is the only difference between a Standard and Preferred. If you want to be near a pool, book the Fantasia or Mighty Ducks and if you want a quieter area book away from the pools like The Love Bug or 101 Dalmatians.
---
Is there a coffee maker in the room?
Yes, each room has a coffee maker that uses pods, not K-Cups.
---
Is there a refrigerator in the room?
Yes, it is small but it will hold your drinks and a few other items.
RESERVATIONS
Disney's All Star Movies