Dining at the Disney All-Star Music Resort
Prepare for multiple dining options in one place with counter service meals at a Food Court style restaurant experience. The Food Court at All-Star Music Resort in Disney World has options for everyone in the family. No matter what you are hungry for, you can find some good sources for food at the Intermission Food Court.
Counter Service
Counter Service has some benefits over Table Service in some ways. If you decide to stay in one of the Disney World Value Resorts, you are likely trying to save some money. One way to accomplish this is to dine at places where you are not required to tip. Tipping can add up when you tack on 15-20 per meal. Want to dine at table service a few times while you are at Disney World? Hop on the Disney Transporation and take a ride to one of the Moderate or Deluxe Resorts. All of the higher level resorts as well as Disney Springs offer plenty of Table Service dining.
Restaurant options at Disney All-Star Music
Intermission Food Court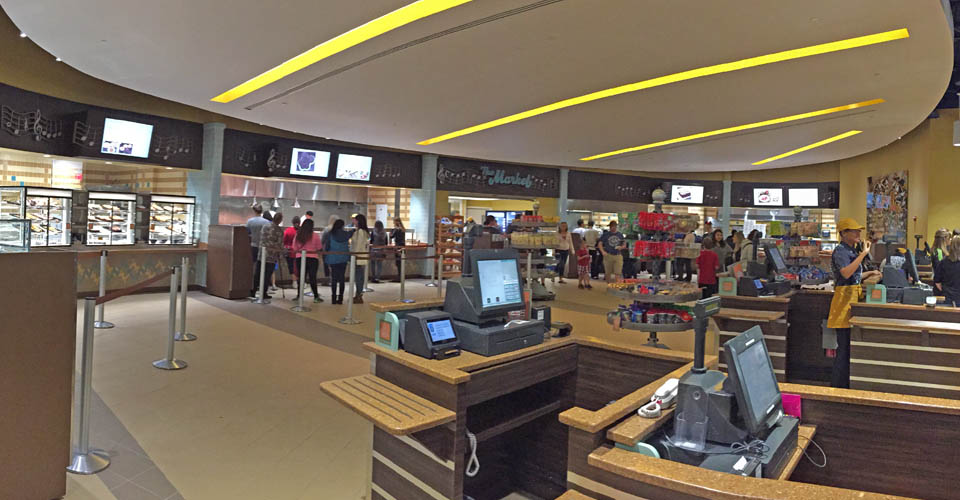 Since the Intermission Food Court is your primary source of food at the All-Star Music Resort, they are open for almost the entire day. This Quick Service, stand in line counter service opens for business at 6:00 am and does not close down until 12:00 am. This means that someone is on hand to feed you and your family for 18 out of the 24 hours each day. Serving Breakfast, Lunch, and Dinner can become a challenge so even though all of the food is at one location, there is a wide variety of choices to choose from. Map out your dining plan beforehand and you can probably save a little money along the way. The seating area is colorful with Flat Screen TV's placed around the room to keep the kid's entertained while they eat. With a dining area that has a capacity of 500 people, there is plenty of seating for all. You could experience some wait times in the lines to order at peak times during the day to schedule your eating time accordingly so you don't waste a lot of your time ordering your food.
Open from 6:00am to 12:00am
Serving Breakfast, Lunch and Dinner - Daily
Casual Attire
Located in the main building, Melody Hall
Singing Spirits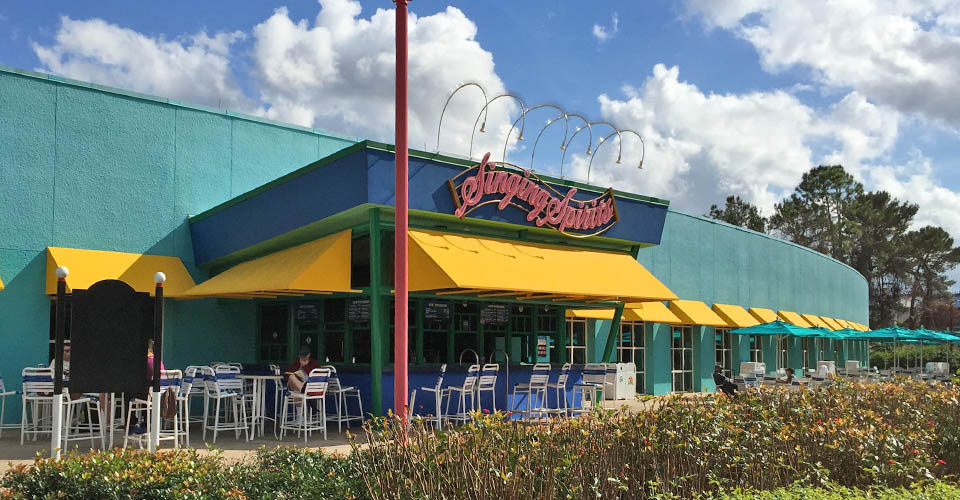 Okay, this is not technically a dining option but if you are looking for a drink and a place to wind down, this is a great place to sit by the pool, relax and sip down your favorite beverage.
Open from 12:00pm to 12:00am
Casual or Bathing Suite Attire
RESERVATIONS
Disney's All Star Music