Dining at the Art of Animation Resort
Let's get something to eat! When you visit the Art of Animation Food Court, The Landscape of Flavors, rest assured that you will find something good to eat at a fairly reasonable price. All of the Disney World Value Resorts have a cafeteria style dining system where you stand in a line to order your food. The Landscape of Flavors Food Court is located in the main building, Animation Hall at the Art of Animation Resort. Table dining options are not found at the Disney Art of Animation so don't expect to have anyone coming to your table take your order. Getting your own food can be a better experience, especially if you are trying to save some extra cash along the way. There is also a Bar by the Big Blue Pool and don't forget about the Pizza delivery to your room option.
List of Restaurants at the Art of Animation
Landscape of Flavors - All Day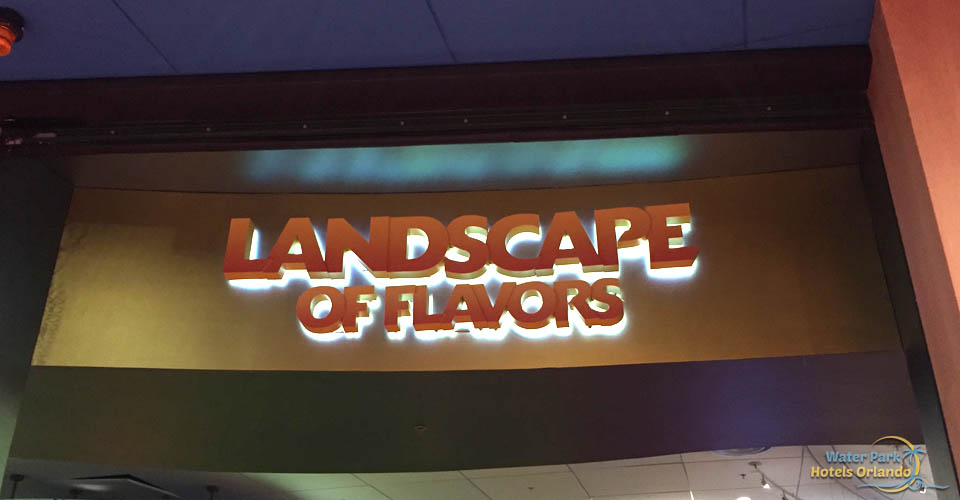 The Landscape of Flavors Food Court is open from 6 AM until 12 midnight which means you are able to get your fill of different foods throughout the day. Spending most of your time in the Disney World Parks? The best plan might be to get up early and grab a nice big breakfast at the dining facility before you are on your way. With the Food Court inside of Animation Hall, it makes it very convenient to walk out the front door when you are done and right on to the Disney Transportation system. The Art of Animation Food Court serves Breakfast, Lunch and Dinner with a variety of foods to choose from. There are a total of 606 seats in the dining area and this might sound very large but when you compare that to the 1,984 rooms available each with 4 - 6 guests, you might want to plan your time wisely when dining. If you head off to the dining hall during peak times, you might end up spending more time than you would like standing in line. Scope it out and you will see that there are some off times during the day that can save you some valuable time.
Open from 6:00am to 12:00am
Serving Breakfast, Lunch and Dinner - Daily
Casual Attire
Located in the Main Animation Hall Building
Save your cash by using the Food Court

Do you realize how much additional money you spend when you eat out at restaurants that serve you? Think of the extra 15% - 20% you spend just to tip the people who wait on you. This really adds up, especially when you are eating at a Disney property. That is why the Food Court system works so well at the Value Resorts.
The Drop Off Pool Bar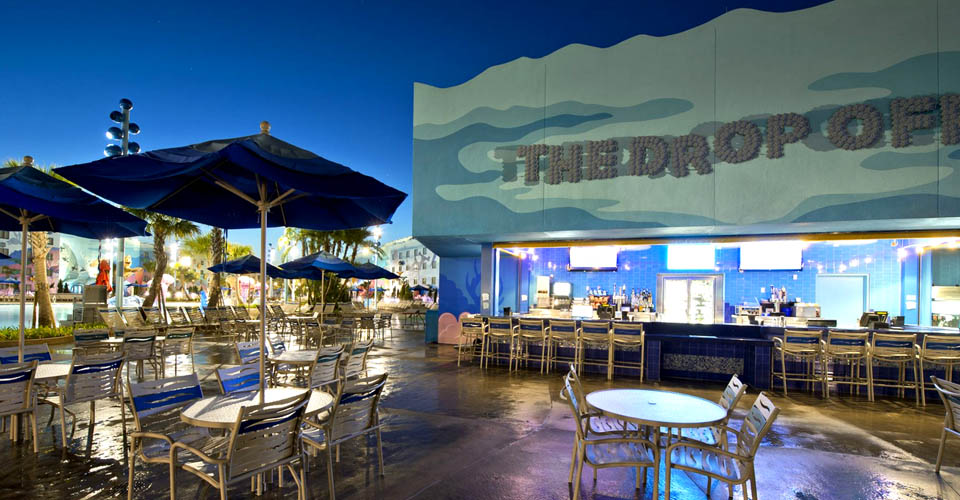 The Drop Off Pool Bar
Close to The Big Blue Pool you will find a nice little adult watering hole. The Drop Off Pool Bar is a great place to sit back and relax sipping your favorite drink or take it to a lounge by the pool and keep an eye on those kids. Either way, it is a refreshing way to spend your day by the Pool.
Pizza Delivery
Trying to save money on eating? One of the best ways to do this at the Art of Animation Resort is to order a Pizza. This can be done at the Pizza Counter in the Landscape of Flavors or just pick up the phone and place the order and have a cast member bring it to your room. It is cheaper to pick it up yourself because you do not have to consider adding a tip. If you do order it to be brought to your room, be sure to add a nice tip for the cast member when they bring it.
RESERVATIONS
Disney's Art of Animation