Unlock the Magic of Disney Vacation Club Resorts with Rental Points
Experience the enchantment of Disney Vacation Club Resorts, even if you're not a DVC owner. Whether you dream of a memorable Disney escape as a non-owner or an owner seeking an extra trip, discover the fantastic savings and convenience of utilizing David's DVC Rental Points. David's rental program opens the doors to any of the remarkable Disney DVC Resorts, allowing you to spoil yourself with a magical vacation at substantial savings.
Do you have to be a DVC Member to rent points?
Absolutely not! In fact, anyone can rent points through David's Vacation Rentals and take advantage of the many perks and amenities provided within the Disney Vacation Club system.
Discover the Magic of Disney Vacation Club (DVC)
Disney Vacation Club (DVC) is Disney's exceptional take on the concept of timeshares, offering a unique and extraordinary vacation ownership program. But don't let the term "timeshare" mislead you – when it comes to Disney, they go above and beyond to create unforgettable experiences, and DVC is no exception. Each Disney Vacation Club property exceeds the standard rooms and suites offered to regular guests, boosting your stay to new heights.
By becoming a member of Disney Vacation Club, you gain access to a world of exceptional accommodations, ranging from Studios with convenient kitchenettes to spacious 1 Bedroom, 2 Bedroom and 3 Bedroom Grand Villas. What sets these Villas apart is their inclusion of a full kitchen and private laundry facilities. Once you've experienced the comforts of a DVC property, it's difficult to return to standard rooms or suites. Disney Vacation Club properties truly become your "Home away from Home!"
When you choose to rent points through David's Vacation Rentals, you have the opportunity to "try before you buy" and enjoy stays at various Disney Vacation Club locations. This way, you can experience the magic firsthand and decide if Disney Vacation Club ownership is the right fit for you.
What is the Process of getting a David's Vacation Club Rental?
Renting DVC points through David's Vacation Club rental program is straightforward and can provide incredible accommodations at Disney World Resorts. Here's an overview of how it works:
Browse available listings: Begin by exploring the available DVC Resorts available on David's Vacation Club website. The Resort details typically include additional information about each Resort, such as:

Virtual tours
Room types
Pictures
Transportation options
Available amenities

Determine your cost: Once you have determined your favorite Disney Location, take a look at the Cost Calculator to help determine the overall expense of your next visit.
Book in Advance: Knwowing when to book your stay is also important. David's Vacation Club Rental recommends booking your stay months in advance. Depending on the Resort you are interested in, starting the Process nearly a year earlier than your stay might be advisable. Here are the recommendations for booking each of the Disney Vacation Club properties in advance.
Fill Out the Online Reservation Form: Be prepared when you begin your online registration process. Here are some things to have ready when you start the Process.

Travel Dates
Resort you are interested in
Room / Villa Choice
How many in your group
Partial Payment

NOTE: This is refundable if David's Vacation Club Rentals is unable to secure your Reservation.

– Check the full Rental Process at David's Vacation Club for the latest fees and the full Process you will have to go through to start your Disney Vacation Club adventure.

Confirmation by Email: Once your Reservation has been fulfilled, an email confirmation will be sent to the email address you provided during the online reservation process. Once this has been received, additional steps and access are available:

Online Access to your Reservation information is available.
You must finish the online payment form and pay the balance due on your Reservation. The full amount is due at the time you receive your Reservation confirmation. The payment can be processed with Visa, Mastercard, or Paypal.

If your Reservation cannot be fulfilled, you will have the option of booking a room or available villa. If nothing is available that you are interested in, you will be refunded the partial payment.

Final Invoice Payment: After your payment is made, an invoice along with the Rental Agreement is sent to your email.
Accessing your "My Disney Experience": Now that everything is in place for your Magical Stay at Disney World, logging into your "My Disney Experience" gives you access to everything your need:

Reservation Details
Complete your online check-in
Setup your Magic Bands
Make Dining Reservations (60 days before your stay)
Your reservation process can change with David's Vacation Club anytime. For the most up-to-date process and to see any changes, please take a look at the latest Rental Process at David's Vacation Club.
Unlock the Magic: Why Choose to Rent Points for a Disney Vacation Club Stay?
One of the most commonly asked questions about DVC rentals is why renting points is such an appealing option. Let us break it down and provide you with a comprehensive understanding of the benefits of renting points from David's DVC Rental for a stay at a Disney World Resort. Renting points offers a gateway into the Disney Vacation Club program, allowing you to partake in its offerings without committing to a long-term membership. Moreover, by renting points through David's Vacation Rentals, you can enjoy substantial savings on your next trip, potentially saving hundreds or even thousands of dollars.
Is it cheaper to stay using David's Vacation Club Rentals?
Most certainly it is! When you compare the cost of booking directly with Disney or purchasing points through David's Vacation Rentals to stay at a DVC property, there is a BIG difference. Let's run through a real comparison just to see. We will look at booking a 1 Bedroom Villa, Standard View at the Disney Riviera Resort in December of 2020:
Davids Vacation ClubDisney Riviera - Deluxe Studio
Disney DirectDisney Riviera - Deluxe Studio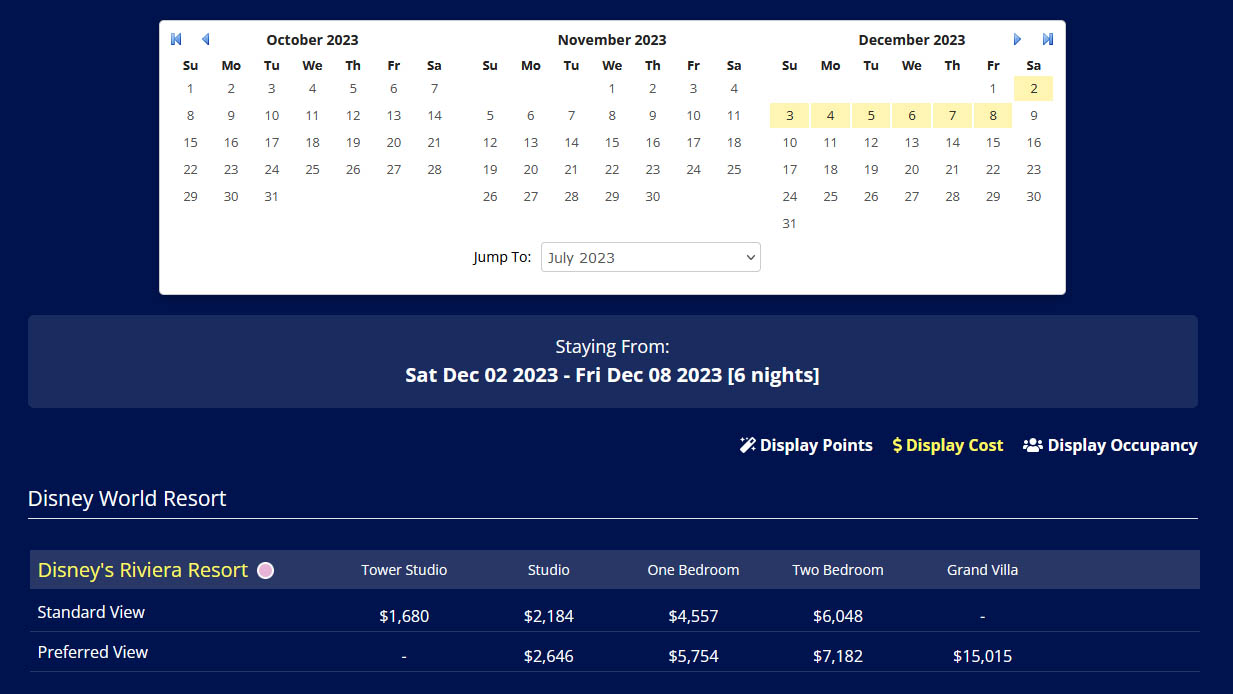 Wow, that is a whopping 70.19% difference in price. You will typically find that renting points through Davids Vacation Rentals will save you 40 – 70% over booking directly with Disney.
How much do the points cost?
If you are booking your stay at a Disney Vacation Club resort using the David's Vacation Club Rental Booking, and you scheduling within 7 months, each point is currently $19. Any Reservation made with David's Vacation Club Rental Booking System after 7 months will be either $19 or $20 per point. The variation in cost is based on the Disney Vacation Club Resort you choose to stay in. If you take a look at the Cost Calculator, you can enter your desired travel dates and compare the cost and availability between all of the Disney Vacation Club Resorts before booking your reservation through David's Vacation Club Rentals. It is a very simple process to go through so why not give it a try and save thousands on your next vacation.
List of Disney World Vacation Club Resorts
A good place to start is by looking at all twelve (12) of the Disney Vacation Club Resorts at Disney World to see which one appeals to you and your family the most. Each one of these Disney Resorts have unique and special qualities but also have a different look and feels based on its theme. Price is also a factor when making your rental decision, so be sure to bring up the Cost Calculator at David's Vacation Club Rentals to get an idea of what you will be paying during your stay. Here is the list of Disney Vacation Club Properties:
If I rent points through David's DVC Rentals, do I still get all of the Resort benefits?
Absolutely you do! Renting your points and staying at one of the Disney Vacation Club Properties still allows you access to all of the benefits and amenities you would have if you booked directly with Disney (but there are a couple of things to consider).
Let's take a quick look at the Benefits you get:
Magic Bands:

Magic Bands are one of the most essential, and fun accessories you will get when you stay at a Disney World Property. When you book any stay at a Disney World Resort, the Magic Bands are included. This is also true when you rent points through David's Vacation Rentals and stay at a Disney Vacation Club resort. Customize the color of your Magic Band using the My Disney Experience account and get your Magic Bands ready for your trip.

Did you know that your Magic Band also acts as a key to your room? Once you book your stay and setup your Magic Bands, you will be notified on the day of your arrival when your room is ready. No more waiting in line at the Check-in counter, just head to your room and open the door with your Magic Band or your Disney My Experience App on your Smartphone.

Fast Pass+:

Fast Pass+ is available on your account one your setup your reservation and you can start reserving shows and attractions 60 days prior to your visit.

Extra Magic Hours:

A great perk of staying at a Disney Resort is having the Extra Magic hours to visit a park early or stay later than outside guests.

Disney Transportation:

Hop on the Disney Skyliner and zoom over to Hollywood Studios or Epcot, take a boat to the Magic Kingdom or a Disney Bus to any of the Disney World locations. Disney Transportation is available for all guests staying at a Disney World Resort. If you are flying into the Orlando International Airport (MCO) you can contact guest services with Disney and they will arrange free transportation via the Disney Magical Express.
Are there any negatives to renting David's DVC Points
There are some differences when renting your points through David's DVC rentals over booking directly through Disney, but when you calculate the savings, you will find that the benefits far outweigh anything that might be considered negative.
During your booking process at David's Vacation Rentals, you will have to pay a deposit (currently this cost is $133) to get the Reservation process underway. If Davids DVC Rentals are unable to confirm the reservation for you, the deposit will be refunded to you. This process is normally completed within a 24 hour period.
The entire amount of the booking has to be paid upon confirmation of the reservation.

There are no refunds once the booking and payment have been made.

Since there are not any refunds, even due to a Hurricane, it is highly recommended that you purchase Travel Insurance to cover any unforseen circumstances.

Housekeeping works a little different than staying at a standard room or suite. This one is the same whether you rent points or you are a DVC owner. Daily housekeeping is not part of your daily routine. If you are staying less than eight (8) days, your trash will be emptied and towels replenished on the fourth night of your stay. Additional housekeeping services can be added for an extra fee.
Why not just rent points directly from the Owner?
Well, you can, but if you look at this process closely, there are a lot of working parts to it and it is possible for an individual to take your money and cancel your reservation. Also, with all of the scammers out there, what might have been acceptable 15 years ago, is very scary now. That is why we are recommending using a reputable source like David's Vacation Rentals to rent your points for you.
How do I get my Disney Theme Park Tickets?
Booking your stay through David's Vacation Rentals will get you the best deal available when staying in a Disney Vacation Club property but your Disney Theme Park Tickets are not available using the same system. While it might be an easier process to book your reservation with the included Disney Theme Park tickets and Dining plan through the Disney World site, you will also be paying a premium to do so. If you like keeping your money in your own pocket to spend on other fun things on your next Disney Vacation, taking the additional steps of Booking through David's Vacation Club Rental is the best way to go. That being said, you can still get your tickets through Disney and bind them to your magic band. Disney does offer some discounts for AAA and the Military so be sure to check the latest Disney Ticket specials going on when you get your tickets.
How does the Disney Dining Plan work?
Having a Disney Dining Plan sure does make it easy when staying at Disney World. The convenience of knowing everything is already taken care of before you get to your vacation spot can take a load off of your mind. Disney offers three (3) different dining plans at this time. If you have a dining plan, and you want to dine at one of the four parks (Magic Kingdom, Animal Kingdom, Hollywood Studios or Epcot), you will need to have a Theme Park pass to enter. Disney will not allow you to enter a park just because you have a dining reservation if you do not have a ticket.
Also, the dining plan you select must be applied to everyone on the Disney Reservation created and for the same number of nights booked. There is no way to get around this.
Disney Dining Plan Policy:

Disney is now requiring that a Disney Dining Plan be added at the time of the Reservation.

How to add the Dining Plan:

A credit card will have to be used during the Rental process to secure your Disney Dining Plan.

Never send Credit Card Information through email. This is not a secure way to send sensitive information.

To process this request through David's Vacation Rentals, you will need to contact them directly at 1-800-610-5791 and give them your credit card information. This will be given to the ower of the property so they can place the order through Disney Member Services for you.

Some guests do not feel comfortable giving their Credit Card information so another option would be to purchase a Disney Gift Card and give them this number instead.

Dining Reservations:

Once you have your Dining Plan setup, you can start making Dining Reservations using the Disney Experience App or online through your Disney World Portal up to 180 days in advance of your stay.
What are you waiting for?
Staying at a Disney World Resort is fun for the whole family and the perks you get by staying at a Disney Resort is worth it in my opinion. Now you can book a Disney Vacation Club Rental from David's Vacation Club, step up to a Disney Deluxe experience and enjoy your trip at a fraction of the cost. If you are ready to give it a try, start your Booking through David's Vacation Club Rental.