Are there Charging Stations for EV's at Disney World?
Yes, there are charging stations at Disney World and the Disney World Resorts. Electric Vehicles are becoming more and more popular and with Disney always being at the forefront of the technology trends, you can be sure they are working on getting Charging Stations set up for your convenience.
How do I find the Charging Station for my Electric Car?
Each of the Disney World Theme Parks offers charging spaces and you can ask a Disney Cast Member as you arrive where to find your charging location. Disney has a partnership with Chargepoint to easily provide the necessary charging stations at the Parks, Disney Springs and the Disney Resorts. The Chargepoint stations are all Level 2, with J1772 connections. At the time of this writing, it costs $0.35 per kWh to charge your vehicle. If you do not already have a Chargepoint account, it will be worthwhile to get your Chargepoint Account Sign Up done ahead of time. This way, you are not sitting at the station, downloading the app and working through it while everyone is ready to head into the parks.
Finding your Charging Station
It's not difficult to find a charging station at the Theme Parks in Disney World. The EV charging spots have signs to show you where you can park your vehicle and start your charging process. If you are not sure where to go, ask one of the Disney Cast Members as you enter the parking area and they will be happy to direct you. If you want to learn all of the locations before you go to Disney, check out the Map at Chargepoint.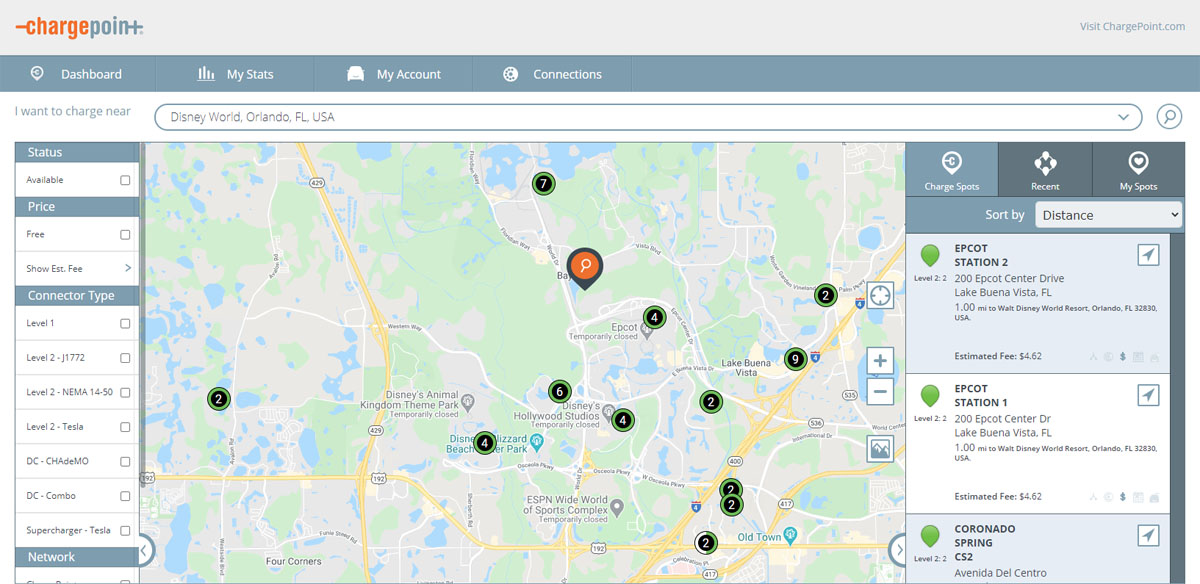 Available Charging Stations at Disney Theme Parks
Disney has always been at the forefront of technology and offering charging stations for EV's has been an important part of this expansion. You will find charging stations all of the theme parks and many of the Disney Resorts. Electric vehicles continue to advance in numbers so expect to see an increase in spaces and locations around Disney World that provide this service as time goes on.
Note:
Although the Electric Vehicle Charging stations are in Premium spaces at the Disney World Theme Parks and Resorts, you still pay the Regular parking rate to park your car in one of these parking spaces. The parking fee does not include the charges you will incur by plugging in and charging your vehicle. Also, since these spaces are limited, you might not get a space if they are all being used. Try not to rely on getting a spot at one of the Disney Theme Parks to fully charge your vehicle.
Magic Kingdom:


Located in the front of the Zurg Parking Lot at Magic Kingdom (Transportation and Ticket Center), you will find 5 Chargepoint Charging Stations. From here, it is a fairly simple .25 mile walk under the bridge of Seven Seas Drive to get to the Transportation and Ticket Center where you can travel by Boat or Monorail to the entrance of the Disney Magic Kingdom.

Epcot:


There are 4 ChargePoint charging stations in the very front spaces (Row 1) of the Journey Parking Lot at Epcot. Once you plug up your vehicle, you will have a very short walk to the front entrance of the Epcot Theme Park.

Hollywood Studios:


At the very front of the TV parking lot at Hollywood Studios, you can find 4 EV Charging Stations. Once plugged in, walk under the Disney Skyliner and onward to the entrance of Hollywood Studios.

Animal Kingdom:


Charging Stations at the Animal Kingdom Theme Park are located in the handicapped parking area. At the time of writing this article, there are 4 Chargepoint charging stations available. Just a few steps away is a Tram pickup station, making this one of the easiest places in Disney to park your Electric Vehicle (EV).

Disney Springs:


There are multiple locations at Disney Springs to Charge your EV and you can find Charging Stations in each of the 3 parking garages.

Lime Parking Garage

Located on the 5th level of the Lime Parking Garage (the Rooftop) you will find 3 Chargepoint Charging Stations

Grapefruit Parking Garage

On the 3rd level of the Grapfruit Parking Garage an additional 3 Chargepoint Charging Stations are available

Orange Parking Garage

Located on the 5th level of the Orange Parking Garage ( on the Rooftop) 3 Chargepoint Charging Stations can be found just to the right side of the Elevators
Available Charging Stations at Disney World Resorts
Not all of the Disney World Resorts are equipped with Chargepoint Charging stations at this time. More than likely, we will continue to see this technology expand to all locations as EV's are used more and become the mainstream mode of transportation. For now, let's see what Disney World Resorts already support Charging Stations.