Map of the Animal Kingdom Resort
You might think that if you stay at the Animal Kingdom Lodge, you can walk to the Animal Kingdom Theme Park. While that would be great, that is not the case. Taking a look at the map shows you exactly how far you are from all of the Parks. The Magic Kingdom is 10 miles away and Disney's Animal Kingdom and Hollywood Studios are just 5 and 6 miles away.
A great adventure is to be had when you enter the African Safari Themed area that Disney has created at their Animal Kingdom Lodge in Orlando Florida. Animal Kingdom Lodge and Water Resort is located on 2901 Osceola Parkway Lake Buena Vista, FL 32830. As soon as you arrive, you will notice that things are a little different at the Animal Kingdom Lodge than any other of the Disney properties. From the buildings to the intricate African stylings of the rooms and villa's you will immediately be immersed in Africa. Be sure to visit the poolUzima Pool with a 68-foot water slide and the Sumawati Springs Pool with 128-foot water slide. Free shuttle service provided by Disney will get you to any of the Disney attractions with ease. If you decide to take in some of the other parks, you will notice that the Universal Parks are only about 20 miles north of where you are staying. If you want to visit SeaWorld, it is only a few miles away to your north-east. There is so much to do for everyone and it will be a time that will be talked about for years.
Resort Map of the Animal Kingdom Lodge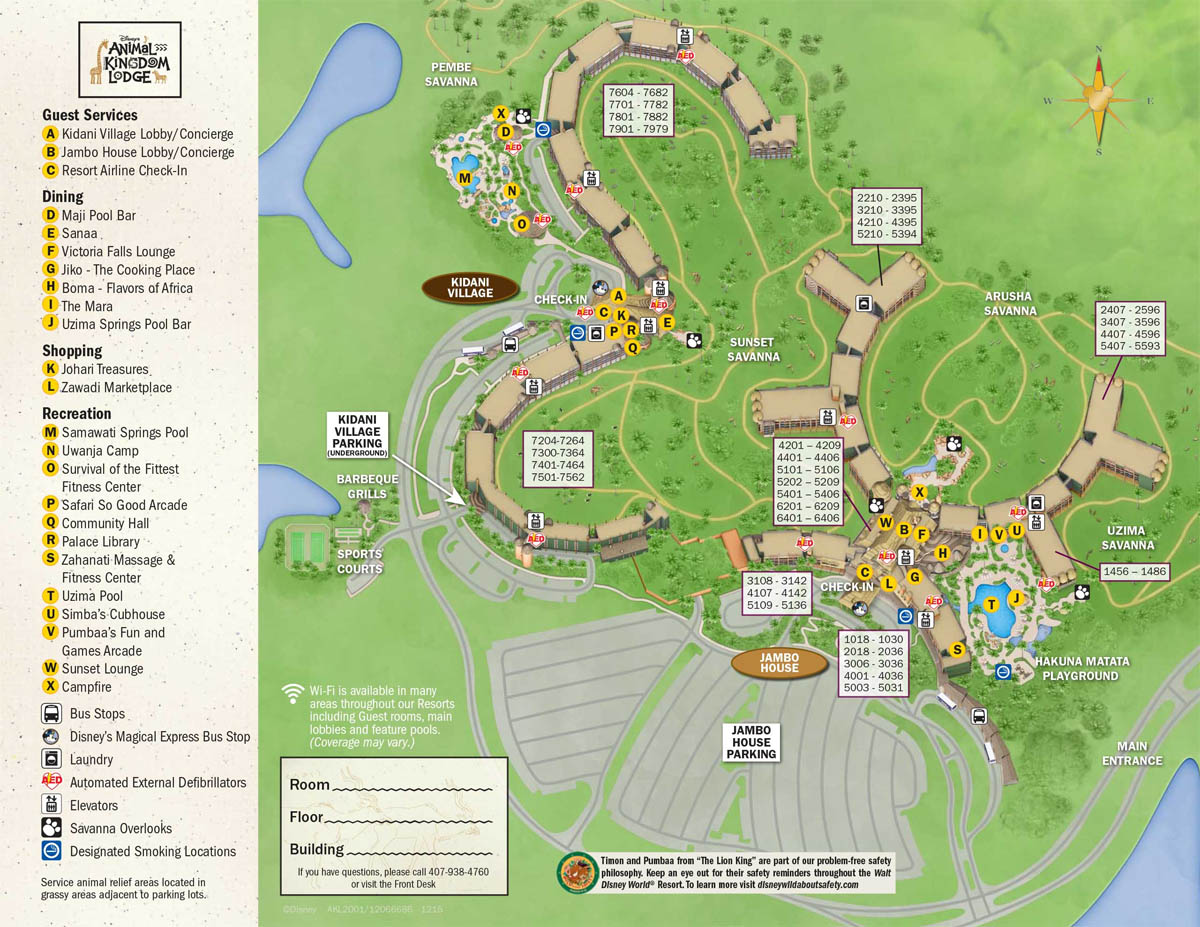 Click on image for Dowloadable PDF
Directions to the Animal Kingdom Resort
From Orlando Intl Airport

Distance: 2401 mi
Head south on Jeff Fuqua Blvd
Use the right lane to take the ramp onto FL-528 W/FL-528 Toll W
Use the left 2 lanes to merge onto I-4 W toward Tampa
take exit 65 toward Wide World of Sports/Animal Kingdom
merge onto W Osceola Pkwy
Disney Animal Kingdom Lodge will be on your right
From Tampa

Distance: 69.6 miles
Take I-4 East
Use the right lane to take exit 62 for Florida 417 Toll N toward Airport/Disney World Celebration
Take the exit toward Disney World
right onto the ramp to Disney's Hollywood Studios
Keep right at the fork, follow signs for Blizzard Beach Water Park/Disney's Animal Kingdom/Disney's Animal Kingdom Resort Area and merge onto Osceola Pkwy
merge onto W Osceola Pkwy
Disney Animal Kingdom Lodge will be on your right
From Miami

Distance: 237 miles
Take I-95 N
Exit 12A for FL-826 W/Florida's Turnpike
Take exit 251 to merge onto FL-417 Toll N
Use the right 2 lanes to take exit 14 for Landstar Blvd
Use the left lane to turn left onto Landstar Blvd
Turn left onto the FL-417 S ramp
Take exit 3 for Osceola Pkwy
merge onto W Osceola Pkwy
Disney Animal Kingdom Lodge will be on your right
From Daytona Beach

Distance: 87.8 miles
I-4 W toward Tampa
take exit 65 toward Wide World of Sports/Animal Kingdom
merge onto W Osceola Pkwy
Disney Animal Kingdom Lodge will be on your right
RESERVATIONS
Disney Animal Kingdom Lodge