Disney Animal Kingdom Resort Standard Suites
It's a magical stay no matter where what type of room you get at the Disney Animal Kingdom Lodge but if you can swing a Suite, the One (1) and Two (2) Bedroom Suites are nothing short of amazing. Giving you so much more space than the standard rooms at the Jambo House, the One (1) Bedroom Suite is about the size of putting two of the standard rooms together. The 1 Bedroom Suites have Living Room with dining table and Sleeper sofa and the Bedroom has 2 queen beds. Add in the 2 bedroom Suite and you have enough space to sleep up to Eight (8) guests. Suites are not inexpensive but can be a nice option if you really want (or need) the additional space.
So much to do at the Animal Kingdom Lodge
Literally, everywhere you look, when you stay (or just visit) the Animal Kingdom Lodge at Disney World, you see African art, architecture, design and color. The Suites at the Jambo House are packed with artistic designs that give you that sense of being in an African hotel. Standing on your balcony, looking out over the savanna and watching the Giraffe's and Zebra roam is one of our favorite things to do but the kids will certainly pull your attention to the Uzima and Sumawati Springs Pools. Staying at the Jambo House in the Animal Kingdom Lodge, the Uzima pool is the closest with the largest pool at the resort and a 67-foot water slide. Head down to the Kidani village side of the resort and there is even more fun at the Sumawati Springs Pool with a larger 128-foot water slide and a kids splash park.
Club Level Suites
You might not have known but if you book a Suite at the Animal Kingdom Lodge you are probably already staying in a Club level setting. Most of the Suites come with Club Level amenities so be prepared to be spoiled. Extra special attention is given to club level guests like assistance to booking reservations or transportation, turndown service, club-level lounges with snacks and beverages.
Disney Animal Kingdom Resort Suites
One (1) Bedroom Suite Club Level Access
Each of the One (1) bedroom suites at the Disney Animal Kingdom Lodge offer about twice the square footage as a standard room. The Living space comes complete with a sleeper sofa, table, two chairs, dining table and wet bar. The bedroom space has two (2) queen beds and the bathroom has a double vanity, tub and separate stand-up shower unit.
Suite - One Bedroom Amenities:
Size: 777 sq ft (estimate)
Sleeps: 6 Guests
Views: Standard (rooftop or parking lot), Savanna
Internet: WiFi
Bedroom: 2 Queen Beds, Flat Screen TV, Desk, ceiling fan
Living Room: Sleeper Sofa, Table with Chairs, Wet Bar, Entertainment center
Bathroom: Tub, separate shower unit, Toilet, Double Sink, Closet
Additional Amenities: Hair Dryer, Iron and Ironing Board, small Refrigerator
TV's: 1 Flat Screen
Outdoor Space: Balcony that stretches across the Living Room and Bedroom area with table and chairs
Two (2) Bedroom Suite Club Level Access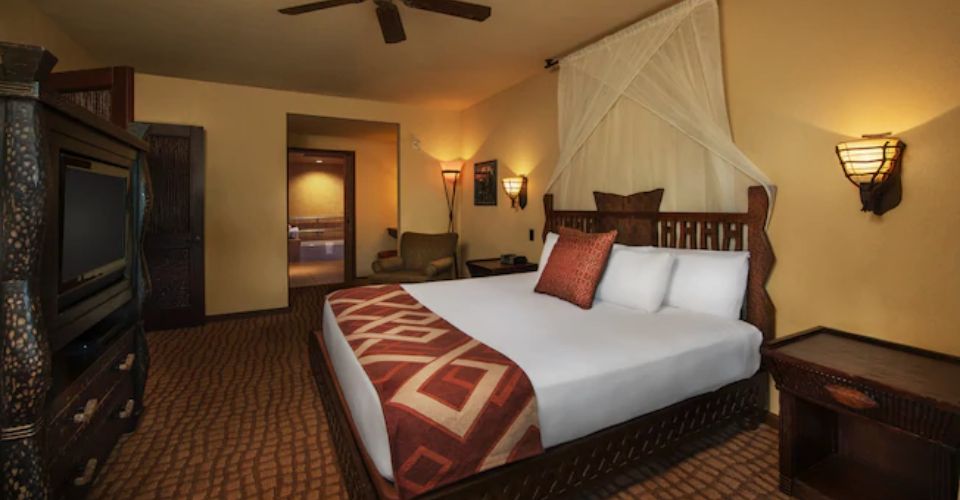 The two bedroom suites have an additional living space with a King bed adding a few hundred square feet of living space an extra bathroom and enough room for up to 8 guests to stay.
Suite - Two Bedroom Amenities:
Size: 1050 sq ft (approximate)
Sleeps: 8 Guests
Views: Savanna
Internet: WiFi
Bedroom #1: 1 King Beds, Flat Screen TV, Desk, ceiling fan
Bedroom #2: 2 Queen Beds, Flat Screen TV, Desk, ceiling fan
Living Room: Sleeper Sofa, Table with Chairs, Wet Bar, Entertainment center
Bathroom: Tub, separate shower unit, Toilet, Double Sink, Closet
Additional Amenities: Hair Dryer, Iron and Ironing Board, small Refrigerator
TV's: 1 Flat Screen
Outdoor Space: Balcony that stretches across the Living Room and Bedroom area with table and chairs
RESERVATIONS
Disney Animal Kingdom Lodge