Christmas at the Boardwalk Inn Resort Disney
Classy, elegant style with a 1940's boardwalk-style layout and design, the Christmas decorations at the Disney Boardwalk Inn are fun to look at and a perfect place to get some great family photos. Christmas garland is hanging from all areas of the Boardwalk Inn Resort and the large tree lit up as a lighting spectacle in the main courtyard is a wonder to behold. Christmas comes alive at the Boardwalk Inn with the Gingerbread Ice Cream Cone stand. Get some great ice cream and a cone flavor you will not see anywhere else.
Everything Christmas at the Disney Boardwalk Inn
Christmas Trees and Decorations at the Boardwalk Inn
The huge garland wrapped banisters around the main lobby of the Disney Boardwalk Inn really make it shine int he Holiday season. Garland is also hung with care above the mantel of the huge fireplace giving that special, cozy family Christmas feel to your vacation. Multiple Christmas trees are displayed inside and there is also a large Tree decorated with ornaments and color lights outside in the main courtyard. Garland wrapped boardwalk lights line your walking path giving you the sights and sounds of Christmas no matter where you go.
Gingerbread Ice Cream Cones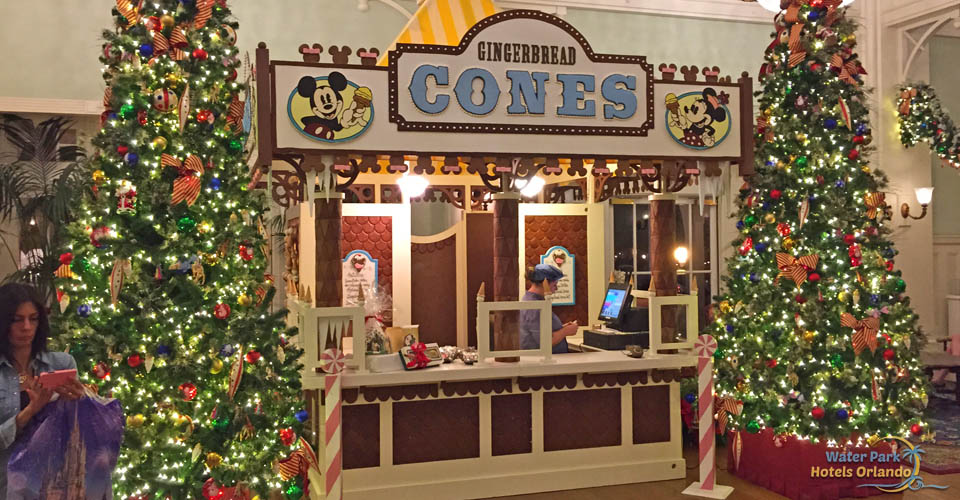 The Gingerbread Ice Cream Cone stand setup at the Disney Boardwalk Inn adds a unique taste to Christmas. While other resorts have a Gingerbread display, the Boardwalk Inn stands out with a special gingerbread ice cream treat. Give it a try, it is only around at this time of year.
RESERVATIONS
Disney's Boardwalk Inn