Dining at the Boardwalk Inn Disney World Resort
What is so different about eating at the Boardwalk Inn is the location of the dining experiences. No other Disney Resort has a Boardwalk full of entertainers, excitement and restaurants. Eat by the Crescent Lake on the boardwalk or dine inside with gorgeous views of the lake, as well as the Disney Beach Club Resort and Disney Yacht Club Resort on the other side. You can also grab some great outdoor American favorites by the Luna Pool and never have to get out of your swimwear. The Boardwalk Inn Resort is so much fun, no matter where you stay, it is a great way to enjoy something different when visiting Disney World. There are so many places to dine, take a look at the list below:
List of Restaurants at the Disney Boardwalk Inn
Flying Fish
The premium dining experience you get from the Flying Fish restaurant at the Disney Boardwalk is one that will not be forgotten. Order your favorite Seafood or prime Steak Call in this modern, chic Table-service dining experience. The royal blue and gold tones scream elegance and you are waited on to get the best meal of your stay. Get your reservations booked early for this one.
Dress Code
The Flying Fish Restaurant has a dress code to adhere to. It is requested that Men need to wear slacks or Khakis, while nice dress shorts are accepted, they are not the norm. You will also want to wear a shirt with a collar. If desired, you can certainly put on your sports jacket. Ladies should wear a skirt, dress, dress shorts or capri pants. Reservations
Reservations are highly recommended at the Flying Fish and can be booked up to 180 days prior to your visit.
Open Weekdays from 5:00 PM to 9:30:00 PM
Serving Dinner only
Reservations are recommended and can be made up to 180 early
Dress code must be maintained
Big River Grille & Brewing Works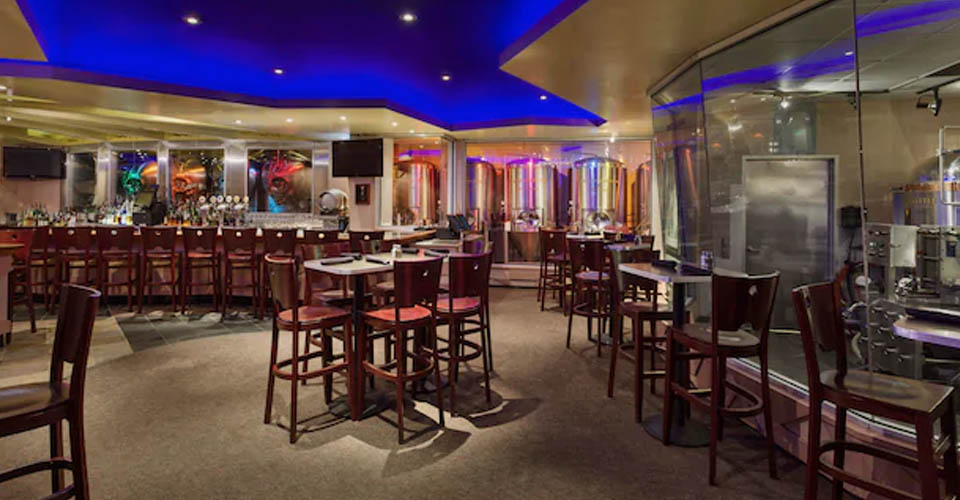 Want to experience something a bit different? Head over to the Big River Grille and watch the brewmaster work their magic through a floor to ceiling window. Six amazing microbrews are continually being processed and while you watch, get some of the great American Pub favorites to eat.
Lunch: Open from 11:00 AM to 4:00 PM
Dinner: Open from 4:00 PM to 11:00 PM
Reservations are recommended and can be made up to 180 early
Casual Attire
ESPN Club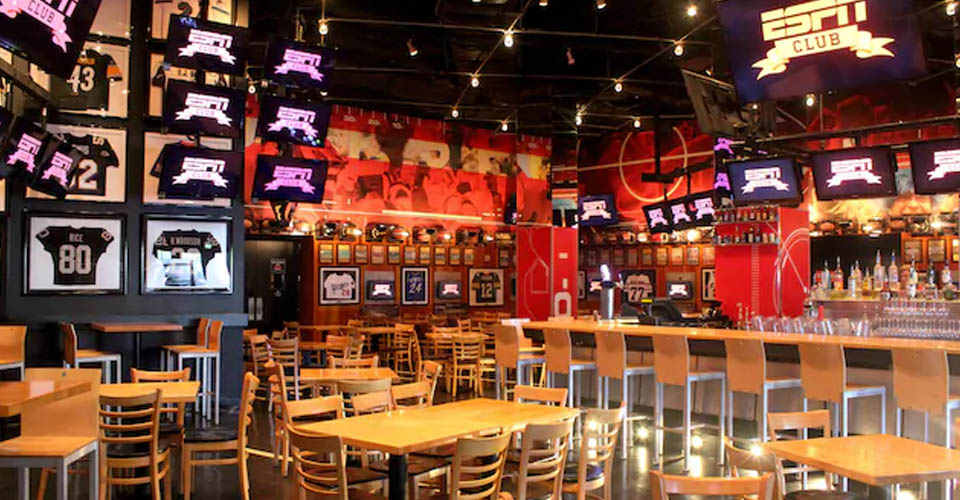 Get in some game time and have some great American food like Beer battered Fish or a favorite Cruch Burger. Screens are all around for you to watch your favorite game, cheer with friends and really have a great time.
Lunch: Open from 12:00 PM to 4:00 PM
Dinner: Open from 4:05 PM to 11:00 PM
Casual Attire
Trattoria al Forno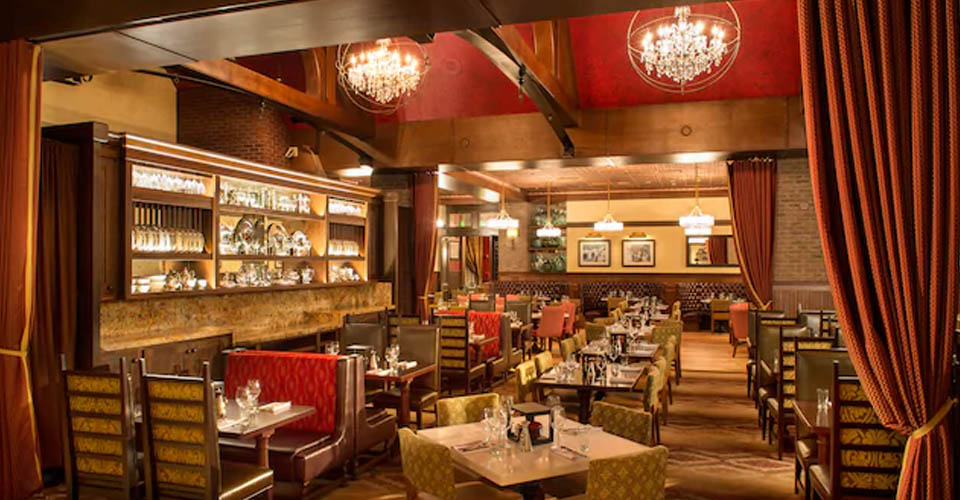 The Trattoria al Forno is a favorite among guests visiting the Disney Boardwalk Inn. Serving a more casual experience with some of the greatest Italian meals. Get something filling and just some great down-home Italian meals at the Trattoria al Forno.
Dinner: Open from 5:00 PM to 10:00 PM
Dress: Casual
Bon Voyage Adventure - Character Breakfast
Have the opportunity of meeting some of your favorite Disney Characters, and some that you will not find at other Disney Character Breakfasts at the Trattoria al Forno. Characters will only be seen at the Breakfast time, not at dinner.
Breakfast: Open from 7:30 AM to 12:05 PM
Dress: Casual
Reservations are recommended and can be made up to 180 early
Characters you might see: Ariel, Prince Eric, Rapunzel, Flynn Rider
Boardwalk Bakery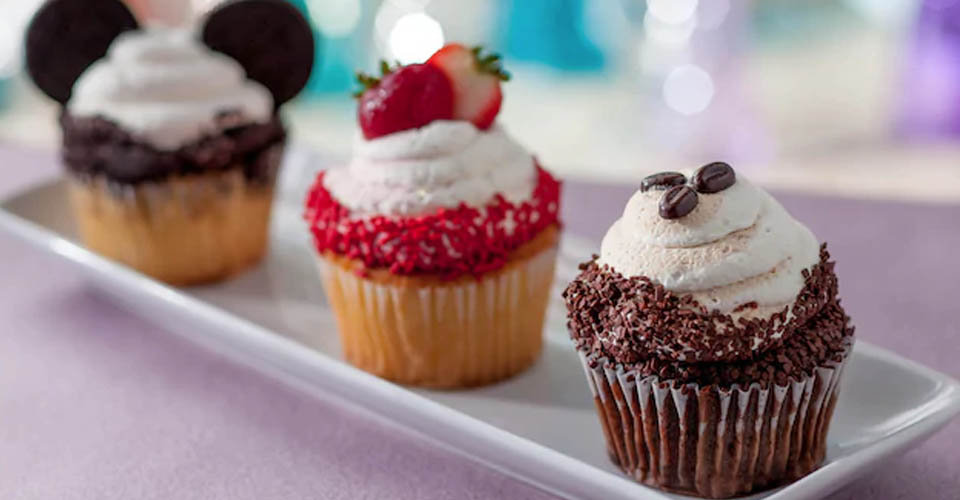 Once you stop into the Boardwalk Bakery and see all of the delicious desserts, you will be compelled to make this one of your daily stops. Wonderful sweet treats stand out but you can also get amazing sandwiches and salads any time of the day.
Open from 6:30 AM to 11:00 PM
Pizza Window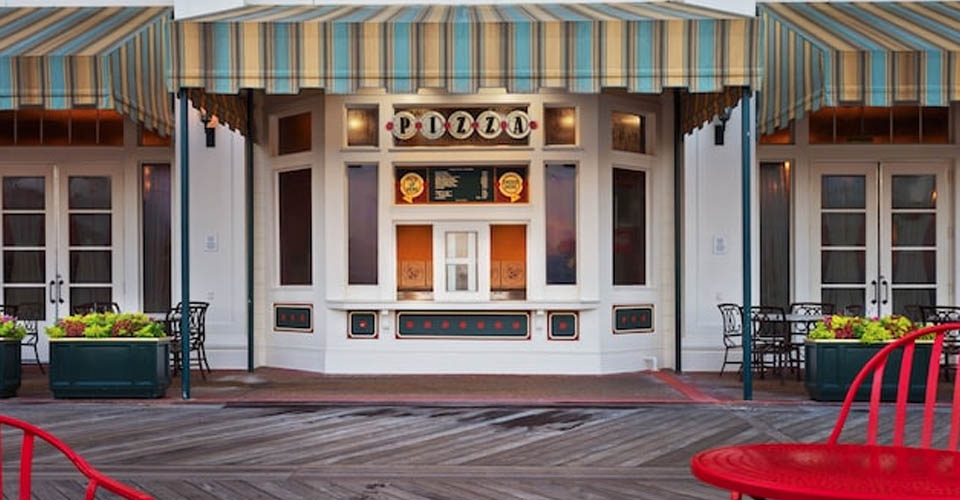 Who wouldn't want to sit on the Boardwalk with a slice of Pizza, watching the action from one of the cute red or black tables? I can tell you, this is a great pizza place and an inexpensive option for the family to dine together. Add this to the performers and people walking by and this is a great place to grab lunch or dinner.
Open from 12:00 PM to 12:00 AM
Leaping Horse Libations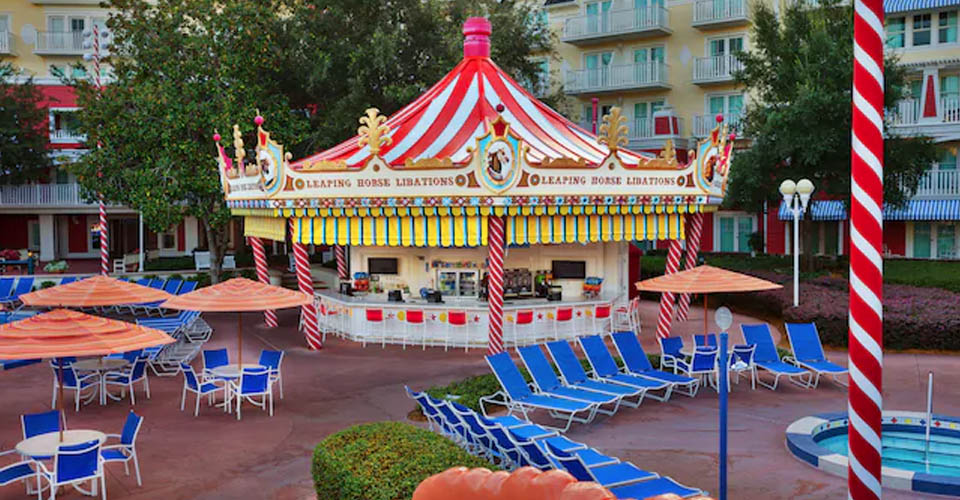 Get settled in at the Luna Park Pool for the day. Trust me, once your kids find the 200-foot water slide that looks like a roller coaster on the pier, they will not want to leave. Lunch & Dinner is available at the Leaping Horse Libations so you can stay put as long as you like.
Open from 11:00 AM to 9:00 PM
RESERVATIONS
Disney's Boardwalk Inn