Celebrate Christmas at the Disney Contemporary Resort
Walking up to the main entrance of the Contemporary hotel, you start to see many different Disney Contemporary Resort Christmas Decorations. It is impossible to miss the huge Christmas tree with its incredibly large Christmas Star on top in the main courtyard surrounded by flags leading up to the resort. Getting out of your vehicle at the entrance, you are welcomed by large garland with ornaments strung between the pillars. What an amazing treat for the eyes and a wonderful way to put you in the Christmas Spirit. Continue to look around and you will find plenty of Christmas Decorations around the Disney Contemporary Resort.
Once inside the main lobby area, you will see many different Christmas Trees decorated in various styles and sizes. Garland is also hung with large Christmas wreaths at many different locations throughout the resort.
What is Unique about Christmas Decorations at the Contemporary Resort?
Starting with the massive Christmas tree outside that you can peer through the huge glass windows of the Contemporary Resort to see, to all of the wreaths, garland and Christmas trees inside, the Contemporary Resort does not disappoint with the Holiday Season at Disney World.
Gingerbread Christmas Display at the Contemporary Resort?
Have you heard about the "out of this world" gingerbread designs at the Disney World Deluxe Resorts? Each year, the Resorts put together a fantastic display of Gingerbread and what you will see at the Contemporary Resort is a kids favorite. Yes, that is right, you will get to see a mixture of old with the new when you see the incredible display of Gingerbread in an "It's a small world" era showcasing your favorite characters and castle from the Movie Frozen. While you are enjoying the Gingerbread extravaganza, be sure to get some amazing treats behind the counter like Gingerbread and even small Gingerbread Houses.
Ingredients used in the Frozen Display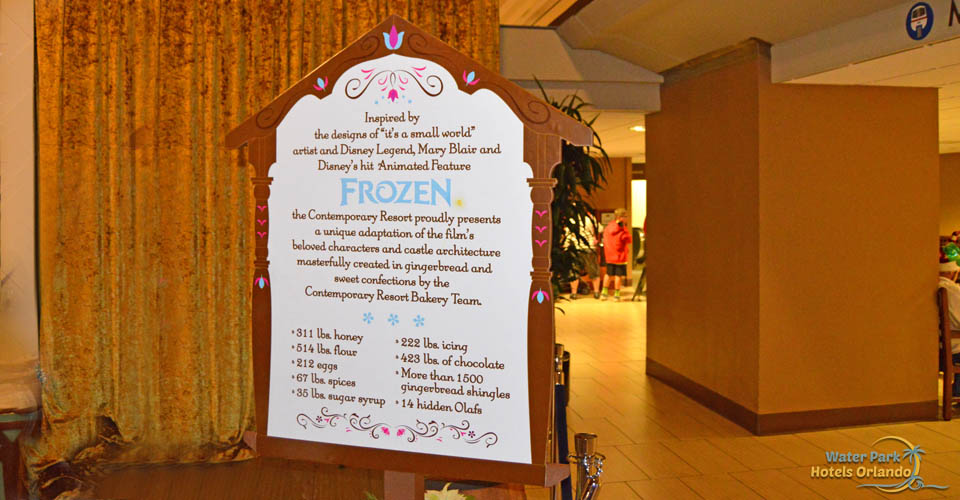 423 lbs. of chocolate
514 lbs. flour
212 eggs
67 lbs. spices
35 lbs. sugar syrup
311 lbs. of honey
222 lbs. icing
1,500 gingerbread shingles
14 Hidden Olaf's
A Frozen Christmas
Kids will want to look at the Frozen Gingerbread-scape for hours but remind them that there is plenty more to see not only in the Contemporary Resort at Christmas but also all around Disney World. This is just the beginning.
RESERVATIONS
Disney Contemporary Resort