Rooms at Disney's Coronado Springs Resort
Choose from any of the three unique village styles when staying in one of the Disney Coronado Springs Resort Rooms. Closest to the front of the Resort where all of the Restaurants and check-in is, the Casitas give you a Mexican Urban setting and also have the preferred rooms if you choose them. The Ranchos make you feel as if you are at a Southwestern Ranch with large rock gardens and plenty of greenery to go around. If you are looking for a beach feel, the Cabanas are situated on a long strip of white sand on an inlet from the Lago Dorado and are the closest accommodations to the .
Preferred Rooms
The only difference between the preferred rooms and the standard rooms at Disney Coronado Springs Resort is the closer proximity to the main building where the dining is. If you want to cut down on the amount of walking you do at the resort, spend a little more and book a preferred room instead.
Rooms at Disney's Coronado Springs Resort
Double Queen Room
Subtle hints of the Southwest flow throughout the Standard Rooms at the Coronado Springs Resort in Disney World. These 314 square foot rooms offer comfort and style without breaking the bank. Two Queen Beds sleeps four guests and the double sink in the bathroom makes it easier for multiple guests to get ready at one time.
Queen Bedrooom with Two Beds Amenities:
Size: 314 Square Feet
Sleeps: 4 Guests
Views:Water, Garden
Internet: WiFi is included in each room
Master Bedroom: 2 Queen Beds with Flat Screen TV, Ceiling Fan, Comfortable Chair
Master Bathroom: Tub / Shower Unit, Double Sink, Closet
Additional Amenities: Hair Dryer, Iron and Ironing Board, mini-fridge
TV's: 1 Flat Screen
Outdoor Space: no Balcony
King Room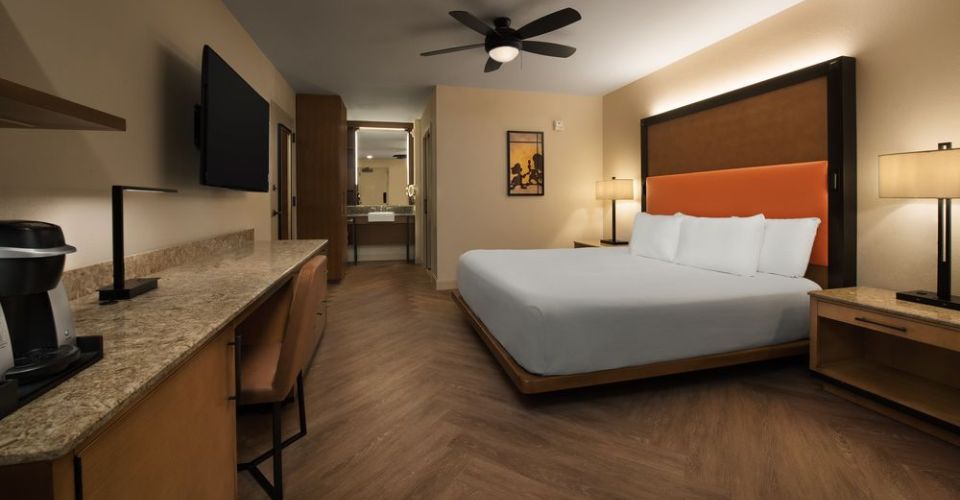 Having the same amount of space that you get from the double queen room, the King Standard Rooms give you extra space to get around. Sleeping only two (2) guests makes the King Bedroom a great option for that romantic getaway. The bathroom has double sinks and the toilet and tub/shower unit is separated by a door for extra privacy.
King Bedrooom Amenities:
Size: 314 Square Feet
Sleeps: 2 Guests
Views: Pool, Gardens
Internet: WiFi
Master Bedroom: 1 King Bed with Flat Screen TV, Ceiling Fan, Sitting Chair, Desk
Master Bathroom: Tub / Shower Unit, Double Sink, Closet
Additional Amenities: Hair Dryer, Iron and Ironing Board, mini-fridge
TV's: 1 Flat Screen
Outdoor Space: no Balcony
RESERVATIONS
Disney Coronado Springs