Shuttle Service at the Disney Campground Fort Wilderness Resort
Uncommon in many ways from the other Disney Resorts in Orlando, the Transportation at the Disney Fort Wilderness Campground is no exception. While the Disney Value, Moderate, Deluxe Resorts all offer Shuttle Service to the Disney Parks and Disney Springs, the Fort Wilderness Campground is so large, it also runs shuttle service inside of the resort. These buses continually stop to pick up guests at various locations around the camping area to get you where you need to be. Many guests don't want to rely on another type of transportation so they will either rent a bike or a golf cart to get around. Any way you look at it, when you are staying at a Resort sitting on 750 acres of land, transportation is crucial for sure.
Disney Monorail
Did you know that the most iconic transportation at Disney World, the Monorail, does not go to every Resort or every Disney Park? Watching the commercials, you would think that you would get to ride the monorail, no matter where you stay. While it might be true that the Monorail does not go to the Fort Wilderness Campground and Cabins, you are able to hop on from the Magic Kingdom to visit any of the Disney Resorts connected to the Monorail Transportation system or headed over to Epcot.
Some Helpful Tools
Staying at the Disney Fort Wilderness Campground gets you water taxi service to the Magic Kingdom and Shuttle Bus transportation to all of the other Disney Attractions. If you are considering going to one of the other parks, like SeaWorld or Universal Orlando, you will have to find your way. Most of the guests staying at a campsite bring their vehicle, and this is a great way to go where you want during your stay. Guests staying at one of the Disney Fort Wilderness Resort Cabins might have taken air travel to get to Orlando. In this case, Orlando has some simple ways to get around such as calling an UBER or the local Mears Taxi Service. Here are some helpful links if you need transportation around the Orlando area.
Orlando Fort Wilderness Transportation options
How does the Disney Parks Shuttle work from Fort Wilderness Campground & Cabins?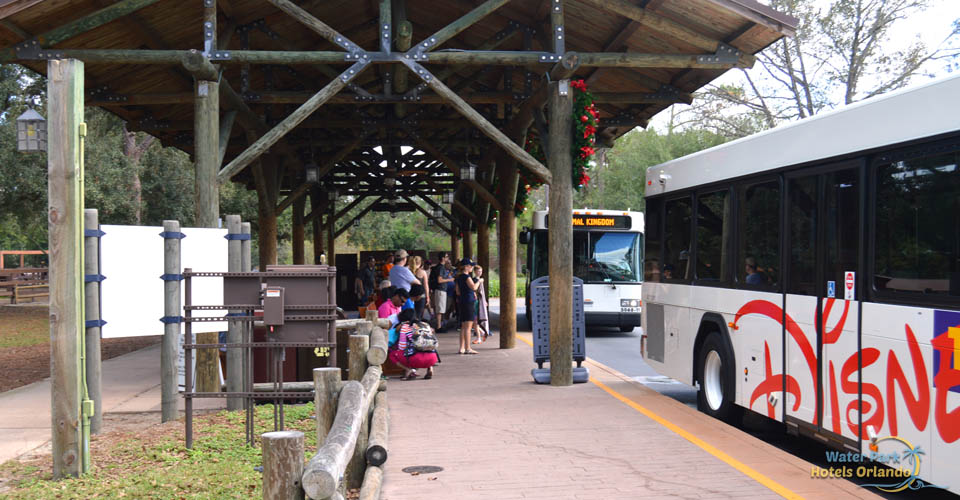 Disney begins their day, running the transportation lines one (1) hour prior to each park time opening. At the end of the day, Disney keeps this transportation running until two (2) hours after the parks close. Transportation at Disney World starts running 1 hour before the theme parks open and continue until 2 hours after the parks close. A line of buses will pick up in front of Animation Hall with lines for each of the different Disney Parks and Disney Springs.
How does the Bus Service work inside of Disney's Fort Wilderness Campground?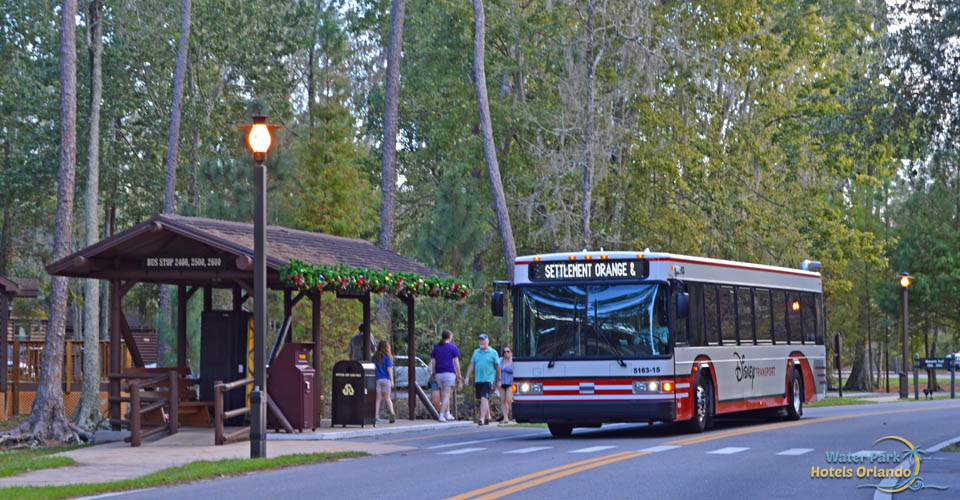 As you start driving around and looking for your Campsite, or Cabin, it doesn't take long to realize, the Fort Wilderness Campground Resort is massive. Being such a large place, Disney knows it would be impossible to get where you need to go without internal transportation and that is why the Fort Wilderness has multiple bus lines continuously running to get you where you need to go. Each of the lines are color-coded, Purple, Orange, and Yellow, much like a metro in a big city. Be sure you check the map (included and printable) to get on the right bus line to get you where you would like to be.
Fort Wilderness Resort Bus Map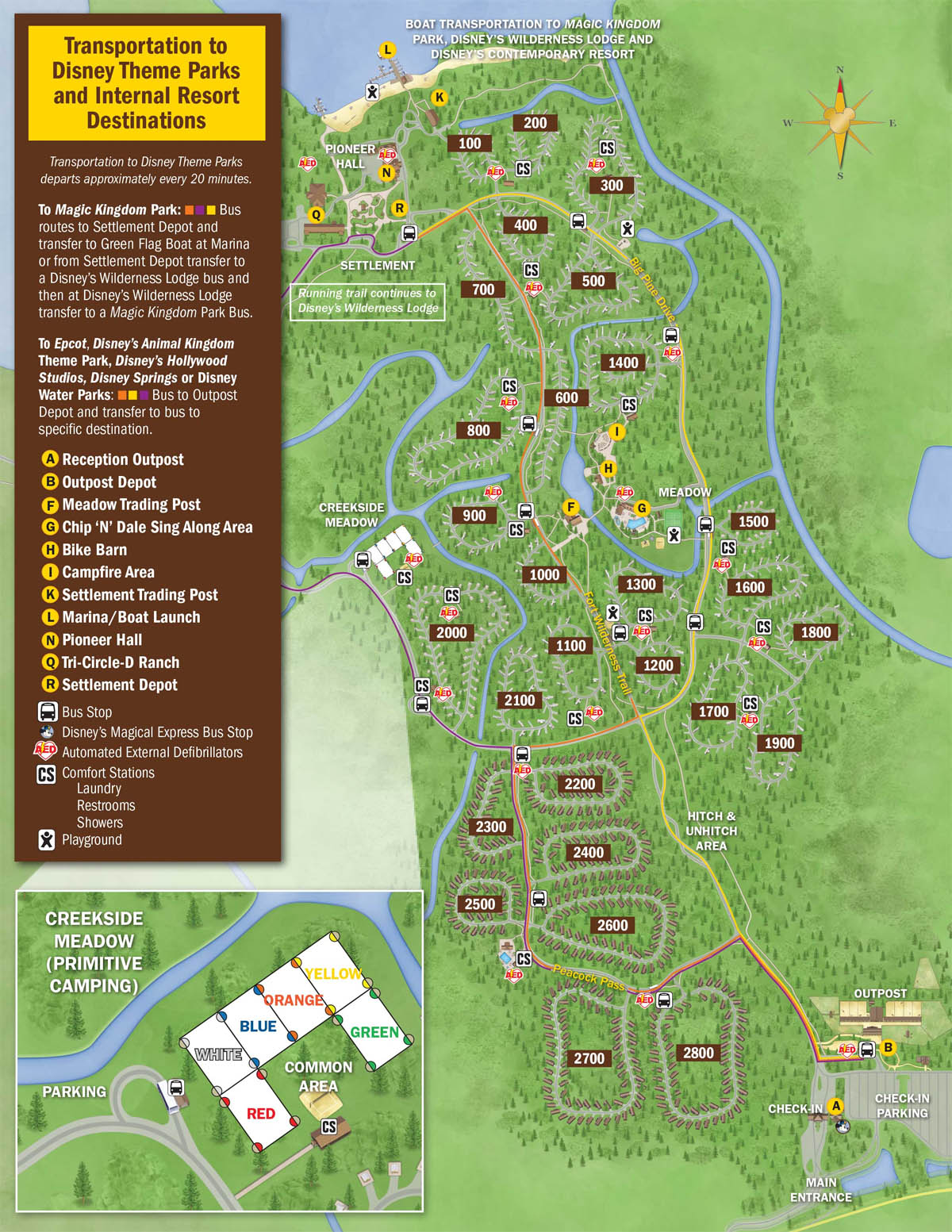 Downloadable version of Bus Route Map
Where do the Bus Lines go?
Your kids will want to know what bus they need to get on in order to get to the Meadows where the Pool, water slides and kids splash park are located. To get to the Meadows you can hop on the Orange or Yellow lines depending on where you are coming from.
Wilderness Lodge
Bus and Water Taxi Transportation will take you to the Wilderness Lodge next door as well. A scenic walking path connects these 2 locations as well but be prepared for a long walk if you decide to go in that direction.
How do I get to SeaWorld and Aquatica from Fort Wilderness?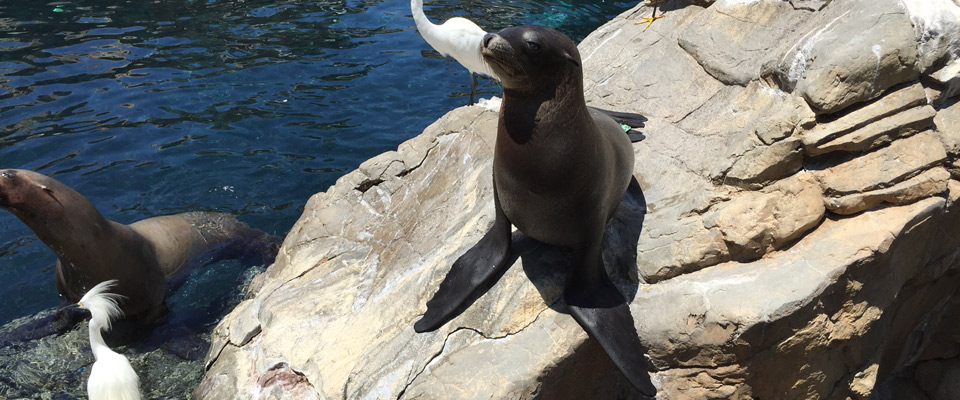 SeaWorld is so much fun but it is not a Disney Park so you will need to get your own transportation to and from the park. Calling the Mears Taxi or Uber services is a great option if you do not have your own car.
How far away is MCO Airport? Is there a free shuttle from the Airport?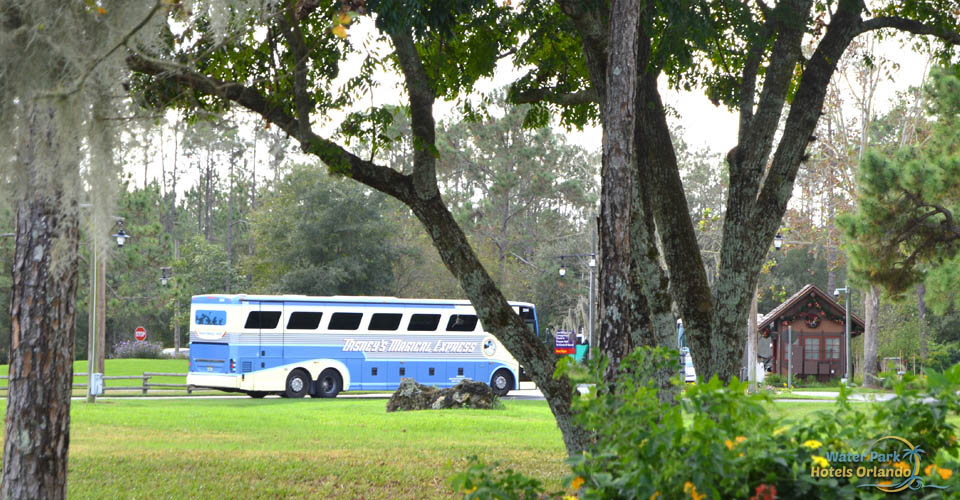 Transportation is easy using the Disney Magical Express provided as a free service from Disney World. In order to use the Magical Express just contact the Disney Reservation line to set it up. The MCO Airport is 22.5 miles away and takes about 30 minutes to travel to the Fort Wilderness Campground in Disney World. In the US call 407.939.1936 or in the UK call 0800.16.90.730 and get your Magical Express ready for your pickup.
What about transportation to Universal Studios and Islands of Adventure?

No matter how much you love Disney World, there are times when you might want to venture off and see something different. The World of Harry Potter could be just the right getaway at Universal Studios and Islands of Adventure in Orlando. Universal Orlando is 14 miles away from the Disney Fort Wilderness Campground and takes about 25 minutes to get there. Disney does not offer a shuttle to get you to Universal. The best option would be to schedule a Mears Taxi or setup Uber.
RESERVATIONS
Disney Fort Wilderness Campground