Disney Polynesian Resort Standard Rooms
Rooms at the Disney Polynesian Resort are some of the largest standard rooms available in any of the Disney Resorts, that includes the other Deluxe Resorts. Having 415 square feet per unit, the space you get to move around is quite impressive. Booking one of the rooms with two (2) queen beds gives you sleeping space for up to 5 guests with the added sofa that folds out into a single twin-sized bed. The decor has a distinct feel of the islands with bamboo beds and natural colors throughout. Double sinks in the bathroom make for a much easier time getting ready with multiple guests at one time.
Great fun at the Disney Polynesian
While the room might not be the focal point for the kids at the Disney Polynesian Resort, you will be thrilled to know there is so much for them to do once you get out of the room. And just wait until they see the Family Pool at the Polynesian Resort with a towering 40 foot Volcano and huge 142-foot water slide. The Polynesian might be one of the first Disney World Resorts but it is well maintained and continues to be a favorite among Disney die-hards.
Club Level Rooms
Looking for that extra care and attention while on your vacation to Disney World? Consider a Club Level Standard Disney Polynesian Room that gives you wonderful extras like access to exclusive Club Lounges. Complimentary food and drink throughout the day make you feel a notch above the rest and the added attentiveness you receive from the cast members will really make you smile. Once you are in the Club Level services, you might never want to book another type of room.
Disney Polynesian Rooms
Standard Double Queen Room
Each of the Standard Double Queen rooms at the Disney Polynesian Resort come with a very spacious 415 square feet of space. One of the biggest things to consider is the view. Some of the upgrades would be the Theme Park view of the Magic Kingdom or the view of the Seven Seas Lagoon. All of the views are pretty spectacular no matter where you stay.
Standard 2 Queen Room Amenities:
Size: 415 sq ft
Sleeps: 5 Guests
Views: Theme Park (Magic Kingdom), Garden, Lagoon
Internet: WiFi
Bedroom: 2 Queen Beds, Pull-out sofa to a twin bed, Flat Screen TV, Desk, ceiling fan
Bathroom: Tub/shower, Toilet, Double Sink, Closet
Additional Amenities: Hair Dryer, Iron and Ironing Board, small Refrigerator
TV's: 1 Flat Screen
Outdoor Space: Small Balcony or Patio with table and 2 chairs
Club Level Rooms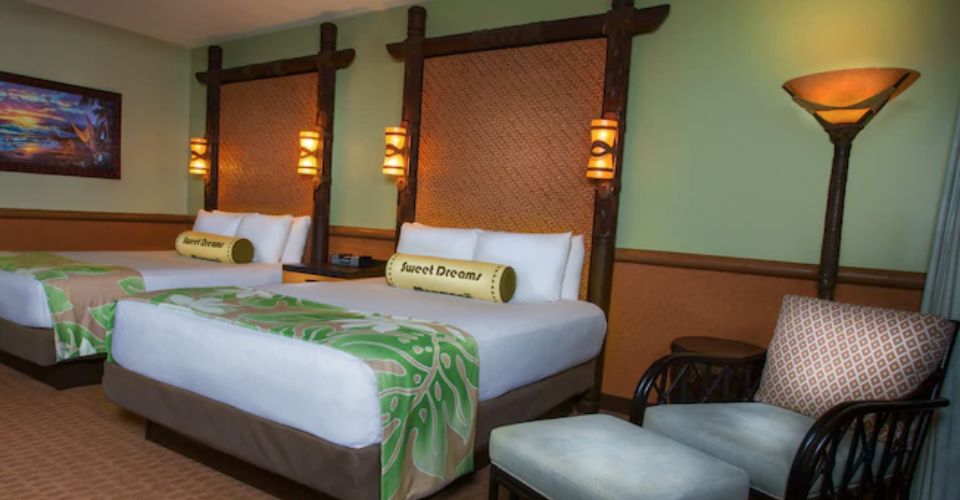 Staying in a club level room at the Disney Polynesian Resort you will come to find that the rooms are identical to the standard rooms but the amenities provided with your room stay are much more tailored to make you feel very special. Take a look at the list of some of the great amenities you are provided as a Club level guest:
Club Level Room Amenities:
Size: 415 sq ft
Sleeps: 5 Guests
Views: Theme Park (Magic Kingdom), Garden, Lagoon
Internet: WiFi
Bedroom: 2 Queen Beds, Pull-out sofa to a twin bed, Flat Screen TV, Desk, ceiling fan
Bathroom: Tub/shower, Toilet, Double Sink, Closet
Additional Amenities: Hair Dryer, Iron and Ironing Board, small Refrigerator
TV's: 1 Flat Screen
Outdoor Space: Small Balcony or Patio with table and 2 chairs
Club Level Amenities:
Turndown Service
Club Level Lounge Access (for only club members)
Concierege Services at the King Kamehameha Club
Health Club Access
Personalized Services
RESERVATIONS
Disney Polynesian Village Resort