Dining at the Saratoga Springs Disney World Resort
Dining at the Horse Racing Club today? You can be if you make reservations at The Turf Club Bar and Grill at the Disney Saratoga Springs Resort. Each of the restaurants and locations to dine will take you back to the beginning era of American Horse racing. The Artists Grill is also a great place to dine while overlooking the High Rock Spring Pool with its 128-foot water slide. Additional pool dining is offered at most of the larger pools as well.
List of Restaurants at the Saratoga Springs Resort in Disney World
The Turf Club Bar and Grill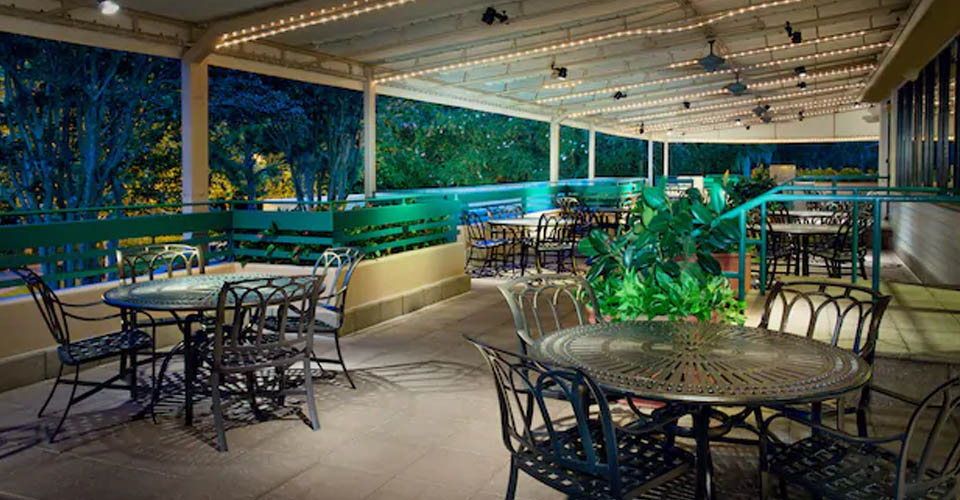 Wonderful steaks, beautiful views of the Lake Buena Vista Golf course and indoor or outdoor dining options make The Turf Club Bar and Grill the perfect place to have a Table Service dining experience. Stop by and relax while being taken care of with your favorite beverage and great dining.
Reservations
Reservations are highly recommended and can the Yachtsman Steakhouse can be booked up to 180 days prior to your visit.
Open Weekdays from 5:00 PM to 9:30:00 PM
Serving Dinner only
Reservations are recommended and can be made up to 180 early
Casual Attire
The Artists Palette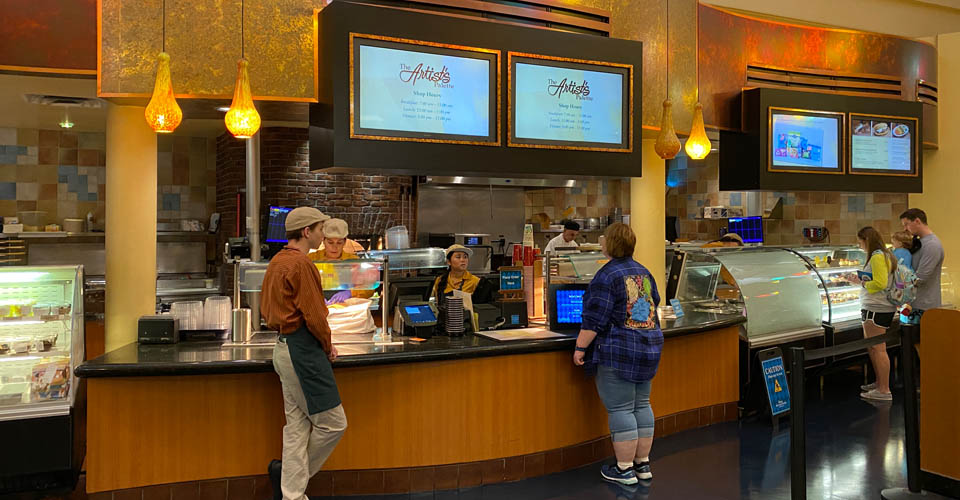 Step up to the counter at The Artists Palette and order any time of the day, Breakfast, Lunch or Dinner. Located near the Lobby and behind the High Rock Spring Pool, the Artists Palette is ready to serve you a wonderful meal. There is also a small grocery store to choose items to grab and go.
Serving: Breakfast, Lunch & Dinner
Open from 7:30 AM to 11:00 AM
Casual Attire
Counter Service
Backstretch Pool Bar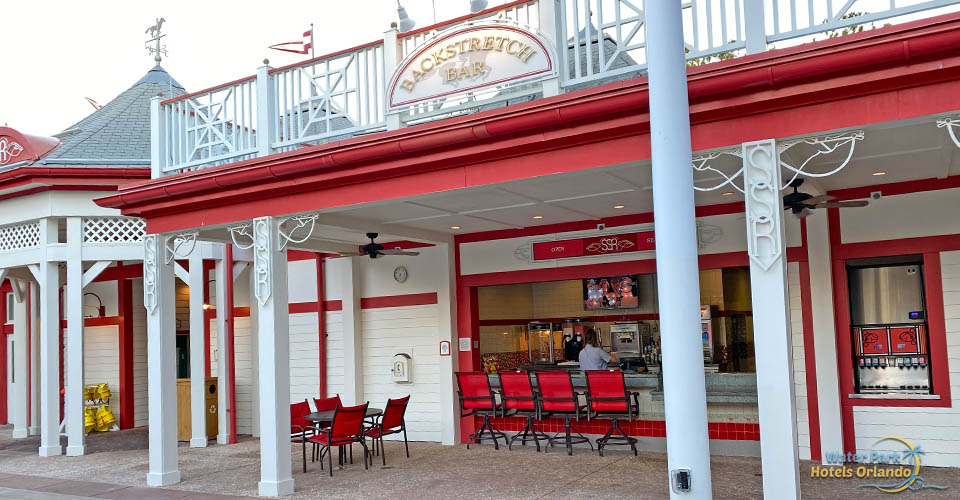 Red and White make the Backstretch Pool stand out from all of the other Saratoga Springs Resort Pools and the Backstretch Pool Bar has all of the refreshments you need to stay poolside. Grab a sandwich and snacks for lunch or sit at the bar with your favorite beverage.
Open from 11:AM to 9:00 PM
Casual
The Paddock Grill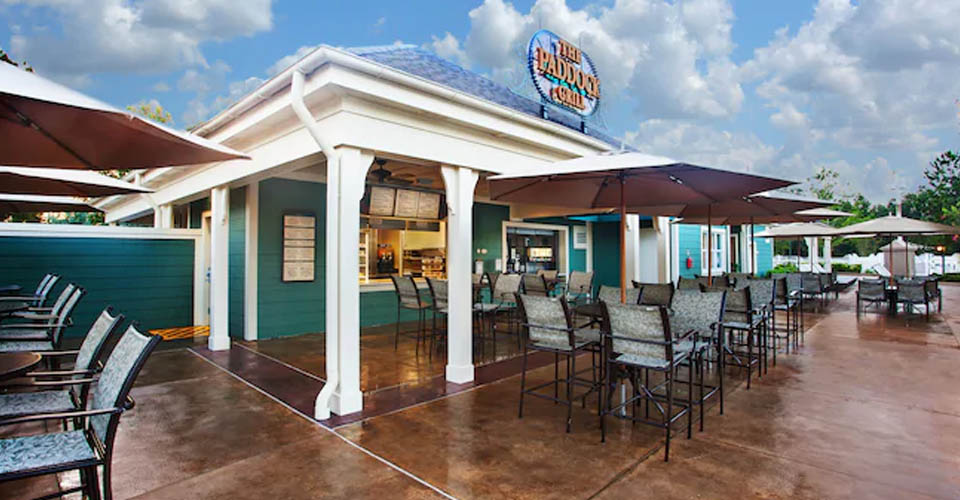 One of the best pools to spend your day is the Paddock Pool located across the lake at the Paddock. Not only does the Paddock Pool have the longest water slide at Disney Saratoga Springs, it has the Paddock Grill that serves Breakfast, Lunch & Dinner under the Disney Counter Service meals offering. Order some great favorites like the Saratoga Burger, sandwiches and salads.
Open from 7:30 AM to 9:00 PM
Dress: Casual
On the Rocks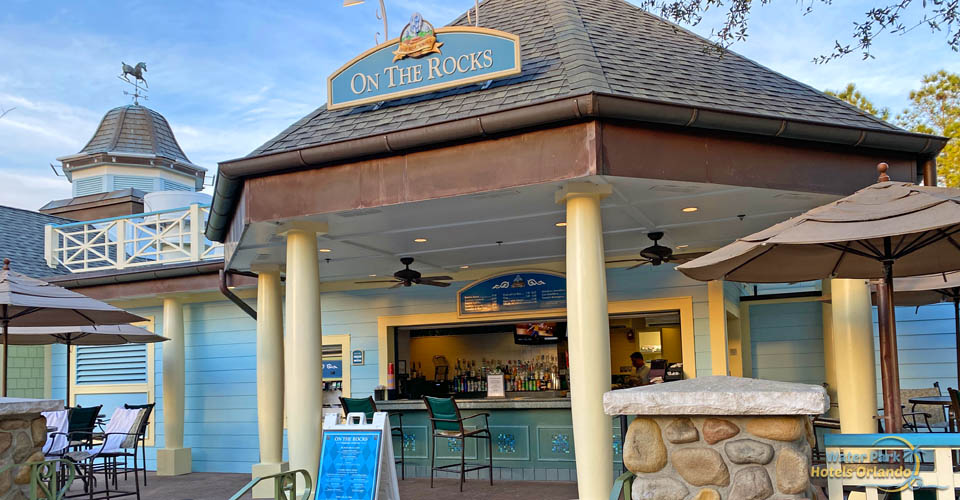 On the Rocks offers bar service with your ice cold adult beverage over at the High Rock Spring Pool. If you are looking to get some food while hanging out at the High Rock Spring Pool, the Artists Palette is located just behind the water slide entrance.
Open from 11:00 AM to 10:00 PM
RESERVATIONS
Disney Saratoga Springs Resort