Disney World 2 Bedroom Suites
If you are vacationing with a large family or group of friends, perhaps you should consider one of the Disney World 2 Bedroom Suites. Trust me, any trip longer than a couple of days is worth any price just to have the privacy of your own.
This can easily be done by staying at one of the Disney World Resorts in Orlando with 2 Bedroom Suites. It might come as a surprise, but not all of the properties have suites, let alone 2 Bedroom Suites in Disney World.
Disney World 2 Bedroom Suites
In order to accommodate all of the visitors to the Orlando Parks, Disney understands that most guests are on a tight budget. This is why you have a difficult time finding a Disney World 2 Bedroom Suite location if you don't know where to look. The Resorts at Disney World are broken up in to 3 distinct types, Value Resorts, Disney World Moderate Resorts and Deluxe Resorts. While many of these have suites available, only the Disney World Deluxe Resorts have the larger Disney World 2 Bedroom Suites available for their guests.
Which are the Best 2 Bedroom Suites at Disney World?
The answer to this question, really depends on the type of stay and surroundings you want during your stay. On one hand, if you are looking for the most prestigious and elegant location, the Disney Grand Floridian Resort and Spa is the Disney World Flagship Resort, and believe me, you are surrounded by style and elegance.
Pure elegance with plenty of room to spread out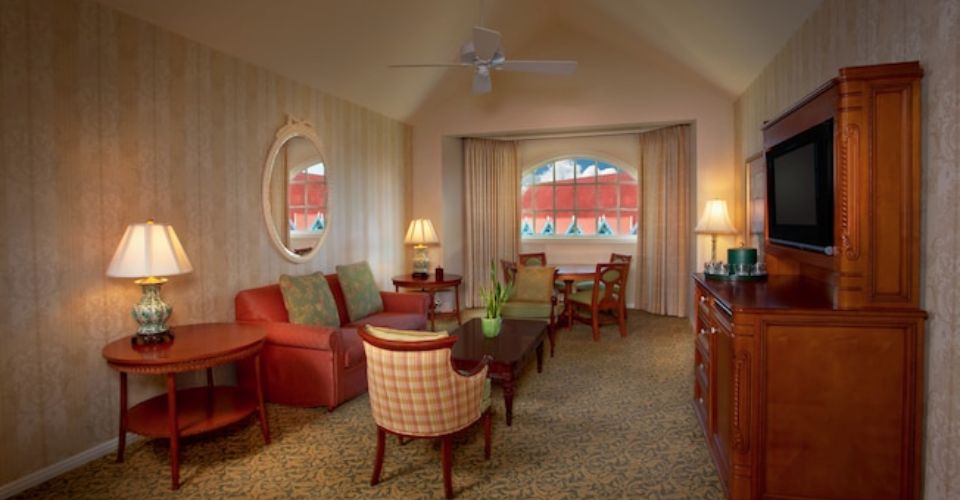 Looking out, over the glistening Crescent Lake and viewing the fireworks from your balcony, is one of the most exhilerating feeling you can share in Disney World. The Disney World 2 Bedroom Suites don't get any more elegant than the Grand Floridian. Space for up to 8 guests and comfortable living room area make this a great opportunity.
Animal on the Savanna from your Balcony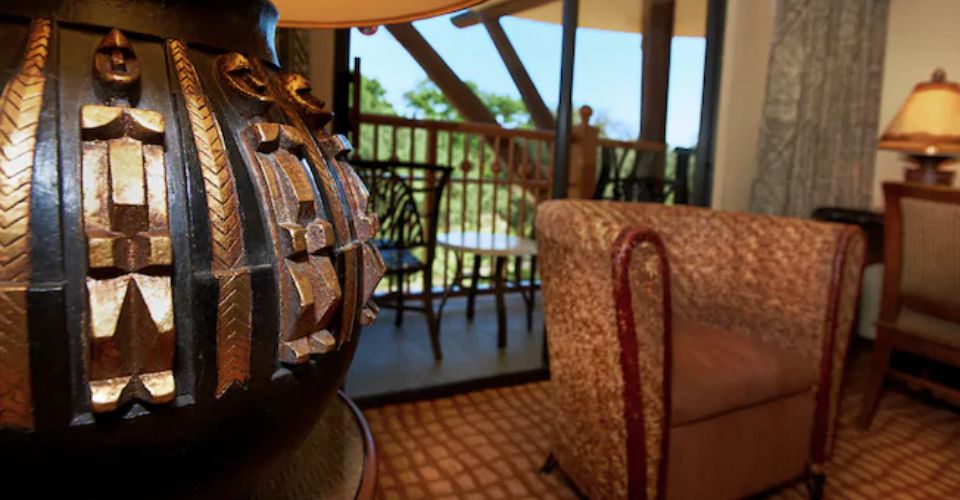 Can you ask for anything more from a Disney World 2 Bedroom Suites stay? Views of the Savanna each morning is a pretty special event. This is why the Animal Kingdom Lodge makes the list. There is nothing else like it in Disney World.
Each one of the Disney World 2 Bedroom Suites offers plenty of space with sleeping arrangements for 8 guests. The 2 Bedroom Suites in Disney World do not have Kitchens. If you are interested in preparing meals, you might be more interested in one of the 2 Bedroom Villas in Orlando.
Magic Kingdom Fireworks
If you stay at the Grand Floridian, Polynesian or the Contemporary, you are located directly across from the Magic Kingdom and you will have a fantastic view of the nightly fireworks without ever leaving your balcony.
Other Disney World Suite Options
Once you see the price of the Deluxe Resorts, you might find that you are willing to take a step back and look at the other resort options available. While the Disney Value resorts don't have any Disney World 2 Bedroom Suites, the All-Star Music and the Art of Animation both offer family suites. Each of the Suites at these Value Properties can accommodate up to 6 guests.
As you can see, there is no limit of the options you have when booking Disney World 2 Bedrooms Suites. Choose the location that best fits your family and have a great, spacious vacation.
All of the 2 Bedrooms Suites in Disney World Hotels