Which Marriott Hotel in Orlando has a Pirate Ship Pool?
There is only one Hotel by Marriott located in Orlando with a Pirate Ship Pool area, but it is not the only Pirate Ship Water Fun located in Orlando. Let's start with the Marriott Hotel first. The Marriott Harbour Lake is rated very high by guests and offers one and two bedroom villas for a comfortable family stay. The Shipwreck Landing is an exciting adventure for the kids with a large Pirate Ship water park complete with small kids water slides providing fun for hours. If a Marriott Hotel is what you are looking for with Pirate Ship fun, the Marriott's Harbour Lake is going to be the answer.
Great fun for all ages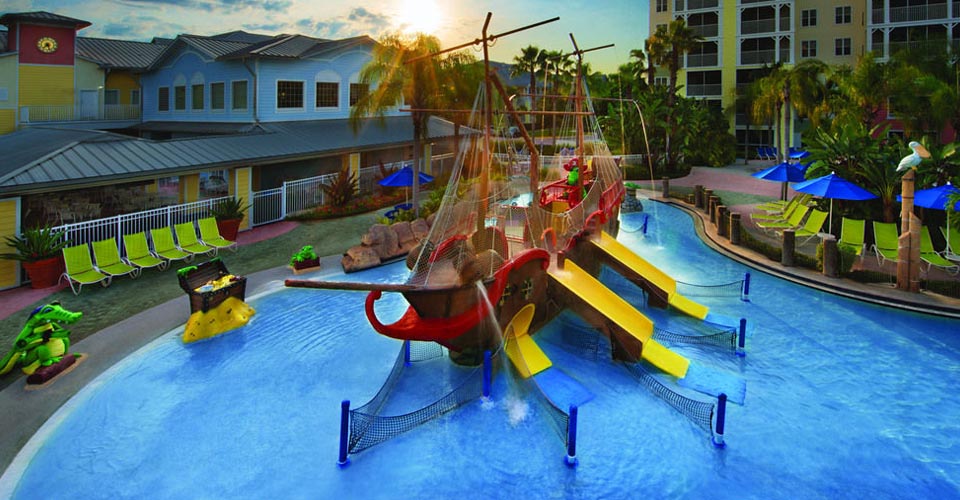 Great family fun is had every day at the Marriott's Harbour Lake with something for all ages. The Pirate Ship Pool is a huge draw for the little ones with multiple water slides, just the perfect size for them. The water surrounding the Pirate Ship is shallow and the zero-entry point makes it simple to get in and out of the pool. For the larger kids, head over to the other pool where you will find a much larger water slide for them. Another cool down center with splashing fountains is available at this location as well.
What other options are there? (non-Marriott branded Hotels with Pirate Ship Pools)
If you are willing to step out of the Marriott brand, you will find a few additional Hotels in Orlando with a Pirate Ship Pool. The Lake Buena Vista Resort and Spa gets similar ratings to the Marriott Harbour Lake and offers a large, more realistic looking, Pirate Ship located in their pool. For larger families and groups, this might be a slightly better option due to them having up to a four-bedroom suite with full kitchen and the ability to sleep up to 10 guests comfortably.
More Realistic Looking Pirate Ship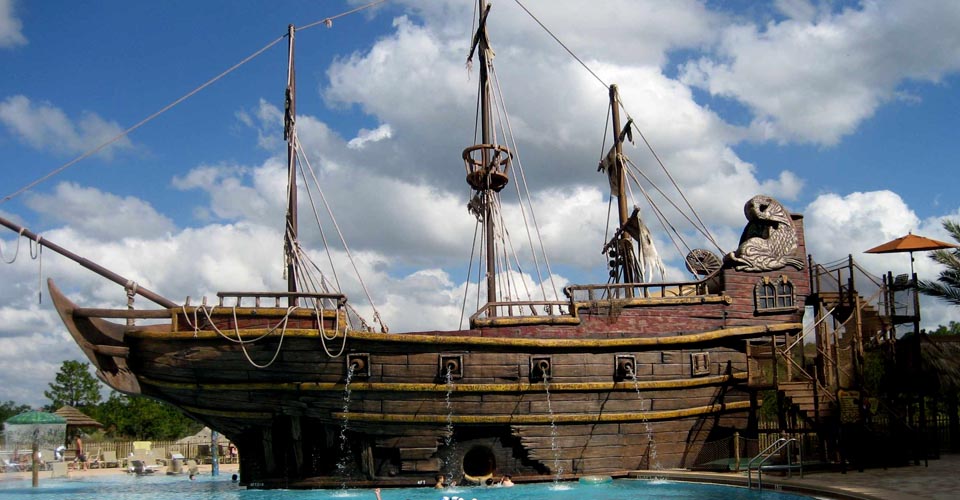 While the Lake Buena Vista Resort and Spa might not be a Marriott owned property, it is still one you might want to look at. The Pirate Ship is a little less childish and looks a little more like a real ship. The zero-entry makes this pool easy for the little ones just like at the Marriott's Harbour Lake.
There are a lot of other Hotels in Orlando with a Pirate Ship Pool. It might be worth a look before clicking that final purchase button. Also, did you know there is a Disney Hotel with Pirate Ship Pool?
Great, Fun Options
No matter which location you stay, you really can't go wrong. Just be prepared for a lot of Pirate talk when you visit.