Which Disney World Resort has Pirate Ship Beds?
Staying in a themed room when visiting Disney World can be a real treat for the entire family. Imagine your child as his/her eyes light up when they first walk in the room and see their Pirate Ship Bed at a Disney World Resort. Let the party commence, as well as all of the Pirate talk and banter. It lends to the magic of the trip and isn't that what it is all about anyway.
Pirate Ship Beds and Amazing Water Park Fun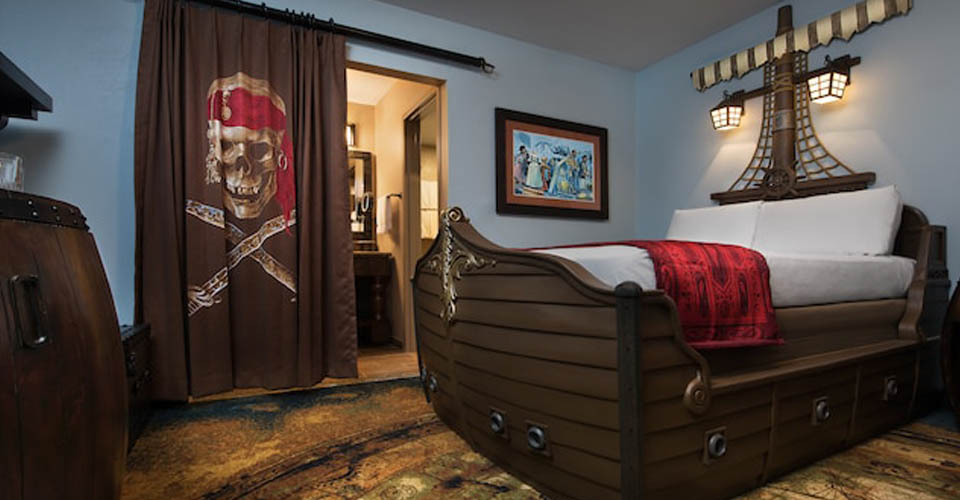 No question, the Pirate Ship rooms at the Disney World Caribbean Beach Resort are very unique and stand out from the crowd. Each of the Queen Beds is designed to look like a Pirate Ship complete with tall mast and special lighting above each bed. All of the decor in the room yells Pirate Ship with large wooden drums, crates for storage and a map of the world carpet. Kids might like the room, but they will love the Water Park. You will find a total of six (6) pools located around the Caribbean Beach Resort. Five of them are more quiet locations and more standard pools, but the Fuentes del Morro Pool is exceptional. The pool area itself is built to resemble an old Spanish Fort. Each of the protruding canons sprays water continuously to help cool you down in the Florida heat. A fun, large water slide is built into the Fort for the older kids, and a full Kids Splash Park is nearby with multiple smaller water slides and shallow water to keep things safe.
For Additional Pirate adventures, take a further look at the Hotels in Orlando with a Pirate Ship Pool.
Pirate design not what you are looking for?
If you are looking for a themed room with a little softer feel, one of the Disney World Princess Rooms might be more to your liking.