SpringHill Suites at Flamingo Crossing Rooms
Clean, comfortable suites are ready for your stay just outside of Disney World when you book one of the SpringHill Suites at Flamingo Crossing Rooms. Having the added space of a suite makes the trip to Orlando a bit easier to manage. A desk and work area act as a partition between the bedroom and living room space in many of the suites. Room layouts include a single king bed or two queen beds with a sleeper sofa. Entertainment is included with a large flat-screen tv in each suite. Do you want a view of the fireworks at Disney World? If so, be sure to ask for a room with Fireworks view when you make your reservation.
Suite – 1 King Bed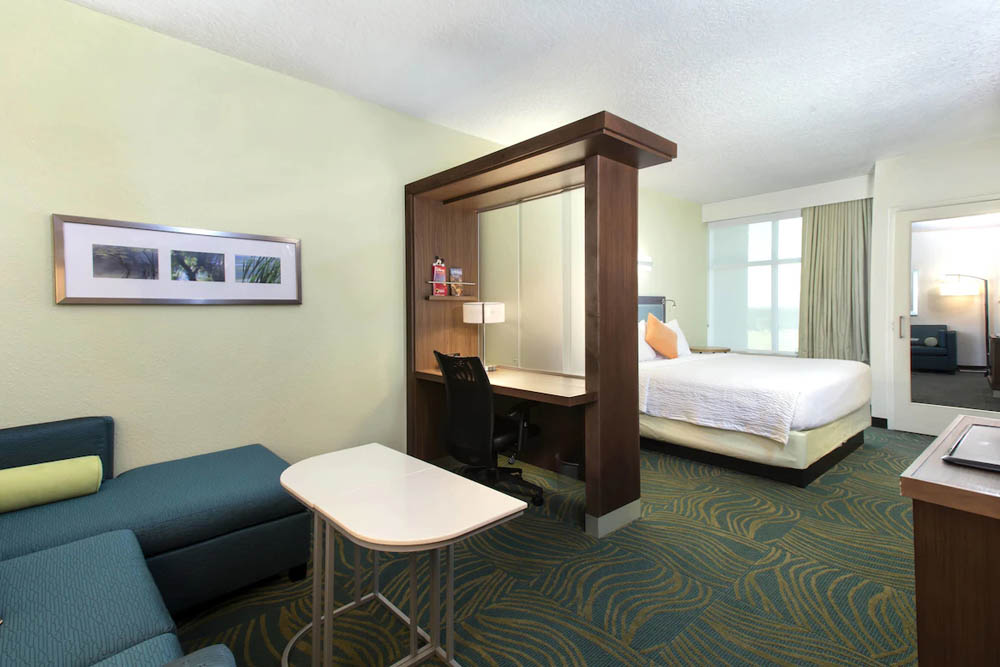 The King Suite at the SpringHill Suites Hotel has a single King bed. This is perfect if you are traveling alone or as a couple. The large bed is comfortable, and the extra space of having a seating area with a sleeper sofa gives you extra space to move around. Each room has a desk and chair, microwave, and a mini-fridge to keep items cold. Bathrooms are spacious with a single sink but additional counter space to make it easier when more than one person needs to get ready. A large walk-in shower is also provided.
Room Amenities:
Size: 327 ft
Sleeps: 3 Guests
Views: Not Listed
Internet: WiFi included with your stay
Main Space: 1 King Bed, Flat Screen TV, Desk with a chair used as a divider between the bedroom and living room
Bathroom: Shower unit and Sink
Additional Amenities: Hair Dryer, Iron and Ironing Board, small refrigerator, microwave
TV's: 1 Flat Screen
Outdoor Space: No balcony
Suite – 2 Queen Beds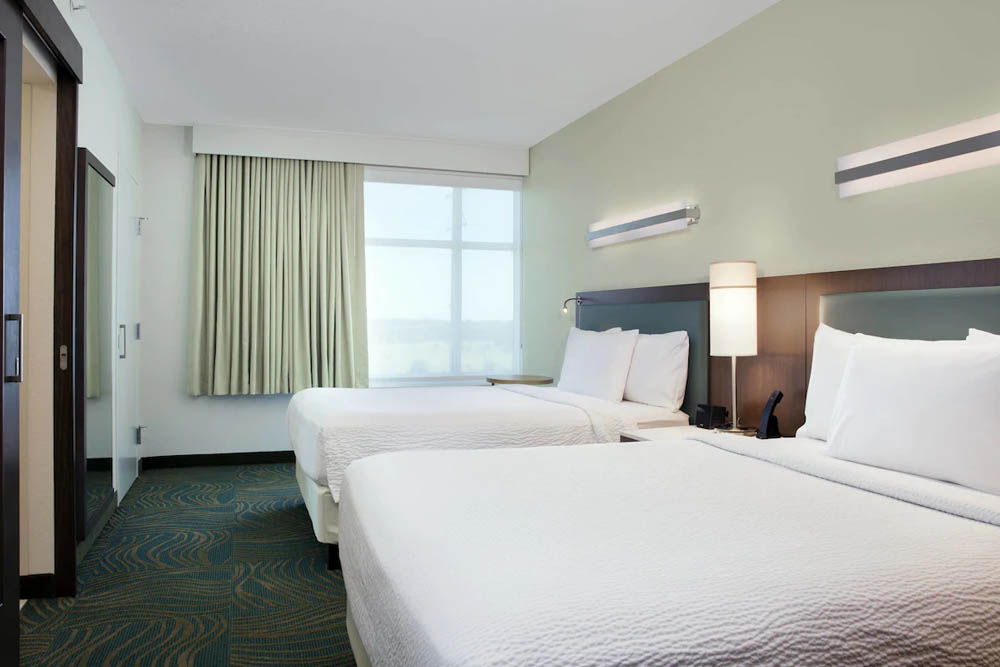 Up to 5 guests can stay in the Suite with 2 Queen Beds at the Flamingo Crossing SpringHill Suites. With 410 square feet, there is enough space to have two queen beds, a desk to separate the areas, and a living space with a sleeper sofa. A large closet is nice in these rooms with plenty of space to hang clothes.
Room Amenities:
Size: 410 sq ft
Sleeps: 5 Guests
Views: Not Listed
Internet: WiFi included with your stay
Main Space: 2 Queen Beds, Flat Screen TV, Desk with chair, large closet
Bathroom: Shower unit and Sink
Additional Amenities: Hair Dryer, Iron and Ironing Board, small refrigerator, microwave
TV's: 1 Flat Screen
Outdoor Space: No balcony
RESERVATIONS
Springhilll Suites Flamingo Crossing