Surfside Inn and Suites 2 Bedroom Suite
Want some additional privacy on the trip to Universal Studios without breaking the bank? The Surfside Inn and Suites 2 Bedroom Suite might be exactly what you are looking for. Booking a Two-Bedroom Suite gives you a lot more space to move around and also gives you some added privacy after a full day with the kids. The kids can have their own area with a TV to settle down and you get your own space. What a great option.
Suite Amenities:
Size: 440 sq ft
Sleeps: 6 Guests
Views: Courtyard, Pool and Parking Lot
Internet: WiFi
Master Bedroom: 1 Queen Bed, Flat Screen TV, Dresser
Main Space: 2 Queen Beds, Flat Screen TV, Desk, and chair
Kitchenette: Counter with small refrigerator, microwave and coffee maker, picnic table
Bathroom: Tub/Shower unit, Sink, Closet, split design for ease of getting ready
Additional Amenities: Hair Dryer, Iron and Ironing Board
Laundry: Private laundry is not available
TV's: 2 Flat Screen
Outdoor Space: Rooms do not have balcony
Master Private Bedroom
For the adults, the Surfside Inn and Suites 2 Bedroom Suite is a true marvel. After a long day of playing at the parks and getting the kids ready for bed, having a place to go and have some privacy is rejuvenating. The extra bedroom has a queen bed with a dresser and flat-screen TV.
Main Sleeping Area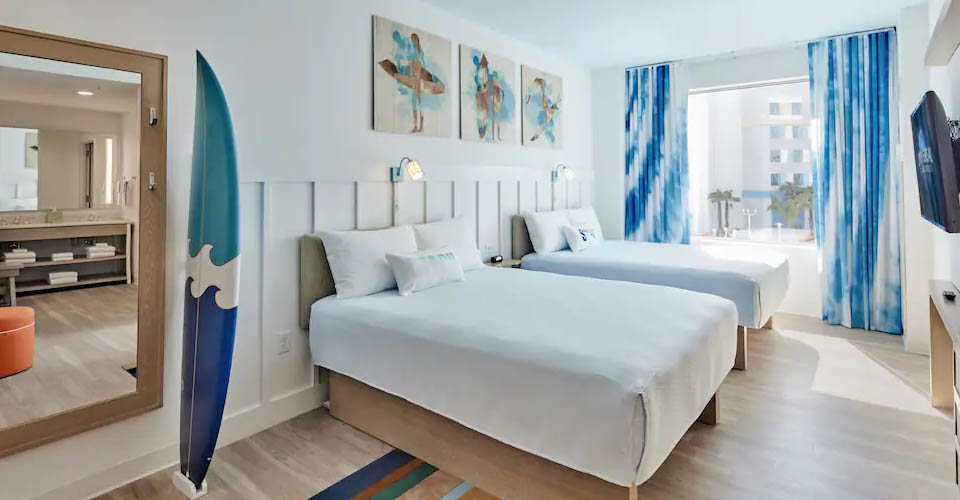 In the 2nd space you will find 2 queen beds with a dresser built into the entertainment area again the main wall. A vertical surfboard creates a small barrier between the bedroom and the kitchenette.
Kitchenette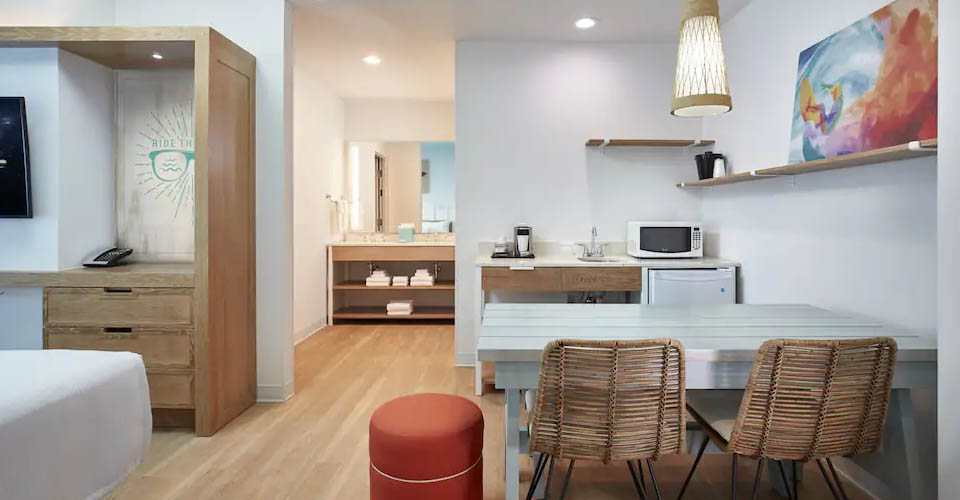 While not a complete kitchen, this wet bar space comes with a small sink for running water, counter space, coffee maker, small refrigerator, and a microwave. Having this space makes it easier to manage a simple breakfast and save some cost on your day.
Entertainment Area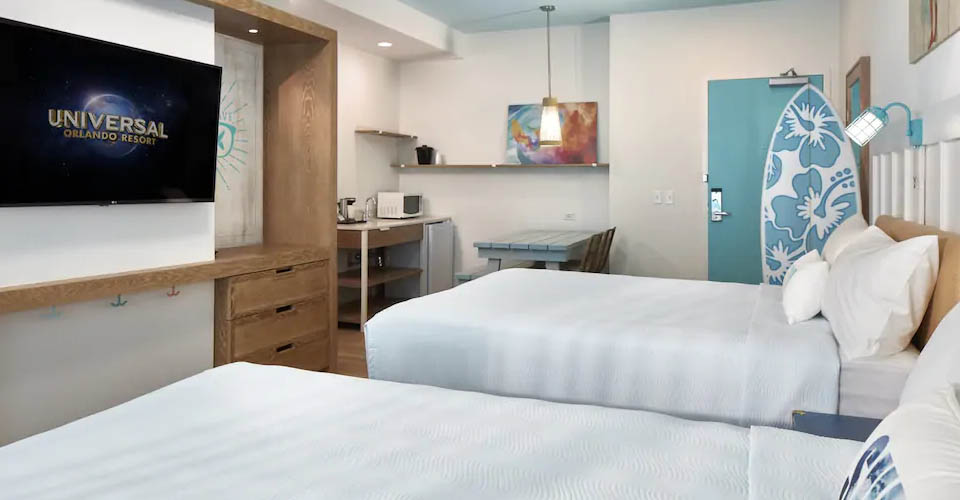 Enter the main space in the 2-Bedroom Suite and the kids will enjoy having their very own Flat-Screen TV to watch the shows they want while you get to enjoy your programming in your private room.
Storage Space
Each of the rooms provides storage space with dresser drawers and some additional closet space in the bathroom area. Each of the queen beds is raised and has a lot of space underneath for luggage and additional storage.
Bathroom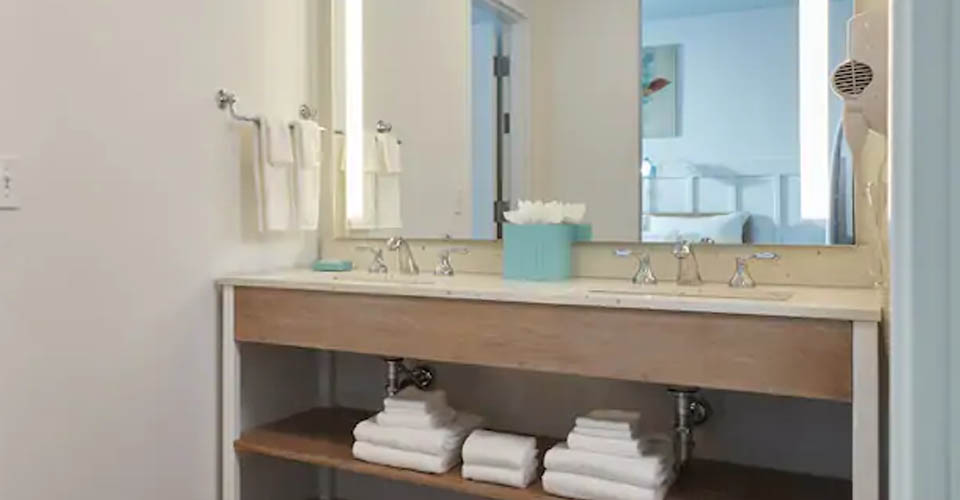 Although you are getting a 2 Bedroom Suite, you will be sharing one bathroom. This still works pretty well because of the design. One section has a double vanity with space for 2 people to get ready at the same time. The toilet and tub/shower unit are in a separate space which makes getting ready much easier.
Floorplan of the 2-Bedroom Suite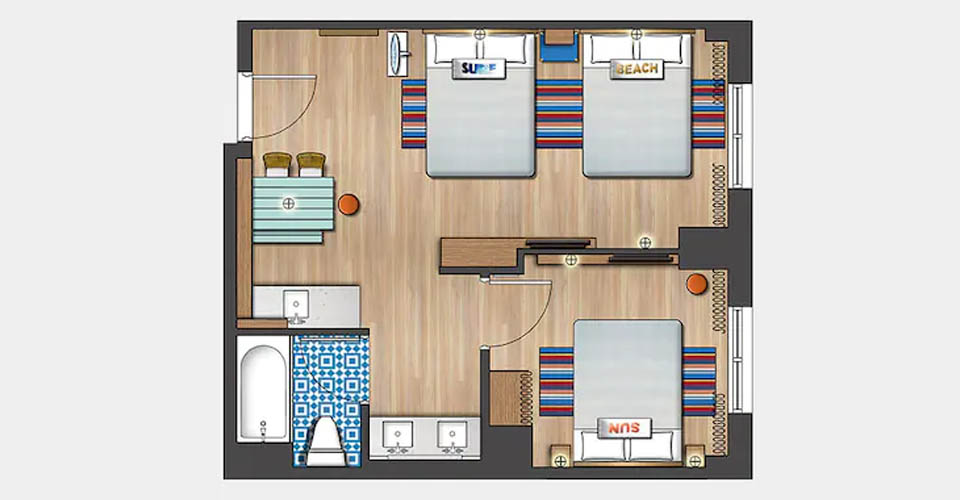 The Floorplan of the Surfside Inn and Suites 2 Bedroom Suite gives you a good idea of the layout of the room and the space you will have.
RESERVATIONS
Surfside Inn and Suites