Maps of Surfside Inn and Suites
The Surfside Inn and Suites Map and Directions will show that this Universal Endless Summer Resort is located just off of Interstate-4. On the corner of Universal Blvd and International Drive places the Surfside Inn and Suites on the opposite side of I-4 from the Universal Theme Parks and Water Park.
Transporation and Walking
Still, the Universal Surfside Inn is in a great location and about 1 mile from accessing City Walk, Universal Studios and Islands of Adventure. If you really want to walk to Universal Studios Orlando, you can certainly take the walking path down Universal Blvd, over I-4, and take the crosswalk over to City Walk. This walk is about 1.2 miles and will take you about 20 minutes to get to the parks. Since you will be walking so much during your day at the parks, you might consider taking the free bus transportation provided by Universal Orlando instead.
Surfside Inn and Suites Resort Map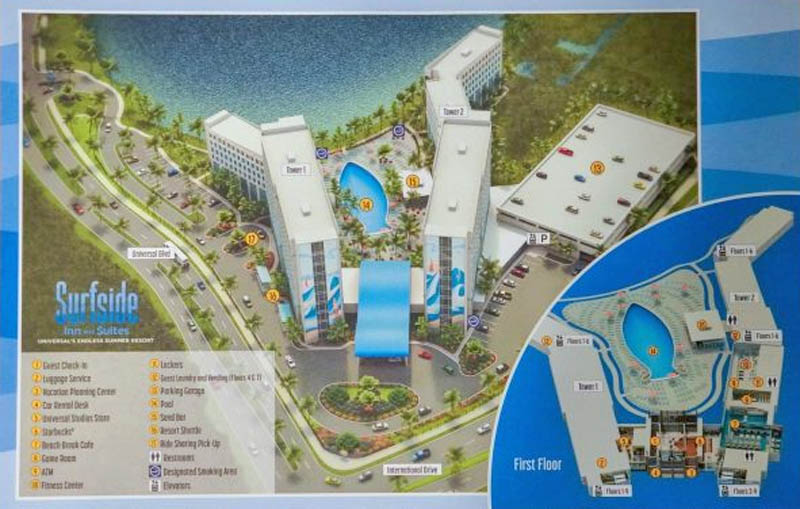 Directions to the Universal's Surfside Inn and Suites
From Orlando Intl Airport

Distance: 16.7 mi
Get on FL-528 W/FL-528 Toll W from Jeff Fuqua Blvd
Use the left 2 lanes to merge onto I-4 W toward Tampa
Use the right lane to take exit 75A toward FL-435 S
Turn right onto Universal Blvd
Use the right 2 lanes to turn left at Surfside Way
Turn left
The Surfside Inn will be on your Right
From Tampa

Distance: 76.7 mi
Take I-4 East
Use the right lane to take exit 75A toward FL-435 S
Turn right onto Universal Blvd
Use the right 2 lanes to turn left at Surfside Way
Turn left
The Surfside Inn will be on your Right
From Miami

Distance: 232 mi
Take I-95 N
Exit 12A for FL-826 W/Florida's Turnpike
Use the 2nd from the right lane to take exit 259 for I-4 toward Orlando/Tampa
Continue onto I-4 W
Take exit 75B-A toward FL-435 S/S Kirkman Rd
Turn right onto International Dr
Use the left 2 lanes to turn left onto Universal Blvd
Use the right 2 lanes to turn left at Surfside Way
Turn left
Use the right lane to take the ramp to Epcot Resort Area
The Surfside Inn will be on your Right
From Daytona Beach

Distance: 64.4 mi
Take FL-400 W to I-4 W
Use the left 2 lanes to merge onto I-4 W toward Tampa
Take exit 75B-A toward FL-435 S/S Kirkman Rd
Turn right onto International Dr
Use the left 2 lanes to turn left onto Universal Blvd
Use the right 2 lanes to turn left at Surfside Way
Turn left
Use the right lane to take the ramp to Epcot Resort Area
The Surfside Inn will be on your Right
RESERVATIONS
Surfside Inn and Suites