Some time without the Kids
Whether you are on a business trip or need some time away from the kids, finding that special Adult Only Pool at your Universal Orlando Resort location can be a real lifesaver. The quiet seclusion with no noise and plenty of palm trees to relax under can help with the rejuvenation of your senses and let's face it, kids are great but there are times when you just want a little time for yourself.
See the Full list of Universal Orlando Resorts with a Adult Only Pool now!
What Level Resort will I have to go with to get an adult pool?
The less expensive Resorts like the Prime Value and Preferred are essentially designed for the family in mind. None of the Hotels in this level will have an Adult only pool. To have your best chance of getting away from kids and have your own Adult space, you will have to go all the way to the top and stay in a Universal Orlando Premier Resort. Even booking your stay at one of these will not guarantee that you have a pool away from the noise of the little ones. There is only one Resort in Universal Orlando that has an Adults Only Pool away from all of the family events, and that would be the Loews Portofino Bay Resort Villa Pool.
Hillside Adult Pool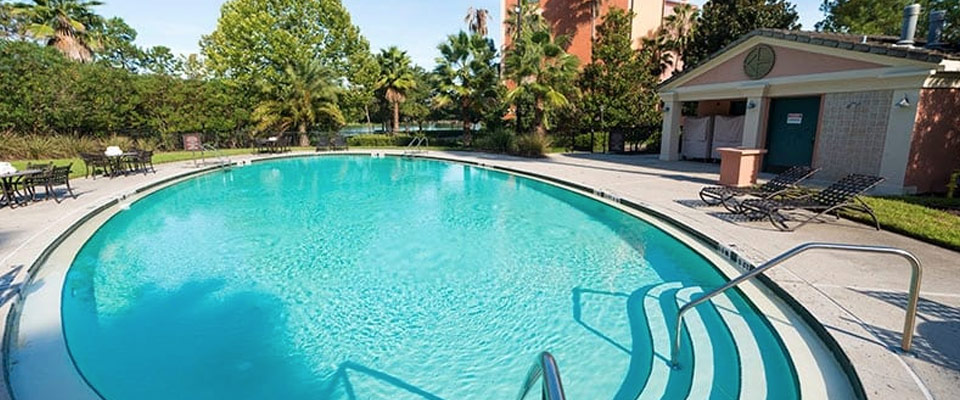 There are two pools geared more for the adults at the Loews Portofino Bay Hotel in Orlando, the Villa and the Hillside. For the most Luxury and style, the Villa Pool might be the best choice with upgraded lounge chairs and multiple Cabanas. However, if you are truly looking for an Adults Only Pool where kids are not allowed, you will want to head over to the far side of the resort and hop in the Hillside Pool.
List of Universal Orlando Resorts with a Adult style pool
More Adult Hotel Pools
Were you surprised that there was only one Resort at Universal Orlando with an Adult Pool? Remember, Orlando is geared towards families so it is a little more difficult to find adventures when you are on a Romantic trip. We wanted to help out and show you that there are more Resorts in Orlando with an Adult Pool but they are not under the Universal Orlando umbrella.
All Orlando Resorts with a Adult only pool