Volcano Bay Maku – Six Person Water Slide
Considered as one of the round raft rides, you can add up to 6 guests in the huge tube to start the adventure down the Volcano Bay Maku water slide. Maku is just one of the water slides connected to the Maku Puihi tower. Once you climb to the top of the Maku Puihi Rafting tower, you have the option of sliding down the yellow, Maku raft ride or the Puihi water slide. As you make your way up the multiple levels of steps, you see that the Maku water ride has lengths of enclosed tube sections that break out into "bowl-like" areas. You might think that your raft will get hurled around in the bowls before continuing on but as you watch other rafters on the ride, you just cling to the outer edge to the next enclosed tube section. Universal's Volcano Bay Maku is a great ride for families and friends to enjoy together.
Maku Water Slide Information: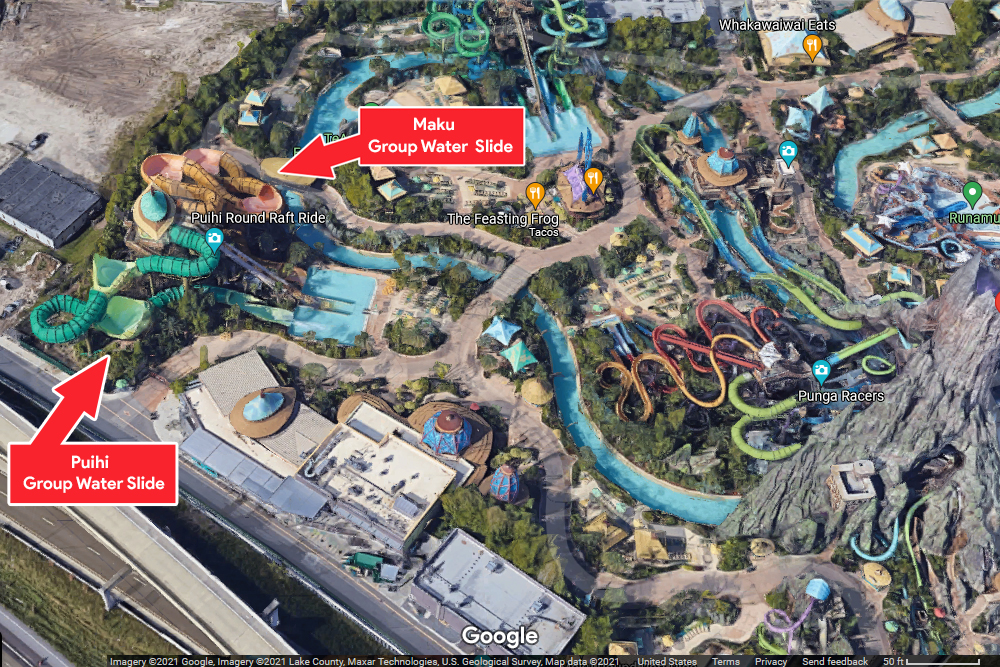 Thrill Level: Moderate
Express Pass: Yes
Riders: At least 2 but up to 6
Min Height: 42″ if under 48″ must have a supervising companion
Max Weight: 1050 lbs combined
Ride Photo: Not Available
Maku – 6 Person Raft Ride
Share the experience of riding in a six-person tube with friends or family and take to the Maku water slide. Getting in the raft and settling in is part of the fun. Who will go backward? Will the circular float turn as it heads down the slopes and around the giant bowls to the next enclosed tube. So much fun can be had, laughing together until you get to the splash zone. Be prepared to get wet and head back up the tower to try out the Puihi water slide.