Universal Volcano Bay Map
As you are driving down I-4, in either direction, it is impossible to miss the towering Krakatau Volcano from Universal Orlando's Water Park. Looking at the Google top-down Volcano Bay Map, notice how the water park is nestled in, right behind the Cabana Bay Beach Resort. Having the entrance to the Volcano Bay Water Park so close to many of the Universal Resorts, makes transportation an easy process. In fact, you can walk to the water park from some of the Universal Resorts.
Walking Distance to Volcano Bay
Staying at one of the Universal Orlando Resorts truly has its perks. Transportation is one of the best reasons to stay at an on-site hotel. All of the Universal Resorts provide free transportation to the Universal Theme Parks, including Volcano Bay. Looking more closely at the Volcano Bay Map, you can see how close you are to the park if you stay at a resort. Of course, the closest is the Cabana Bay Beach Resort, but you can also walk to Volcano Bay if you stay at the Loews Aventura Hotel or Loews Sapphire Falls Resort.
Universal Orlando Resorts
Check out all of the Universal Resorts to see which one works best for your visit:
While you might not want to walk to Volcano Bay from some of the Universal Resorts, staying on property is a very nice feeling. If you have not looked that the many Universal Resort options, it is well worth your consideration.
Overview with Park Map of Volcano Bay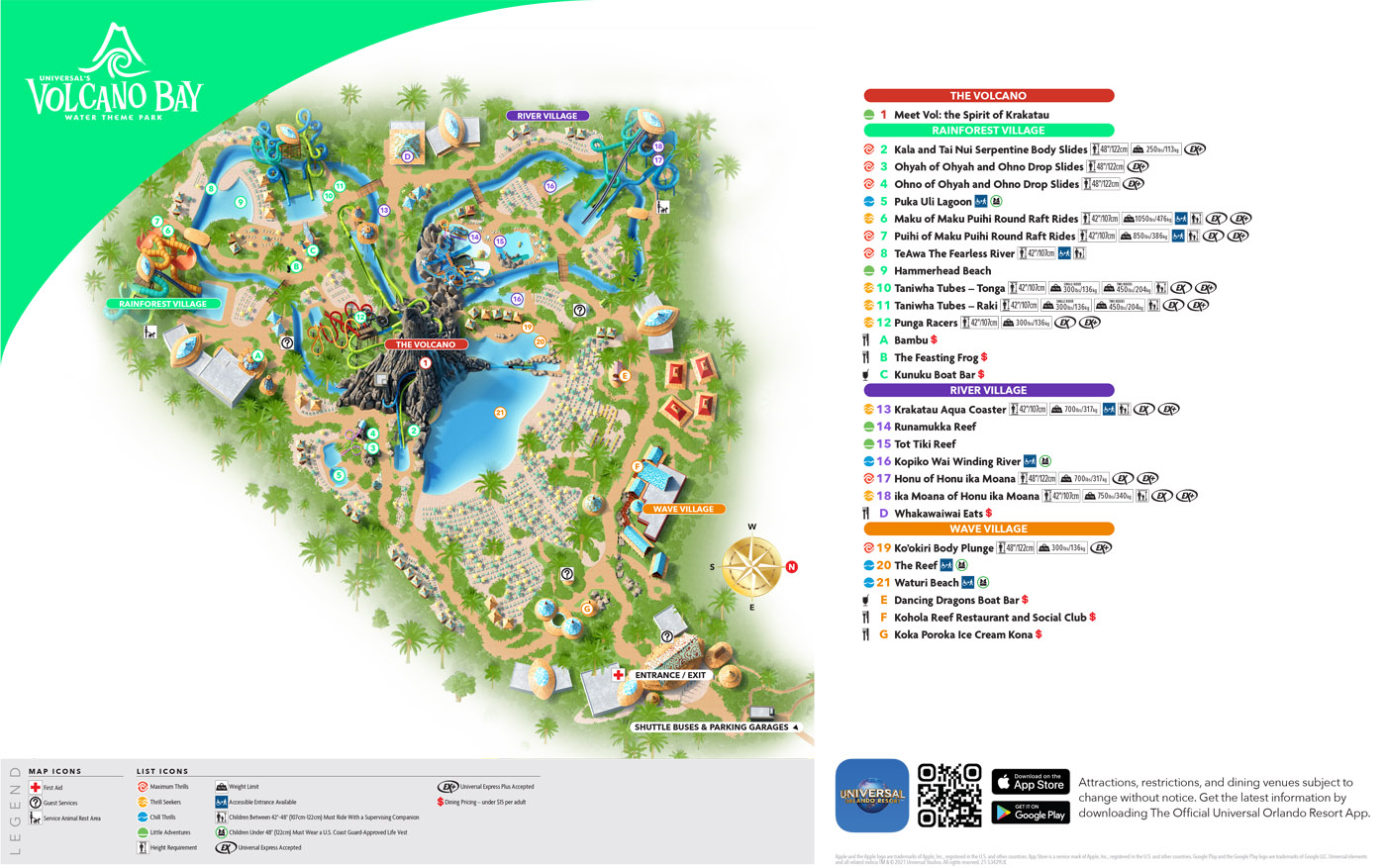 Directions to Volcano Bay
Important: Please Read:There is no parking at the Volcano Bay Water Park. If you are driving, you will need to park at the Universal Orlando Parking Garage and use the Universal Shuttle to get you to the entrance of Volcano Bay.
From Orlando Intl Airport

Distance: 16.3 mi (about 20 min)
Get on FL-528 W/FL-528 Toll W from Jeff Fuqua Blvd
Use the left 2 lanes to merge onto I-4 W toward Tampa
Take exit 75A toward FL-435 S/International Dr
turn left onto FL-482 W/W Sand Lake Rd
Use the left 2 lanes to turn left onto Universal Blvd (signs for Universal Studios/Islands of Adventure/Citywalk)
Use Right 2 Lanes to turn into the Universal Parking Garage
From Tampa

Distance: 76.2 mi
Take I-4 East
Take exit 75A toward FL-435 S/International Dr
turn left onto FL-482 W/W Sand Lake Rd
Use the left 2 lanes to turn left onto Universal Blvd (signs for Universal Studios/Islands of Adventure/Citywalk)
Use Right 2 Lanes to turn into the Universal Parking Garage
From Miami

Distance: 233 mi
Take I-95 N
take exit 24 for Interstate 595 toward Port Everglades/Ft Laud-Hlwd/International Airport
merge onto I-595 W
take exit 8-9A-9B for Florida's Turnpike
Merge onto W State Rd 84
Merge onto Florida's Turnpike
take exit 259 to merge onto I-4 W toward Tampa
Take exit 75A toward FL-435 S/International Dr
turn left onto FL-482 W/W Sand Lake Rd
Use the left 2 lanes to turn left onto Universal Blvd (signs for Universal Studios/Islands of Adventure/Citywalk)
Use Right 2 Lanes to turn into the Universal Parking Garage
From Daytona Beach

Distance: 63.7 mi
Take FL-400 W to I-4 W
I-4 W to Orange County
Take exit 75A toward FL-435 S/International Dr
turn left onto FL-482 W/W Sand Lake Rd
Use the left 2 lanes to turn left onto Universal Blvd (signs for Universal Studios/Islands of Adventure/Citywalk)
Use Right 2 Lanes to turn into the Universal Parking Garage