Volcano Bay Puihi – Six Person Water Slide
As you walk up the long flight of steps leading to the Volcano Bay Puihi group water slide, you also get to see riders on the Maku slide. Watching as large tubes with groups of up to six (6) people have fun riding down these large slides builds your anticipation for the ride yourself. Getting a feel for the Puihi water slide, you notice that there are sections where the tubes slide up large inclines after a large drop. This happens a couple of times as the group makes their way to the splash zone.
Puihi Water Slide Information: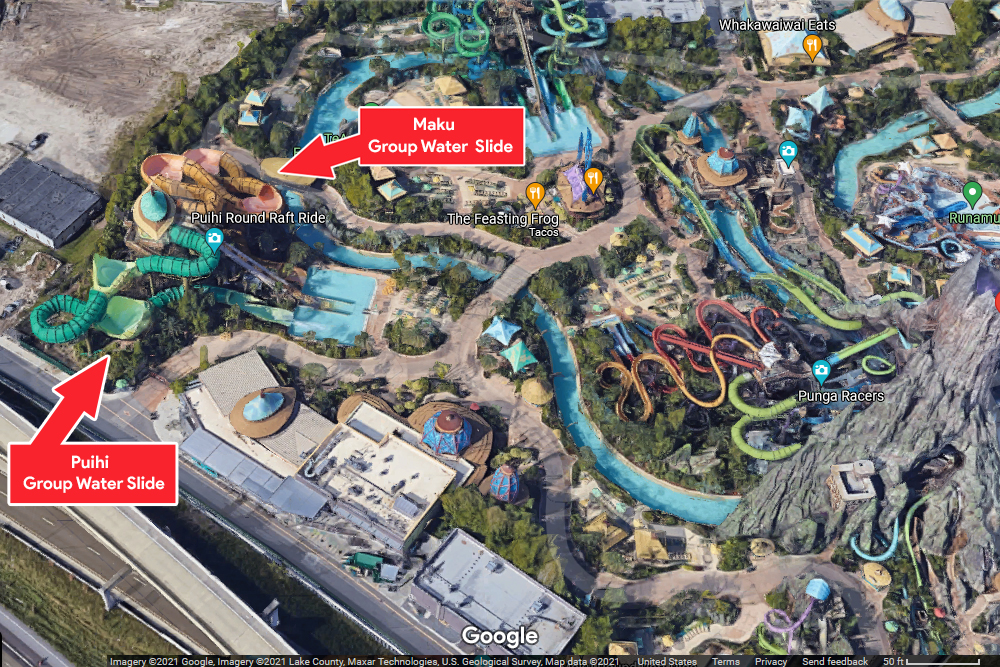 Thrill Level: Moderate – a bit more exciting that Maku but both are a lot of fun
Express Pass: Yes
Riders: At least 2 but up to 6
Min Height: 42″ if under 48″ must have a supervising companion
Max Weight: 850 lbs combined
Ride Photo: Not Available
Puihi – 6 Person Raft Ride
Now that you have made it to the top of the Maku & Puihi water slide ride, it is time to experience the fun yourself. As you get situated in the tube, you will share this ride with up to 5 more guests (6 total per tube). Note that you are not allowed to ride this water slide as a single rider. Also, it is worth mentioning that these multi-person tube rides add more fun and excitement to more people. The more weight you have, the more speed you will gain to climb the water rafting walls as you head down each slope.
As you enter the first enclosed tube section, you head down your first slope, gaining speed to climb the first vertical incline. Water splashes over you as you rock back and forth before heading down the next slope. Enjoy two (2) large drops and two (2) inclines before heading to the final splash zone. This is a fun ride that you will want to take part in more than once during your visit. Once you get Puihi behind you, be sure to try out Maku in the same area.