Themes at the All-Star Sports Resort in Disney World
Choose your themed area wisely as this might be one of the most important things you select when staying in one of the Disney All-Star Sports Resort Rooms. If your child plays Tennis and you are staying in the Baseball section, that might not make much sense at all so look at the different themed areas and have a family meeting before booking your stay. Disney All-Star Sports has a total of 5 different Sports-themed areas to stay in. The Family Pool is located in the Surfside Bay section, but there is also Tennis, Football, Baseball and Basketball. Massive sports equipment and balls surround the different areas and no matter which one you choose, be sure to walk around and see the others.
All-Star Sports Resort Rooms
The Rooms at the All-Star Sports Resort are not huge but they have what you need to enjoy your stay and they will be clean and comfortable. All of the rooms have external facing doors, like a motel, but know that you are in a Disney Gated area and it is quite different from a motel in that sense. All of the Rooms will come with two double beds, a flat screen tv and a bathroom with separate space where the toilet and bath are. This is a Disney Value Resort, so it might not have all of the Amenities or Recreation you would find at the more expensive Moderate and Deluxe Resorts but you are getting a less expensive stay with all of the Disney Perks like the incredible Disney Shuttle Service and Extra Hours. This is a trade-off that many are happy to accept.
Rooms – All-Star Sports
Standard Room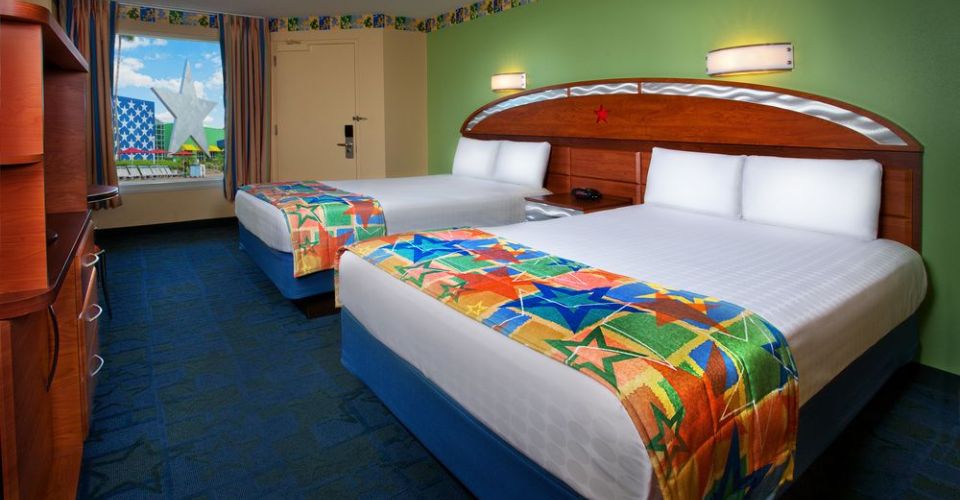 Stay in the Clean, Comfortable Standard Room that sleeps up to 4 guests at the All-Star Sports Resort. Each room has 2 double beds, a flat screen TV, mini-fridge and the bathroom is sectioned with the sink in one space and the toilet and bath in another.
Standard Double Bed Room Amenities:
Size: 240 Square Feet
Sleeps: 4 Guests
Internet: WiFi in each room
Bedroom: Two Double Beds with Flat Screen TV, Chairs
Bathroom: Tub & Shower Unit, Sink, Closet
Additional Amenities: Hair Dryer, Iron and Ironing Board, small Refrigerator, pod coffee maker
TV's: 1 Flat Screen
Outdoor Space: No Balcony
RESERVATIONS
Disney's All Star Sports