Dining at the Wilderness Lodge in Disney World Resort
The setting at the Disney Wilderness Lodge Resorts might have a rustic feel but make no mistake, this is one of the best Disney World Deluxe Resorts you can visit. From the accommodations to the Fun things to do, oh, and let's not leave out the incredible dining options. Take a stroll over to the Whispering Canyon Cafe where Breakfast, Lunch, and Dinner are served in an Old Western Eatery. Don't miss out on the chance to dine with Snow White and the Dwarfs up close and personal. The Character Dining experience is simply wonderful and a little different at Artists Point. Enjoy dinner with the Characters and get a great meal as well.
List of Restaurants at the Disney Wilderness Lodge Resort
Artist Point - Fine Dining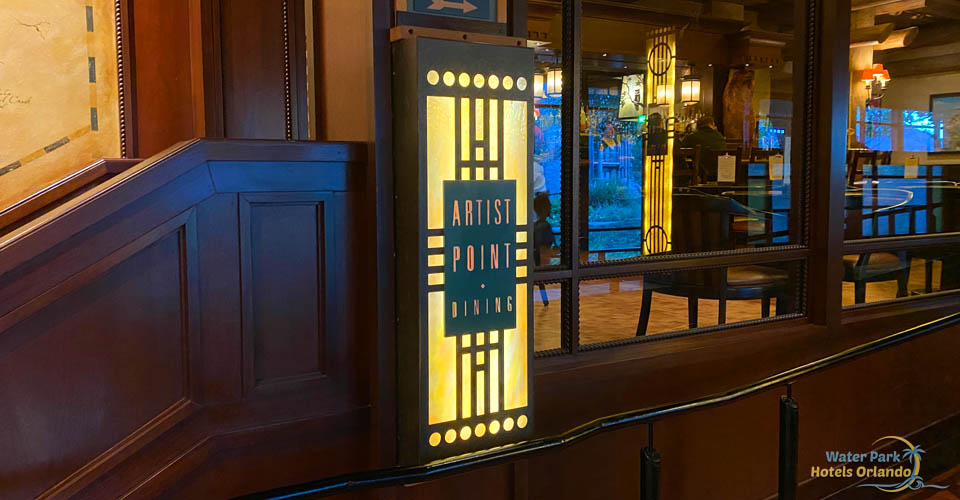 Snow White and a few of the Seven Dwarfs are waiting for your arrival to the Artist Point Character Dining experience at the Disney Wilderness Lodge. Many of the Disney World Deluxe Resorts offer a Disney Character breakfast but the dining experience at the Artist Point is a Dinner option. Truly a unique experience to share with the entire family. The meal is wonderful with Prime Rib, Roasted Chicken or Pork with plenty of sides. And, just wait for the dessert. Be sure to book this one early as it is a crowd favorite and fills up quickly.
Story Book Character Dining with Snow White
You might think this is a fun event for the kids but might be surprised at how much enjoyment you get from the experience. Yes, adults come to this Dinner without kids just to join in on the fun with Snow White and the Dwarfs. Pictures last a lifetime and this is a dinner you want to reserve.
Open from 4:00 PM to 9:00 PM
Reservations are recommended and can be made up to 180 early
Casual Attire
Characters you might see: Snow White, Grumpy & Dopey
Table Dining
Whispering Canyon Cafe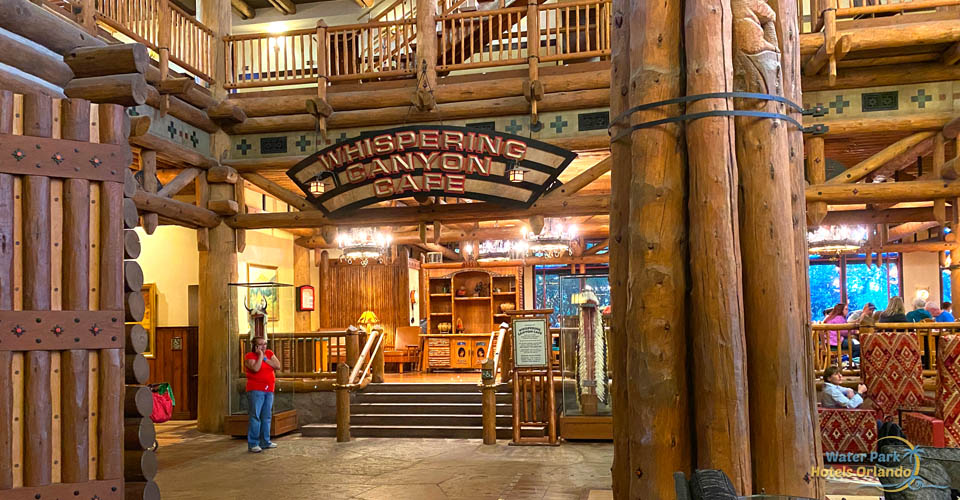 Expect the unexpected at the Whispering Canyon Cafe at the Wilderness Lodge in Disney World. Enter the main lobby and turn to your left to see the entrance to a night of fun and great food. Disney Cast members are known to have some fun with you when you order, while you dine, well, just about any time after you step foot on to the cabin like area. The food just keeps coming to no matter if you are visiting for Breakfast or Dinner. So be sure to come hungry.
Breakfast: Open from 7:30 AM - 11:15AM
Lunch: Open from 11:45 AM - 2:30 PM
Dinner: Open from 5:00 PM - 10:00 PM
Reservations are recommended and can be made up to 180 early
Casual Attire
Table Dining
Roaring Fork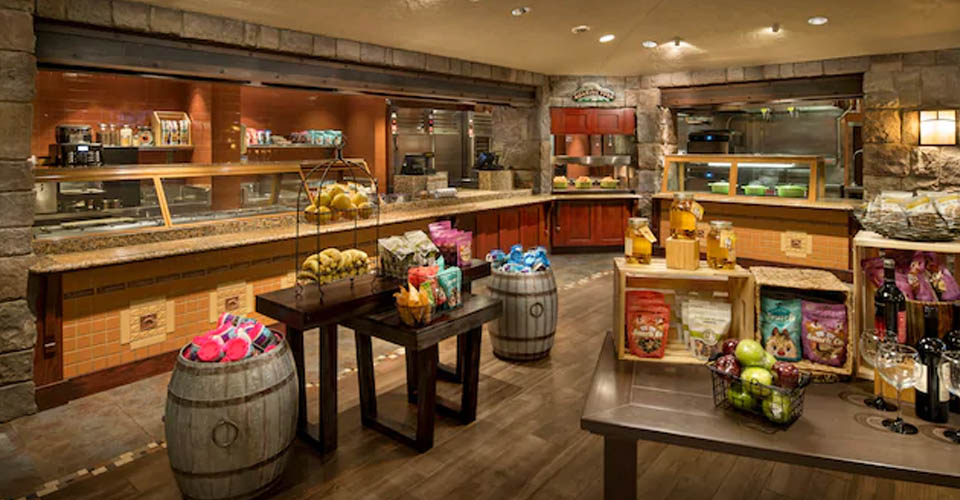 Beginning the day with a good Breakfast at the Roaring Fork gets you fueled up for all of the fun at the Disney World Parks. Located down the main corridor to the back left of the main lobby, the Quick Service dining has a wonderful meal prepared and ready to go. Get in line, choose what you want from Mickey waffles, to eggs and bacon and get going with your day. Lunch and Dinner are also served at the Roaring Fork to complete every meal and snack of your day.
Open from 6:00 AM to 12:00 AM (Midnight)
Casual
Quick Service
Mobile Orders
Some Dining Plans Accepted
Geyser Point Bar & Grill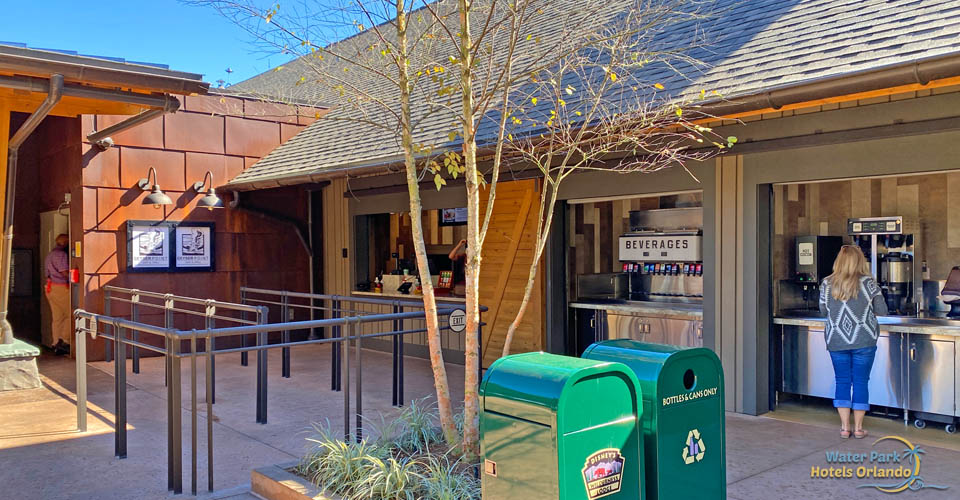 Why leave the Copper Creek Springs Pool once you have found the perfect place for the day? There is no reason at all why you would leave, not even when you are hungry. Order your favorite drinks and American food at the Geyser Point Grill and keep your spot in the sun all day long.
Open from 11:00 AM to 12:00 AM (Midnight)
Casual
Quick Service
Some Dining Plans Accepted
RESERVATIONS
Disney Wilderness Lodge