Dockside Inn and Suites 2 Bedroom Suite
Staying in one of the Dockside Inn Standard Rooms is nice but moving up to the Dockside Inn and Suites 2 Bedroom Suite gives you more space and much needed privacy. Getting a 2 Bedroom Suite at a Universal Value Resort might seem like a dream but Universal has made this dream come true.
Having a separate bedroom for the adults offers an area of peace after a long day at the parks. Booking a Two-Bedroom Suite at the Dockside Inn and Suites in Orlando adds so much to the overall experience. Your kids will also like having their own space with a TV to watch Disney shows while you are able to wind down and watch something more geared toward your tastes.
Suite Amenities:
Size: 440 sq ft
Sleeps: 6 Guests
Views: Courtyard, Pool and Parking Lot
Internet: WiFi
Master Bedroom: 1 Queen Bed, Flat Screen TV, Dresser
Main Space: 2 Queen Beds, Flat Screen TV, Desk, and chair
Kitchenette: Counter suface with mini-refrigerator, microwave, coffee maker, and a picnic table for a dining space
Bathroom: Tub/Shower unit, Sink, Closet. Split design for more privacy and making it easier to get ready
Additional Amenities: Hair Dryer, Iron and Ironing Board, small closet area, storage space under beds
Laundry: Private laundry is not available
TV's: 2 Flat Screen
Outdoor Space: Rooms do not have balcony
Master Private Bedroom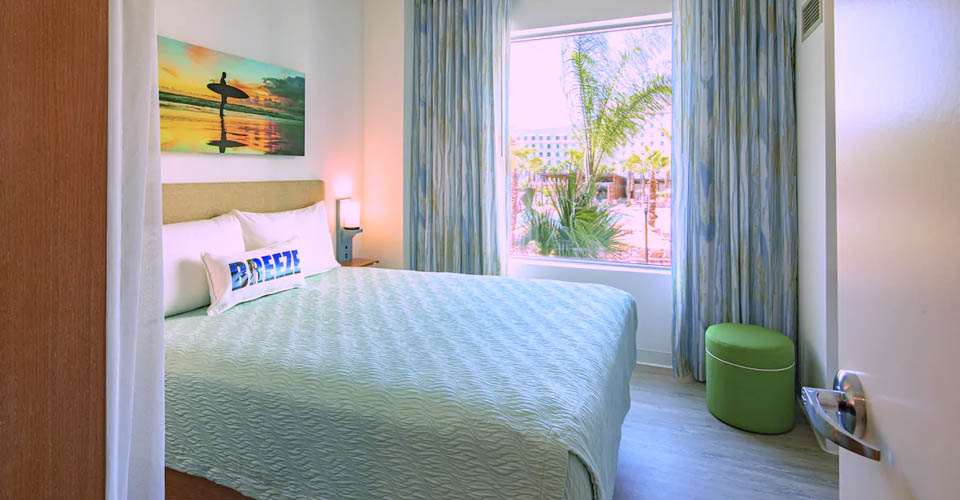 Sure, it is wonderful making those memories all day long with the kids. They are your world but having your own private space for a few hours can really rejuvenate you for the next day of adventure. In the 2 Bedroom Suite at Dockside Inn and Suites, you get your own private bedroom while the kids have a space of their own. Each room has a large flat-screen TV.
Main Sleeping Area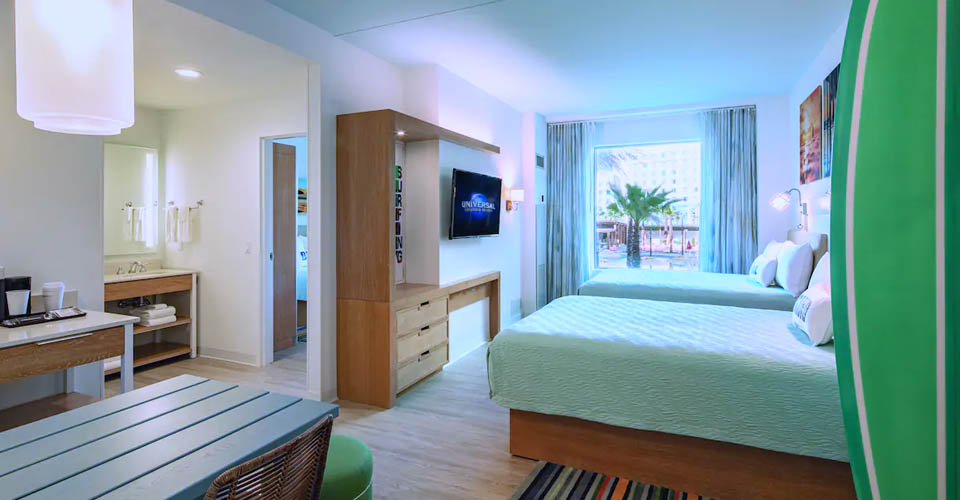 The main space in the 2-Bedroom Suite has 2 queen beds, a dresser, and an entertainment system mounted on the wall.
Kitchenette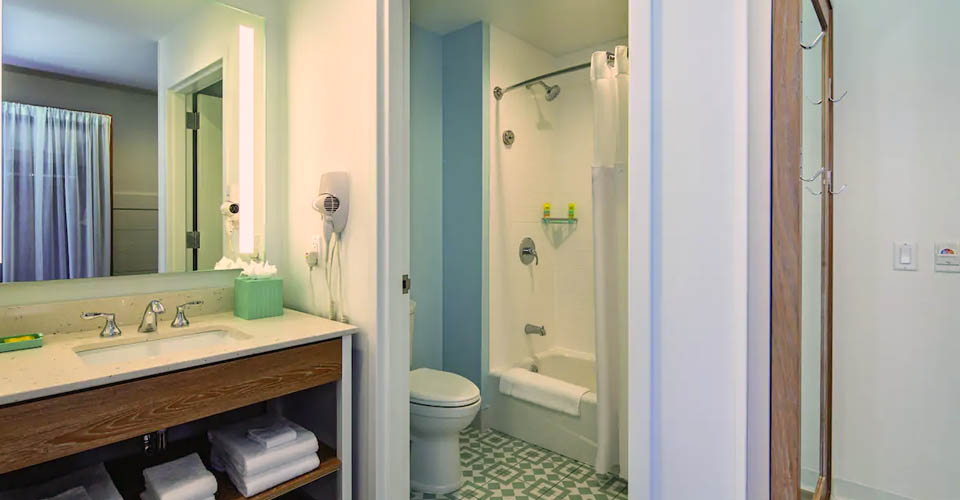 As soon as you enter the two-bedroom suite, you notice the cute picnic table and kitchenette area. While not a full kitchen by any means, having a space to store a few food items, keep things cold in the mini-fridge and fix your coffee in the morning can make all the difference on a trip.
Storage Space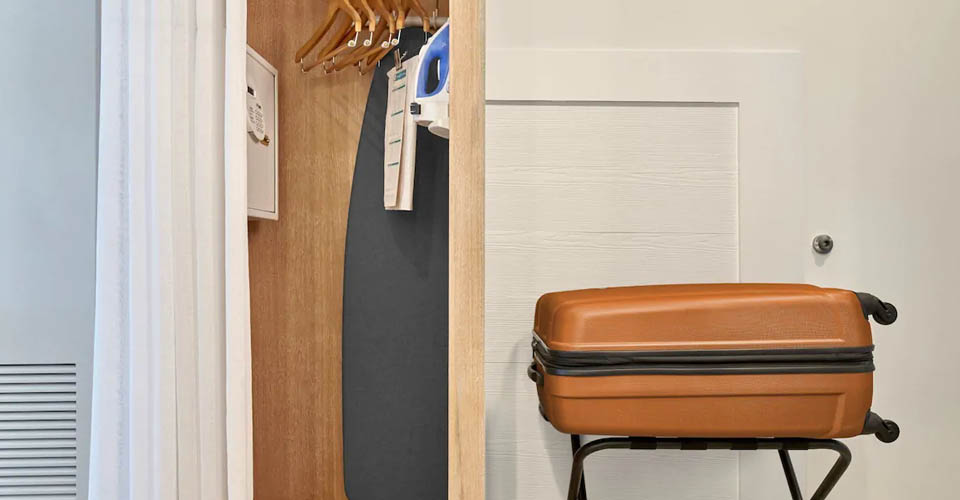 The master bedroom and the main space have a few places to store your items. The beds are raised providing ample space for luggage and other items you can put on the floor. The dressers add more space with a few drawers each and a small closet area allow for a few hanging items. In the closet, you will find an iron and ironing board.
Bathroom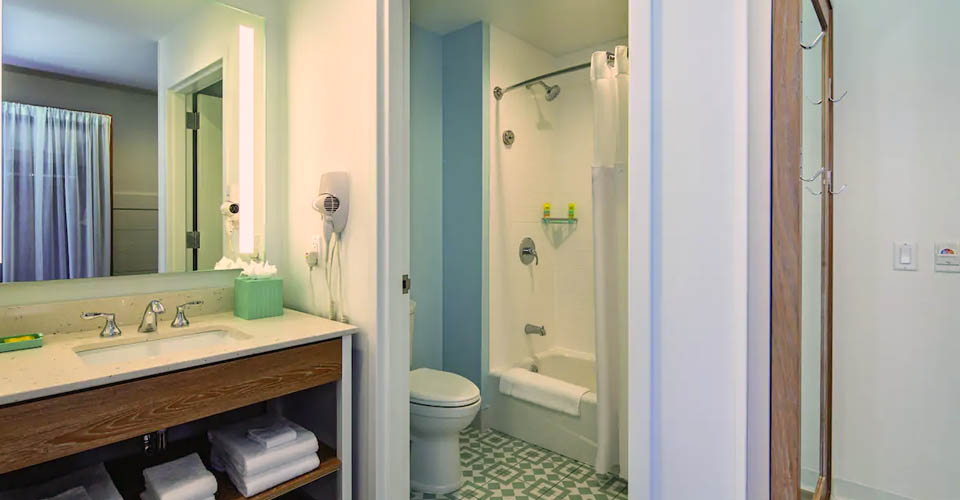 Be aware that even though you are booking a 2 Bedroom Suite at the Dockside Inn and Suites there is only one bathroom. The design of this single bathroom is well thought out though. Having a double sink and the toilet and shower in a separate space makes for a more simple and efficient way of getting ready in the morning.
Floorplan of the 2-Bedroom Suite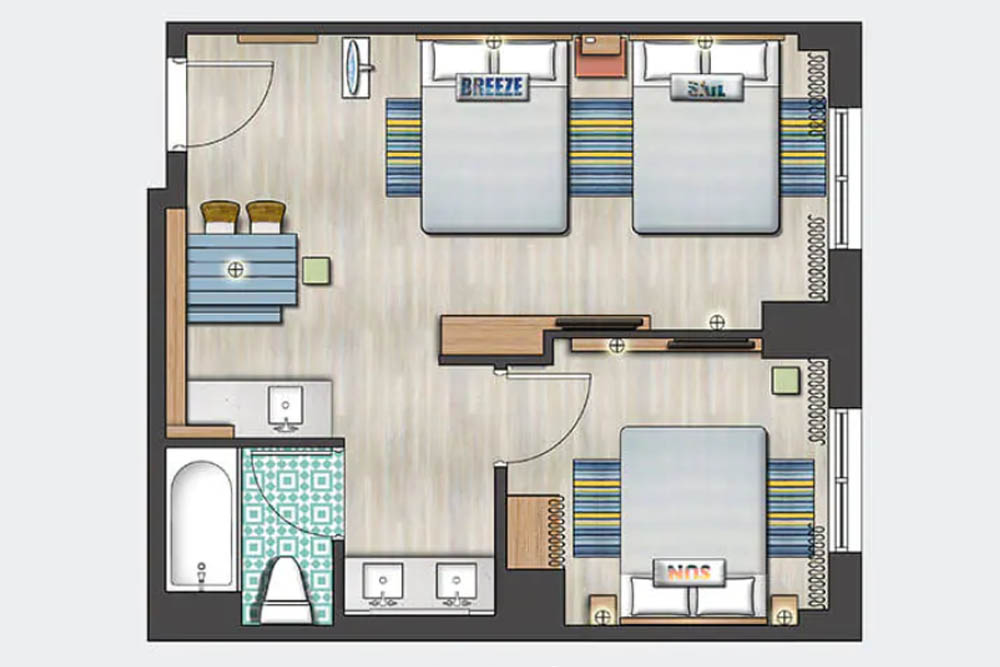 Get a lay of the land by seeing the Floorplan of the 2-Bedroom Suite at the Dockside Inn and Suites.
RESERVATIONS
Dockside Inn and Suites