Fairfield Inn at Flamingo Crossing Rooms
As one of the more economical options when visiting Orlando, staying in one of the Fairfield Inn at Flamingo Crossing Rooms might be a good option. The rooms and suites at the Fairfield by Marriott in Flamingo Crossing are designed with a modern, clean, and minimalistic feel. The bedding is comfortable, with multiple pillows for you to sink into while you rest. Each of the standard rooms comes with a mini-fridge, microwave, and a single-cup coffee maker. Having added closet space is nice when you need to hang up a few items, and the included iron and ironing board can be very handy.
Standard Room – 1 King Bed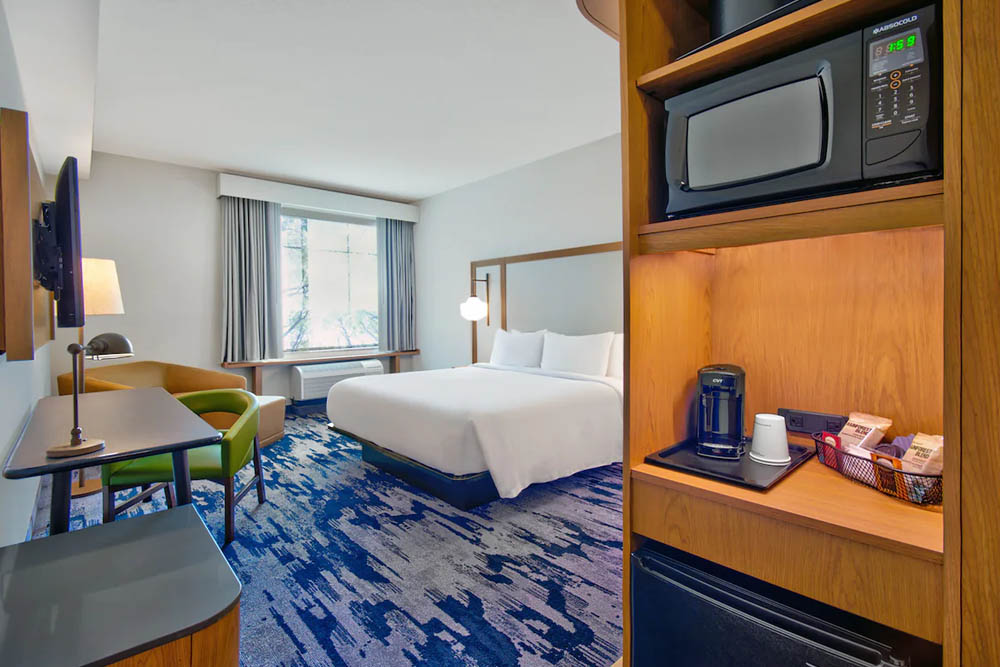 Traveling alone or as a couple? The standard king room sleeps up to two (2) people in a comfortable king bed and has 300 square feet of space. This room is the smallest available at the Fairfield Inn at Flamingo Crossing and is typically the least expensive. Included in this room is a desk with a chair and a flat screen tv. The included closet area is not huge but has ample space to hang a few of your clothes. Having a small refrigerator, microwave, and single-cup coffee maker is also very convenient. Each bathroom has a single sink but a large counter space. The mirror is round and can make getting ready with two people a little more difficult. A large shower unit is also included in the bathroom, but there is not a tub in the King room.
Standard Room – 2 Queen Beds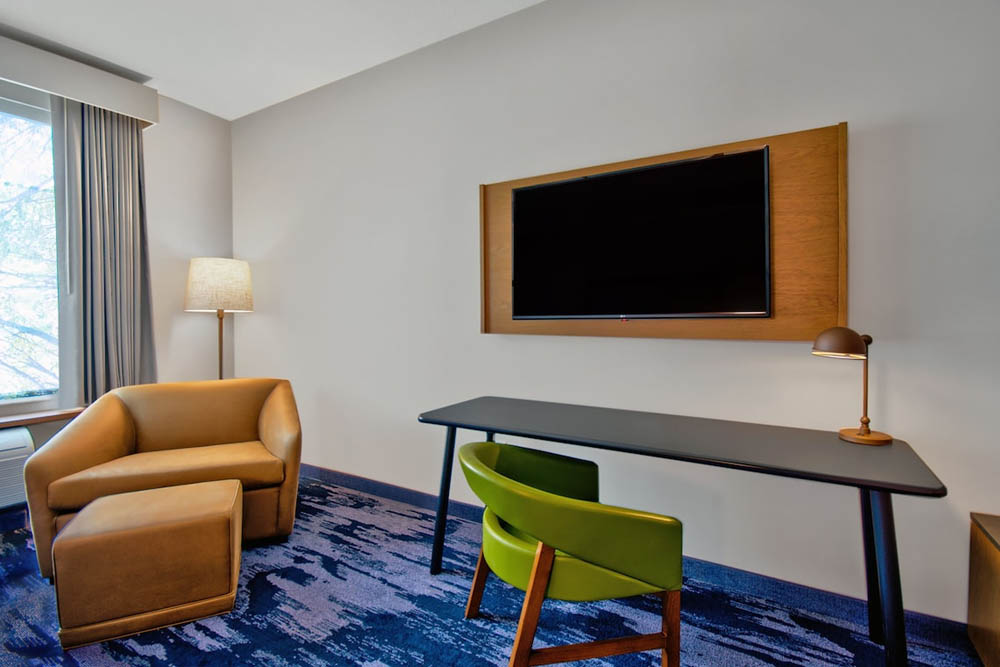 If you are traveling with your family or as a small group, the standard room with two queen beds sleeps up to four (4) guests. This room is slightly larger than the Standard King room, with 340 square feet. Two Queen Beds are comfortable and fill most of the space on one wall. The included TV over the desk is wonderful when settling in for the night.
Suite – 1 King Bed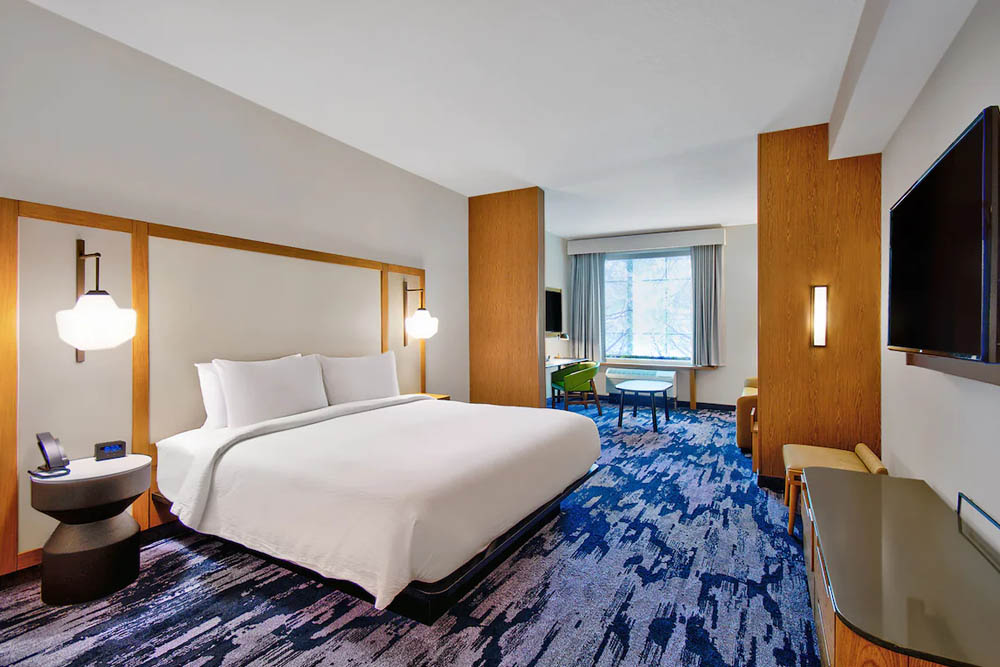 Upgrading to the King Suite gives you more space but also gives you a small separation from the living room area with sleeper sofa. Sink into your large, comfortable king bed while the kids have a space off in the living room to sleep. Two Tv's are provided in the room as well. The King Suite has 400 square feet of space and can sleep up to 4 guests.
Suite – 2 Queen Beds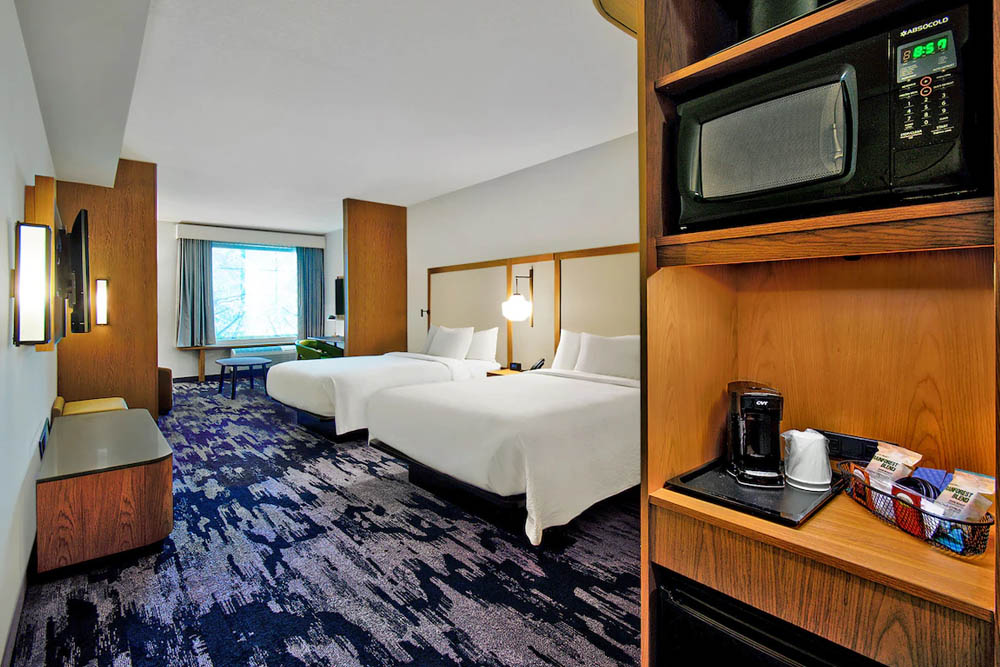 The Two (2) Queen Bed Suite sleeps the most number of guests in one space at the Fairfield Inn at Flamingo Crossings. The main bedding area has two (2) queen beds and the living space has a sleeper sofa. Combining all of this in 460 square feet gives you ample space to sleep 6 guests comfortably.
RESERVATIONS
Fairfield Inn & Suites Flamingo Crossing