Dining at the Pop Century Resort
Quick grab n' go items to full meals will satisfy any level of hunger when dining at the Everything POP Shopping & Dining in the Pop Century Food Court. The Everything Pop Dining has so many different options available and makes it easy to find something to tickle the pallet of everyone in the family. Pop Century Quick Dining serves meals all day from breakfast to dinner. This makes it easy to find something to tickle the pallet of everyone in the family. Even those picky eaters will find something here. There might be times where you want to have a nice sit-down meal and have a wait-staff to take care of your every need. For these times, just about any type of dining experience can be found at Disney Springs and staying at the Pop Century Resort you have free transportation. If you have not been to Downtown Disney before, you are in for a real treat. Many different dining options await and you will wish that you had time to try them all. There are also many benefits to having a "Food Court" in your own "backyard." Start your day off with a nice breakfast before you leave the resort and set off on your busy day.
Restaurants at the Disney Pop Century
Everything Pop Dining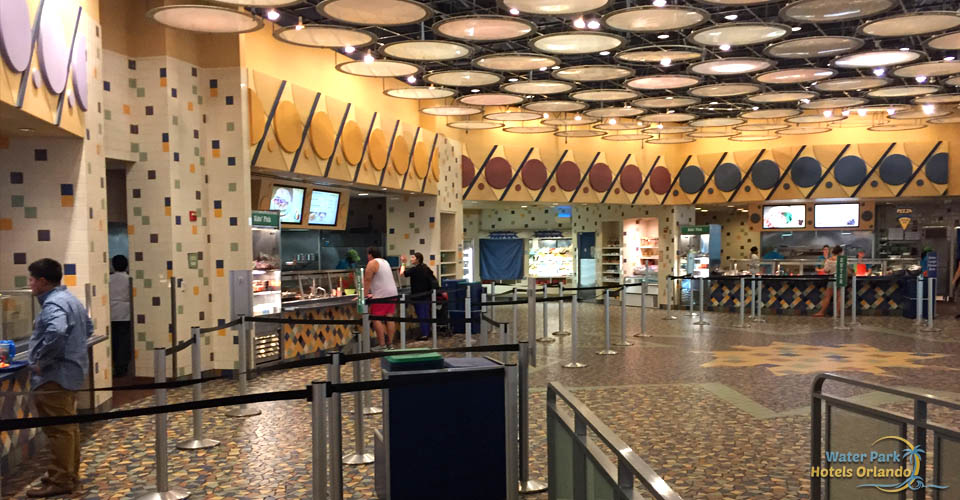 Just about any time during the day, you can get a something to eat at the Food Court in the Pop Century Resort. Open from 6 AM until 12 Midnight, any time you feel the need to get a little something in your stomach, there is a well trained Disney staff member to feed you. The Everything Pop Dining area is located in the Classic Hall making it very convenient to get your breakfast and hop on a Disney Bus to take you to your favorite Disney Destination. You would think that a 640 seat dining area would be plenty of room for everyone at the property but you should be aware that when you have thousands of guests staying at the resort, this can get busy and a little challenging as well. Plan your meals wisely and either get in early or late to beat the crowds.
Open from 6:00am to 12:00am
Serving Breakfast, Lunch and Dinner - Daily
Casual Attire
Located in the Classic Hall Building
Petals Pool Bar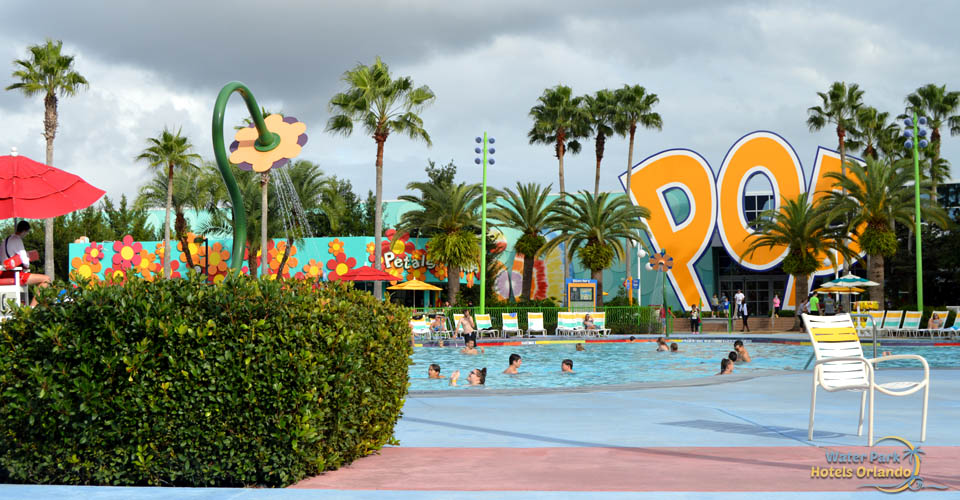 Located right beside the Hippy Dippy Pool, you will see a colorful little drink shack complete with bar stools all around. Pull up a chair and order your favorite Cocktail, Beer or wine and relax while the kids are off playing. Be sure to be responsible if you have little ones near the water.
Open from 12:00pm to 12:00am
Casual or Bathing Suite Attire
RESERVATIONS
Disney Pop Century