Rooms at the Disney Pop Century
Strolling through the Disney Pop Century Resort is a wonderous event, looking at all of the time and effort that went into the design and large sculptures that line all of the courtyards. There are a total of 5 themes across four distinct, separated locations to enjoy during your stay. Sure, this might be a Disney World Value Resort but you would never know it by the attention to detail placed all around you. All of the rooms will match with the decade theme that it is placed in. Be sure that you know; there are only standard rooms at the Pop Century Resort and Suites are not available. Each of the rooms is 260 square feet in size and will have a King Bed or One Queen Bed with a Queen Murphy Bed. Preferred rooms are available allowing for closer access to the food court and transportation.
Looking for Disney Value Suites?
If you are looking for a great place to have some extra room to stretch out, head across the pond to the Art of Animation Resort Disney. The Art of Animation has more Family Suites than standard rooms and each one can accommodate up to 6 guests. The All-Star Music Resort also has Family Suites.
Pop Century Hotel Rooms
Standard Room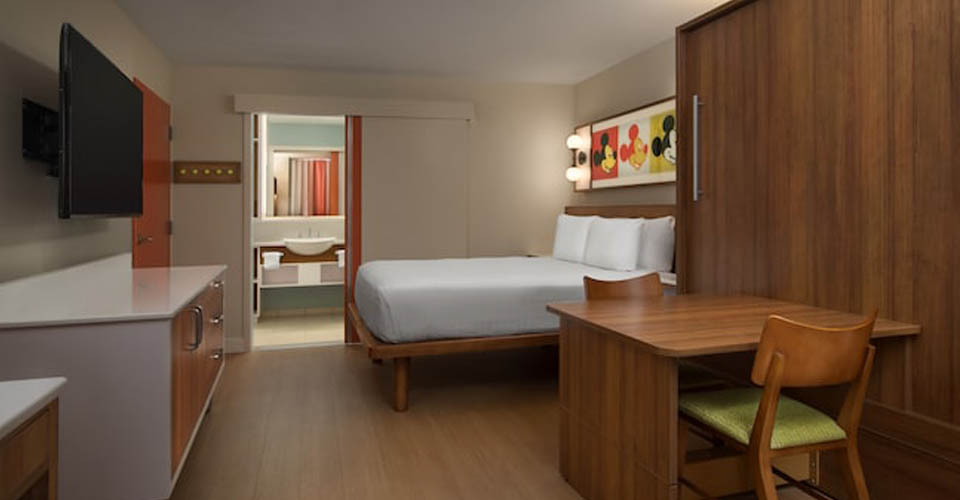 Each of the rooms at the Disney World Pop Century Resort are 260 sq ft in size and will have a single king bed or a queen bed with pull-down queen allowing for up to 4 guests to stay in each room. The use of the Murphy Bed makes the room seem much larger and gives you additional space to move around when it is folded up against the wall. The bathrooms are sectioned into private spaces.
Standard Room Amenities:
Size: 260 Square Feet
Sleeps: 4 Guests
Internet: WiFi included with your stay
Bedroom: One King Bed or One Queen Bed with a Queen Murphy Bed and Flat Screen TV table and chairs
Bathroom: Sectioned Bath with Sink in one area and toilet with Tub / Shower unit in a private area
Additional Amenities: Hair Dryer, Iron and Ironing Board, small Refrigerator
TV's: 1 Flat Screen
Outdoor Space: There are no Balconies
Frequently Asked Questions: Disney Pop Century Resort Rooms
Do the rooms have a refrigerator and microwave?
All of the rooms have a small refrigerator but there is not a microwave in the room. Microwaves are available at the Food Court for use.
---
Is there a coffee maker in the room?
There is a coffee maker in each of the rooms.
---
How do I get a room close to the Disney Transportation?
Consider getting a Preferred room at Pop Century if you want to be closer to Classic Hall where the Bus Transportation is. This also helps with the distance to the main Hippy Dippy Pool and the Food Court.
RESERVATIONS
Disney Pop Century