Swan Reserve Rooms
As you make a Reservation for one of the Swan Reserve Rooms, you can take comfort knowing that you are getting a Room managed by Marriott. From the elegant lobby to your standard room, every piece of the Swan Reserve is designed to have a clean and contemporary style. Standard Rooms come in a configuration with two (2) Queen beds, or a King bed with a sleeper sofa. All of the Rooms at the Swan Reserve come with comfortable bedding and can sleep up to four (4) guests.
It's all about the view
There are a total of 198 standard rooms at the Swan Reserve over 15 floors. Considering the space available and the location of the Swan Reserve, there are many rooms with amazing views of Disney World. As might be expected, the rooms without a good view will cost the least but if the view is important to you, consider a room with a view of Epcot, Hollywood Studios, or overlooking the pool area. Views of Epcot are special because of the ability to see the fireworks from your floor-to-ceiling windows.
Traditional Room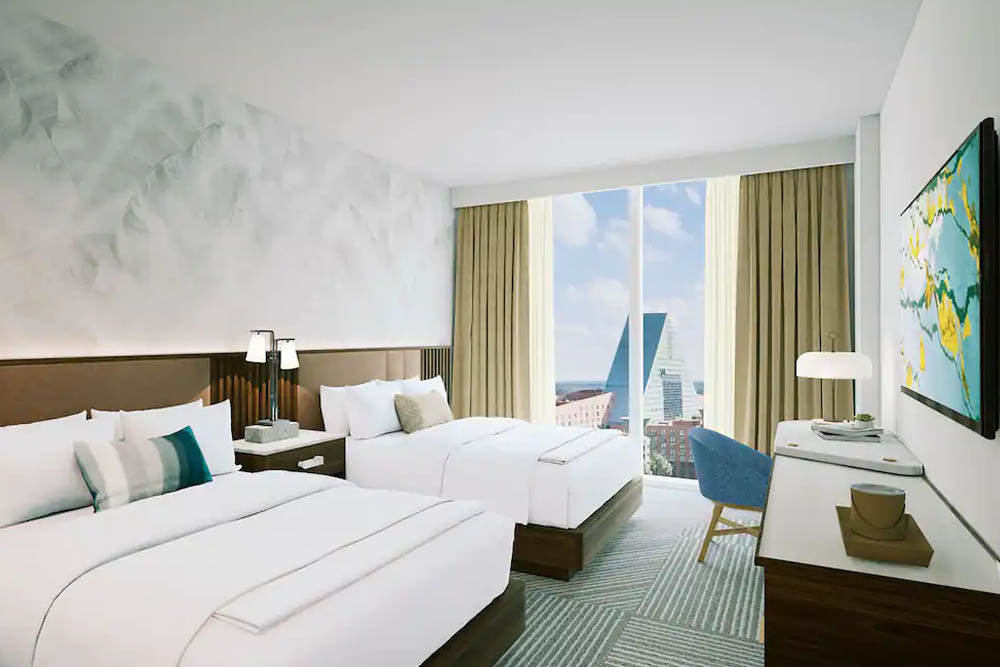 Many guests will stay in a traditional room for a couple of reasons. First, the cost is lower than staying in a suite but secondly; How much time are you really going to be in your room when visiting Disney World? If all you need a room for is to lay your head on a pillow at night, the Traditional room might be all you need. Still, it is worth considering a room with a view of Hollywood Studios or Epcot. Don't forget, the Epcot view rooms will see the fireworks at night from your floor-to-ceiling windows. Definitely a memorable event.
Room Amenities
Each of the Traditional Rooms will come with either 2 Queen Beds or a single King Bed and a Sleeper Sofa. The maximum occupency in either of these room types is 4 guests. Although these are your more standard rooms, you get ample space in 330 square feet. An included desk makes it easy to sit and get some work done or just take some notes on your trip. A large screen TV comes with many different channels for your relaxation after a day iin the park. Bathrooms have a clean and contemporary layout and come with a hair dryer. A mini-fridge and coffee maker is also provided in each room.
Room Amenities:
Size: 330 sq ft
Sleeps: 4 Guests
Views: Pool, Parking lot, Hollywood Studios, Epcot
Internet: WiFi
Main Space: 1 King Bed with Sleeper Sofa or 2 Queen Beds, Flat Screen TV, Desk with chair, small refrigerator, Coffee Maker
Bathroom: Walk-in Shower unit, Sink
Additional Amenities: Hair Dryer, Iron and Ironing Board, safe
TV's: 1 Flat Screen
Outdoor Space: None of the rooms have a balcony but they do have floor to ceiling windows for great views if you have reserved a room with a view
RESERVATIONS
Walt Disney World Swan Reserve