TownePlace Suites at Flamingo Crossing Rooms
Booking one of the spacious TownePlace Suites at Flamingo Crossing Rooms gives you a place to stay just outside of Disney World. In fact, the entrance to Disney World is just a mere 0.8 miles from the TownePlace Suites. As you read through the TownPlace Suites Flamingo Crossing TripAdvisor Reviews , most guests confirm that the suites are clean, comfortable, and much larger than a standard hotel room. From the Studio Suites with a King or Two Queen Beds to a much larger 2 Bedroom Suite, each of these rooms comes with a full kitchen. Some of the suites offer a view of the fireworks. If this is something you are interested in, be sure to book a suite that offers a fireworks view.
Studio Suite – 1 King Bed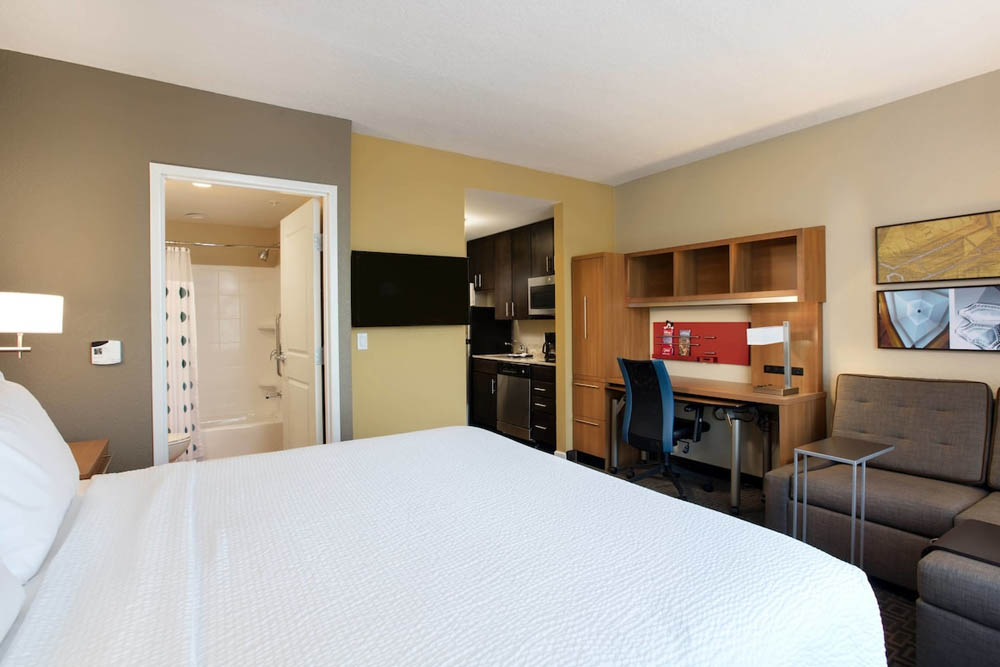 Romantic evenings in a Studio Suite with a large King Bed can be a perfect getaway. The Studio Suites at TownePlace Suites in Flamingo Crossings are the least expensive option. These suites have a combined sleeping area with King Bed but also have a seating area with a Sleeper sofa. Cooking in your full-size kitchen can cut down on the cost of eating out but it is also nice to keep some food on hand for snacking as well. Bathrooms in the Studio Suites have a single sink and a tub/shower combination.
Studio Suite – 2 Queen Beds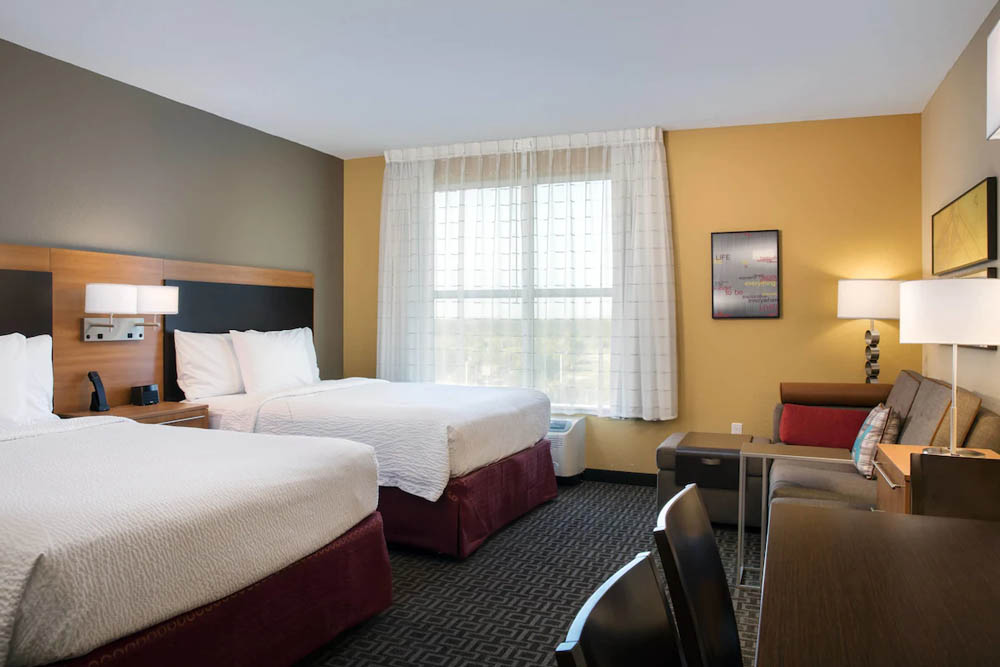 Having the option of sleeping up to 5 guests in the 2 Queen Studio Suite is a great option when traveling with a larger family. Keeping the cost down on a trip is important and having a suite with a larger family is much better than a standard hotel room. A full kitchen also adds to the convenience of the trip with extra people as it can really cut some of your overall cost.
1 Bedroom Suite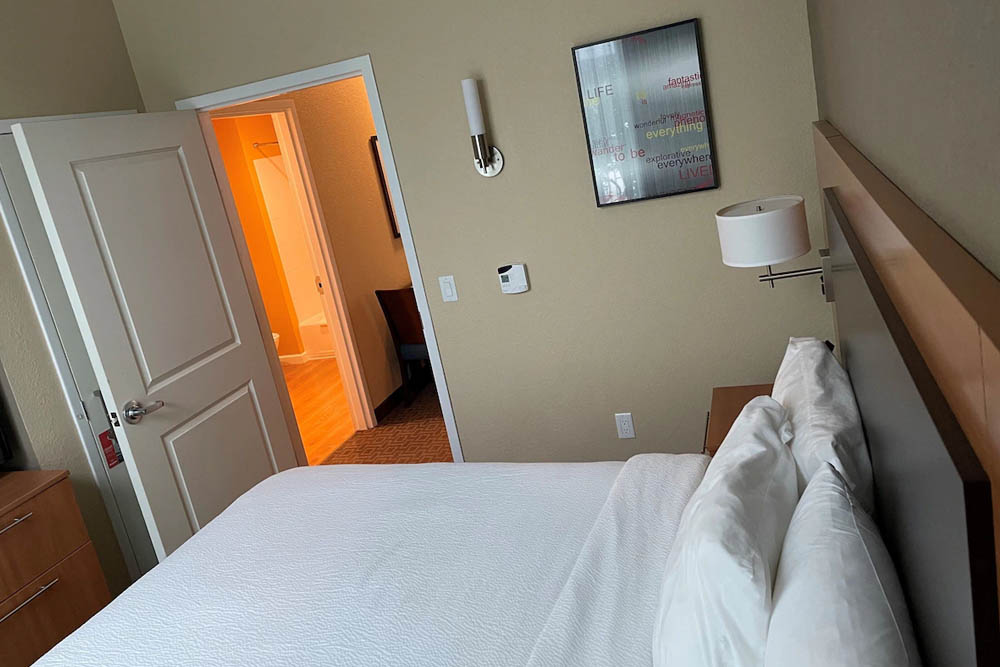 Adding more privacy to your stay can be an important part of choosing the right suite to book at the TownePlace Suites. Studio suites are amazing with the extra space and kitchen but having your own private bedroom starts with the 1 Bedroom Suite. The One Bedroom Suite has a separate, closed-off bedroom from the living space and kitchen. A sleeper sofa is provided in the living room for an additional guest and the fully equipped kitchen is great for any trip when you want it to feel a little more like home.
2 Bedroom Suite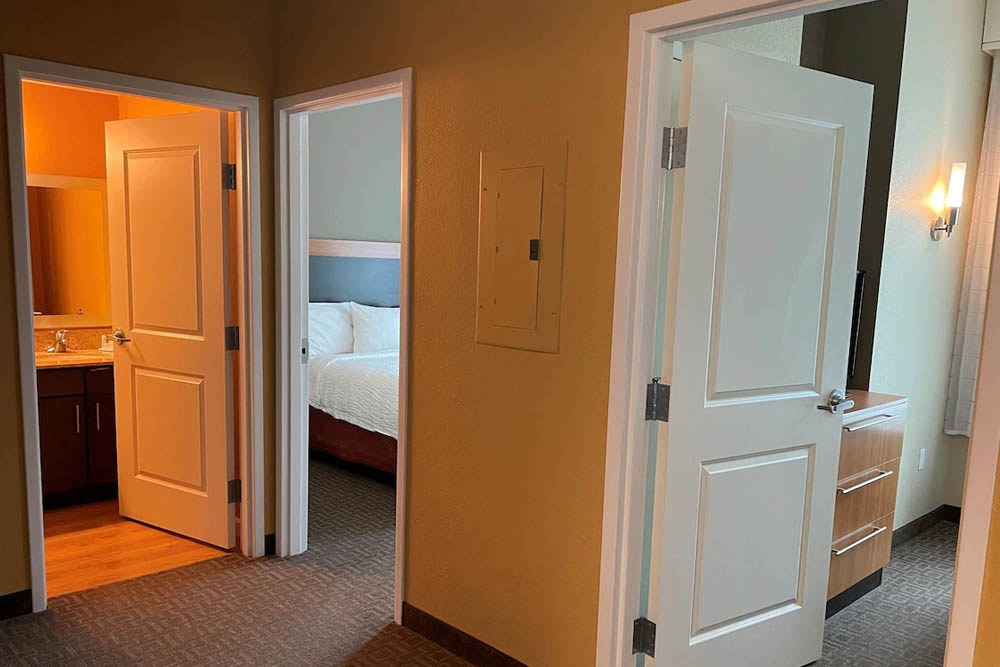 Having separate spaces for a long trip to Orlando (or Disney World) can be an essential part of a successful vacation. Two Bedrooms and separate living space with a sleeper sofa can give you the space needed for everyone to have a private space at the end of each day. These large 2 Bedroom Suites at the TownePlace Suites in Flamingo Crossing offer 624 sq ft of space. Each bedroom has a queen bed with its own flat screen tv. The living room is a nice size with a sleeper sofa, chair, and even a table with 6 chairs for dining or playing games. A full-size kitchen helps with the cost of your trip and the 2-Bedroom suite is the only kitchen with a full oven. All of the other suites only come with a cooktop. The bathroom is also larger than the other suites and has 2 sinks.
RESERVATIONS
TownPlace Suites Flamingo Crossing