What a wonderful time it is when you are able to visit all of the amazing things that Disney has to offer, from Theme Parks to Downtown Disney and the best Resorts available. If you are staying for more than just a couple of days or if you have a larger party of people with you, it could be worth your while to consider looking at one of the Disney World Resorts with Suites. You will have to take into consideration other factors as well, like your budget, how much time you will actually be spending in your room and whether or not you need (or want) the additional amenities. Since a Disney World Resort Suite will cost more than a typical room, you have to determine what is best for your trip.
Do any of the Value Resort have Suites?
Yes, but not all of them. It is actually quite amazing when you think about it but even some of the Disney World Value Resorts have Family Suites to meet the needs of those who are trying to keep the trip within a tighter budget. Not all of the less expensive properties offer suites though. The All-Star Resorts were the first "cheaper" locations to stay in Disney World and they do not offer Suites at this time.
Below, you will see a list of all Resorts in Disney World that offer Suites as a place to stay.
Do the Moderate Resorts have Suites as an option?
Yes but only some of the Disney World Moderate Resorts. That might come as a big surprise to some as you start scoping out the place you want to stay. If you are interested in staying at one of the Disney World Moderate Resorts and staying in a Suite, you will only have a couple of options. One of the options are the Cabins at Fort Wilderness and most guests love staying at these dwellings but they would not consider then as a Suite. Take a look at the options available below.
Do the Deluxe Resorts have Suites?
Yes, All of the Disney World Deluxe Resorts have Suites and some of them have many different Styles and Types available to fit the need of all guests who might visit Disney World. These are the best Resorts that Disney has to offer, so be aware that the cost will be reflected in the Suite Pricing but if you can afford it, this will be the best stay you could ever imagine.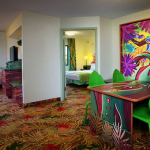 They might be less expensive than the more elaborate Resorts at Disney World but the kids love the Suites at the Art of Animation. They are so bright and colorful while also including a design and layout that is perfect for kids of all ages. Let them have a say in the room style and their excitement will be overwhelming when you tell them they have options of staying in a Lion King, Cars or even a Finding Nemo Suite. All of these rooms accommodate up to 6 Guests.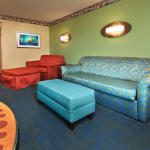 One of the first Value Resorts in Disney World also has an option for Family Suites. These rooms are much larger than the standard room and also have the same Music Style throughout. A little more privacy is availalbe since the bedroom is a separate room all together. The All Star Music Family Suites are all the same they do not have different character theme options like the Art of Animation.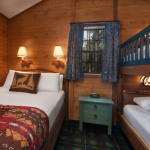 The Cabins at Fort Wilderness are quite incredible and Disney considers them to be Suites. I would consider them to be stand alone dwellings with all of the comforts from home. These Suites are separate units that give you additional privacy over connecting rooms. It is one of the few locations in Disney where you will have room to sleep in two separate bedrooms and also have a full kitchen available to you.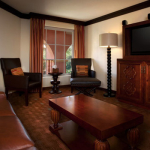 While your options are not endless when booking a Suite at the Disney Coronado Springs, you do have a couple of really nice selections. The Junior Suite comes with a large King Size Bed and a full Living Room location where the Sofa pulls out into a Queen Bed. The Casitas, One Bedroom Suite has a completely separate Bedroom with 2 Queen Beds and a Living Room that has a Queen Sleeper Sofa. This style of room give you additional space to open up and not feel cramped during your visit.
Expect the best at the Deluxe Properties because Disney goes all out for their guests in many different ways when you visit one of these most prestigious places. What are the differences with the Water Slides? Have a look below to see.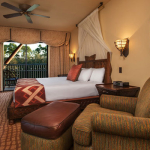 Expect nothing but the best when you walk in to one of the 1 or 2 Bedroom Suites available to guests at the Animal Kingdom Lodge in Disney World. The grand design and African theme surround you in every room and with each little detail. Suites will give you the best views of the Savannah to watch the Animals during the day and the private balcony has seating for all to enjoy.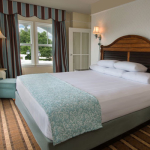 Stay close to the Beach with one of the best pool complexes in the Disney World Resorts while enjoying one of the 1 or 2 Bedroom Suites at the Beach Club. Having room for a full family in the Single Bedroom Suite is nice but the Two Bedroom offers additional space to accommodate a full 7 Guests. Comfortable bedding and beautiful views of the Pool or Lagoon await your arrival.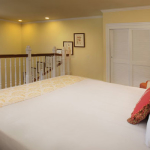 Staying at one of the Suites at the Disney Boardwalk Inn is truly a treat. Even though the rooms are not called Suites, the Deluxe Rooms give you plenty of space with 2 Queen Beds and a Separate Living Area with a Pull out Sofabed. I would consider this room to be very close to the level of a suite. A true Outer Building Garden Suite awaits for those who really want some space to enjoy. You can enjoy a large living room and small kitchenette on the first floor while there is a large bedroom above with separate bath in a Loft type layout.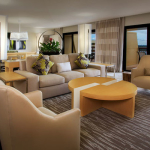 You will find some really amazing views from the Contemporary Hotel Suites in Disney World since it is across from the Magic Kingdom. These Suites offer rooms that will accommodate up to 8 guests. Some have large Balconies overlooking the Pool Area and others have the best views of Cinderella's Castle as it lights up the sky with fireworks at night.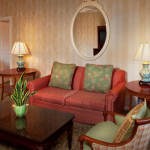 As always, if you are looking for the most refined and sophisticated place to stay and feel as though you are close to royalty, staying in a 1 or 2 Bedroom Outer Building Suite at the Grand Floridian would likely be the best place for you. Everything in these rooms are designed to make you feel special but also be prepared to pay a premium to stay at this Deluxe Disney Resort.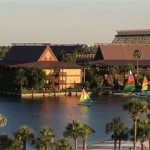 Most of the rooms at the Disney Polynesian Village are just standard rooms but the Views of the Seven Seas Lagoon are spectacular. There are some fantastic 1 Bedroom Suites at this Tropical Paradise with Balconies that overlook the Lake or Pool. These Suites add some extra luxury to your already wonderful stay at this Deluxe Disney Resort.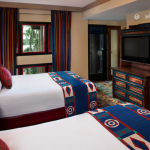 One of Disney Guests favorite Resorts would have to be the Wilderness Lodge. When booking at this location, Suites are not really listed, but if you look at the Deluxe Club Rooms, I think you would have to agree that these are definitely Suites. They have a full separate Living Space and a room just used for the Bedroom. It is not a private Bedroom in that there is a single King or Queen Bed but it is setup very much like a suite.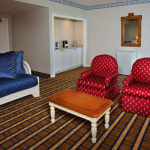 The Yacht Club is probably 2nd in line if you are looking for style. While the Grand Floridian has to be the most opulent, this is a very trendy resort. Much like the Deluxe Rooms at the Wilderness Lodge, even though they are not technically a suite, having the separate living space makes it look like one. The 2 Bedroom Suites at the Disney Yacht club, while giving you additional room to spread out, only accommodate 4 Guests in 2 Separate Bedrooms, both having King Size Beds.