Camaping at Disney World?
REAL campers might not even consider booking a stay at the Disney Fort Wilderness Resort Campsites but that might be a mistake. Because it is Disney, you might think that the Fort Wilderness Campground is just another Mickey-pounding place to stay. It is so much more! Most campers & RVer's agree that once they stayed in the Fort Wilderness, although it is pricey if you want the best experience at Disney World while staying at a campground, this is the way to go.
Disney Campsites
Bring your tent, pop-up camper, travel trailer, fifth wheel or class A motor home. It does not matter what type of camping you do, Disney's Fort Wilderness has the campsite to accommodate your needs and with some of the best locations in Orlando.
Perks of staying at a Disney World Campsite
The benefits of staying at the Disney Fort Wilderness Campground are almost immeasurable. If you only looked at the huge amount of fun things to do, that might be enough for some with tennis courts, basketball courts, archery, Kayaking, taking out a Sea Raycer out on the lake and these are just a few. You also have access to a quiet pool or a family pool with water slides and kids splash park. And, on top of all of that, you have great dining options, early access to the Disney World Theme Parks and Free Transportation to anything Disney. Oh, I almost forgot to add, the Disney Fort Wilderness Campground is a Pet Friendly Disney World Resort.
Cabins
All of this sounds amazing, right! Now you are excited to visit but you really don't want to stay in a tent and you don't have an RV. That is okay, Disney has you covered. You can stay in one of the 500 square foot Fort Wilderness Resort Cabins. These cabins are rustic on the outside and fully equipped on the inside. Well worth looking at if you want the outdoorsy experiece while visiting Disney World.
Campsites at Disney Fort Wilderness
Tent or Pop-Up Campsite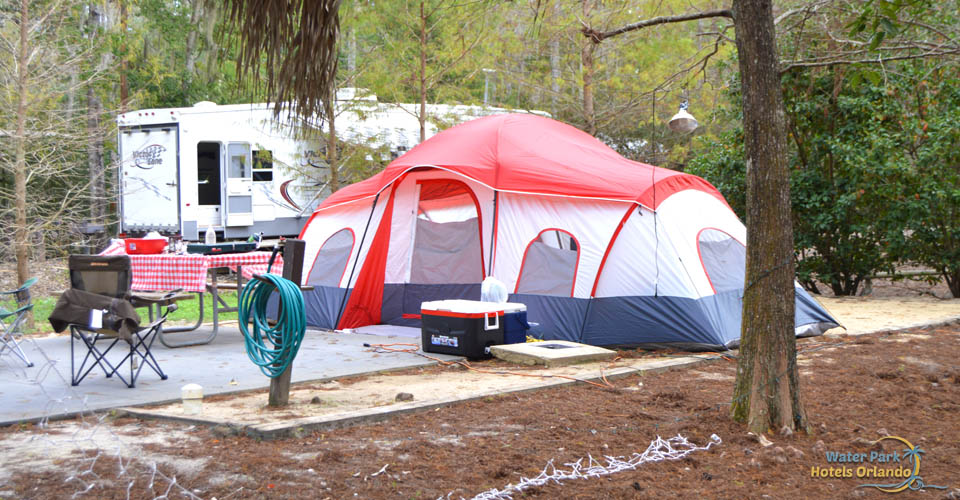 The Tent of Pop-Up Camper Campsites are large enough for up to 2 tents or a pop-up camper. They will even allow a van-type of a vehicle like a Class B. The hard surface pad is large and provides a great place to park and set up your camping equipment. This site allows up to 10 guests.
1 Pop-up or Van Camper plus one tent
Water
Electric Hookup
Charcoal Grill
Picnic Table
Cable TV Connection
Safe Deposit (Upon Request)
High Speed Internet Access
Full RV Hook-Up Campsite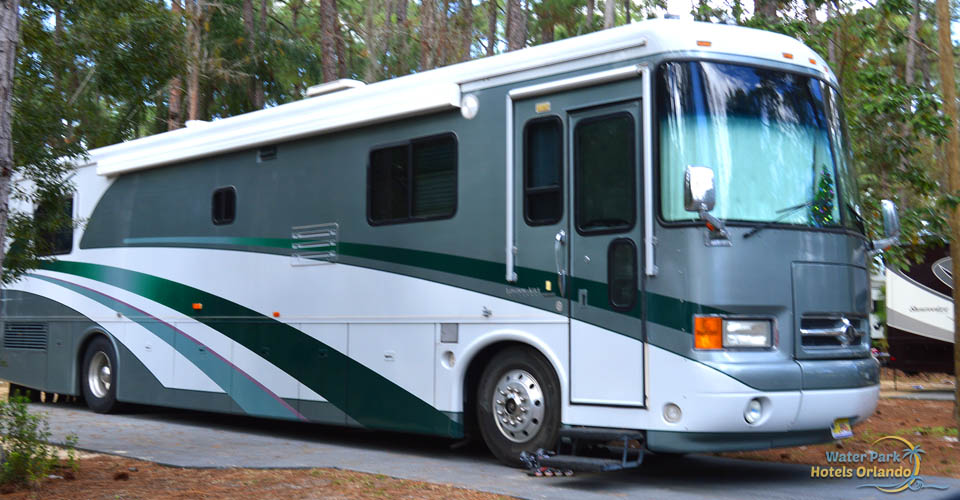 The Full Hook-up campsites are perfect for a regular sized RV, travel trailer or Fifth wheel. Each of the sites has a hard surface area of up to 10 x 50 feet and have water, sewer, and electricity. Also, you can have up to 10 adults at each site. For larger RV's you might consider the Premium Campsite.
1 RV plus one tent
Accommodates up to 10' by 60' (at some sites)
Water
Electric Hookup
Sewer
Charcoal Grill
Picnic Table
Cable TV Connection
Safe Deposit (Upon Request)
High Speed Internet Access
Premium Campsite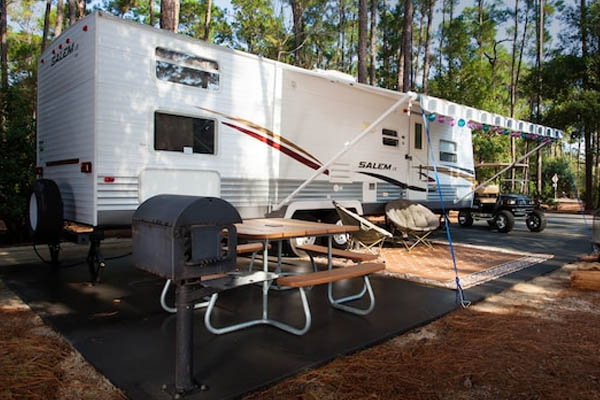 For the larger RV traveler, the Premium Campsite might be the best fit with a hard surface pad up to 18 x 60 feet. Each site has sewer, water, and electric hookups and can accommodate up to 10 guests.
1 RV plus one tent
Accommodates the Largest RV's
Premium Locations
Extra Large Parking Pad
Pet's Allowed at some locations
Water
Electric Hookup
Sewer
Upgraded Charcoal Grill
Upgraded Picnic Table
Cable TV Connection
Safe Deposit (Upon Request)
High Speed Internet Access
Frequently Asked Questions: Disney Fort Wilderness Resort Campsites
Are showers available?
Yes, each loop has Comfort Stations with showers, laundry, and lavatory.
---
Are there laundry facilities?
Yes, there are many comfort stations around the Disney Fort Wilderness Campground with Public Laundry facilities.
---
Are pets allowed?
Yes but only in certain loops. When booking let Disney know that you are bringing your Dog with you and they will put you in the right area.
---
Do all of the campsites have free WiFi?
Yes, the entire Fort Wilderness Campground has WiFi.
---
Can you bring your own Golf Cart?
Yes you can! If you don't have a golf cart, it is highly recommended that you rent a Golf Cart during your stay. The Fort Wilderness is huge and it makes getting around much easier.
---
Are tents included when you rent a tent site?
No, you will need to bring your own tent.