Dining at the Grand Floridian Disney World Resort
From the Quaint Grand Floridian Cafe, to dining around the Beach Pool at Beaches Pool Bar & Grill, or dining at its very best and most elegant at Victoria and Albert's, there is a restaurant option for any type of experience at the Disney Grand Floridian Resort. We haven't even mentioned the Disney Character Breakfast at 1900 Park Fare, where you will get a delicious buffet breakfast while interacting with many of your favorite Disney Characters. This is a must if you have smaller kids at least once during your stay. The Disney Grand Floridian has some of the best dining options in any of the Disney Resorts.
List of Restaurants at the Grand Floridian Resort in Disney World
1900 Park Fare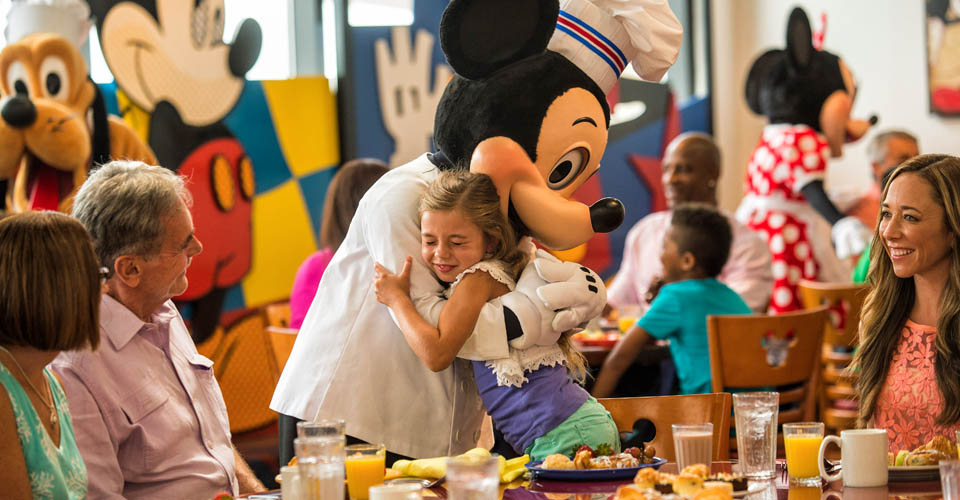 One of the items on the list to make your child's Dream come True while at Disney World is probably a Disney Character Dining Experience. At the Grand Floridian's 1900 Park Fare Restaurant, there are multiple opportunities for this to happen. At other restaurants, you are able to have a Character Breakfast but at 1900 Park Fare, you can have a Supercalifragilistic Breakfast, Wonderland Tea Party or Cinderella's Dinner. At 1900 Park Fare you get more dining options with Characters than any other place in Disney World. Be sure to make your reservations early as all of these book up quick.
Supercalifragilistic Breakfast
Mickey Waffles are waiting in the Supercalifragilistic Breakfast as well as many other items on the Buffet. Get your fill with the kids, if they are able to eat with all of the excitement going on, as well as great options for the adults. Take pictures with your favorite Disney Friends and have that time to remember forever.
Open from 8:00 AM to 11:50 AM
Reservations are recommended and can be made up to 180 early
Casual Attire
Characters you might see: Alice in Wonderland, The Mad Hatter, Mary Poppins, Winnie the Pooh, Tigger
Wonderland Tea Party
Who better to have an afternoon "Spot of Tea" than the Mad Hatter and Alice in Wonderland? A full hour long event, this "unbirthday party" is an exciting group outing for the entire family to enjoy. Great fun with tea (or could this be apple juice) cupcakes and fantastic photo opportunities.
Open Mon - Fri from 2:00 PM to 3:00 PM
Reservations are recommended and can be made up to 180 early
Casual Attire
Characters you might see: Alice in Wonderland, The Mad Hatter
Cinderella's Happily Ever After Dinner
Your little princess will feel as if she is at the King's ball with Cinderella at the Happily Ever After Dinner at 1900 Park Fare at the Grand Floridian. Storybook dining with great food like; seafood, pasta and beef. Kids might enjoy the more kid-friendly options like chicken or macaroni and cheese.
Check with the front desk for the latest days and times for this event
Reservations are recommended and can be made up to 180 early
Casual Attire
Characters you might see: Cinderella, Prince Charming, Evil Stepmother, Evil Stepsisters
Citricos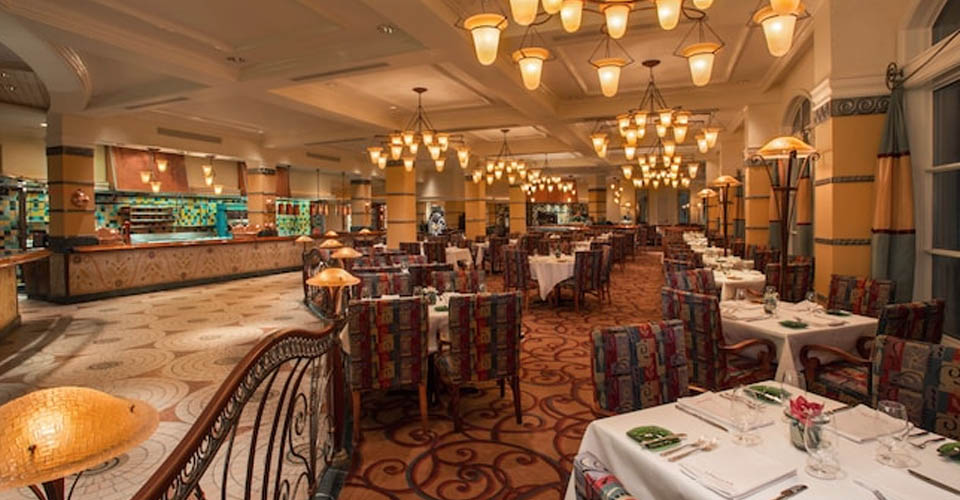 American dining infused with a Mediterranean flare with amazing tastes to tempt your palette at Citricos. Citricos is known for its lengthy, award-winning wine list with options you cannot find at just any restaurant. Dining with the Chef is an intimate way to get to know how the magic happens with your meal behind the scenes.
Open from 5:00 PM to 9:30 PM
Business Casual
Narcoossee's
Waterfront dining at it's best, the Narcoossee's Restaurant is located near the boat dock at the Grand Floridian Resort. Ask for a table by the wrap-around windows to get the best views of the Seven Seas Lagoon. Narcoossee's is known for some of the best Seafood and Steak at any restaurant in Disney World and most guests would agree with this. Watching the Electrical Water Pageant as it goes by is a real treat.
Open from 5:00 PM to 9:30 PM
Business Casual
Victoria & Albert's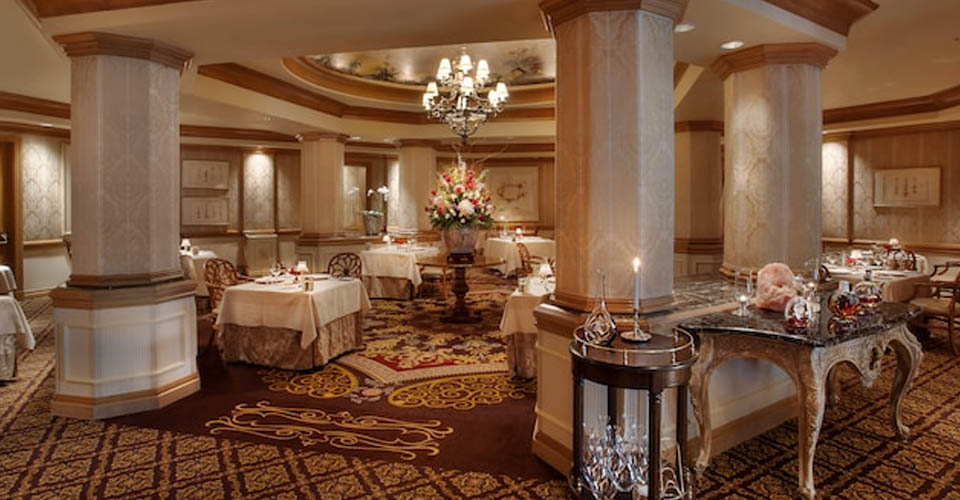 Be prepared for an evening of elegance, and a price to go along with it, when dining at Victoria & Albert's at the Disney Grand Floridian. This AAA Five Diamond Restaurant is the only place in Disney World with these accolades. Expect the very best with attention to every detail from the moment you step through the door. You are treated like a royal, seated at the King's table and waited on by the very best. For a more private setting, the Chef's table offers an evening with the greats who prepare the meal.
Open from 5:30 PM to 7:35 PM
Dinner Jacket for the men and nice dresses for the women
Reservations are REQUIRED
Beaches Pool Bar & Grill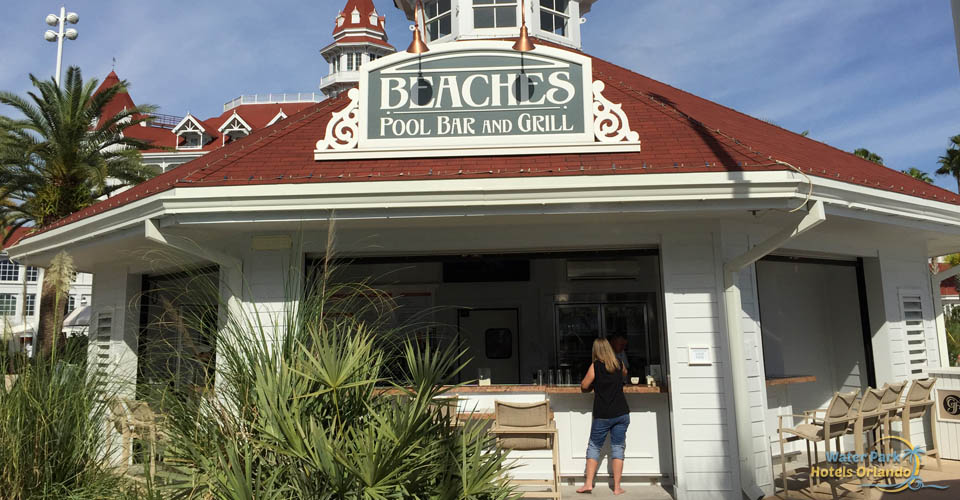 Spending a day at the Beach Pool is a lot of fun for you and your kids. They will love the large Water Slide and if you have little ones, the Mad Hatters Kids Splash park is a blast. What is great is the dining options at the Beaches Pool Bar & Grill where you can get your snacks and specialty drinks without ever leaving your lounge chair.
Open from 11:00 AM to 8:00 PM
Room Service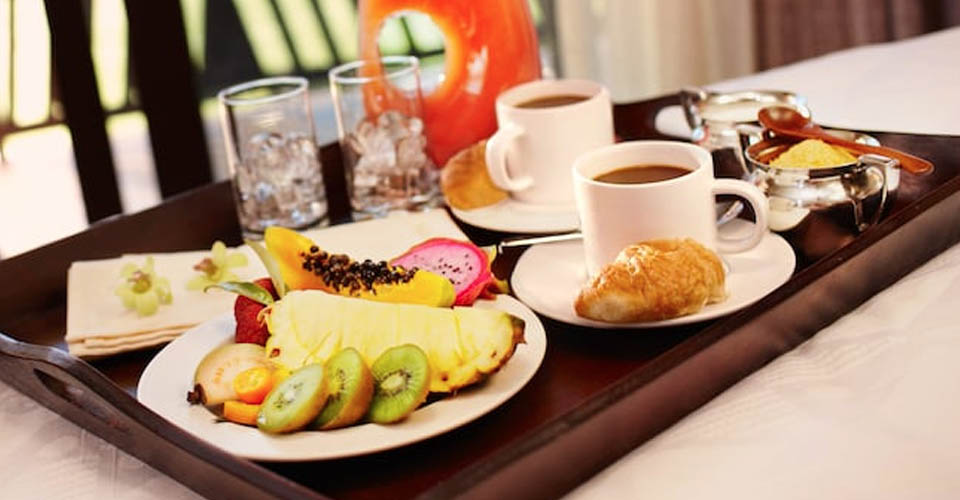 Have Breakfast, Lunch or Dinner served right in your Hotel room. Pickup the phone and order in and take some time to enjoy the elegance of your room for a while.
Courtyard Pool Bar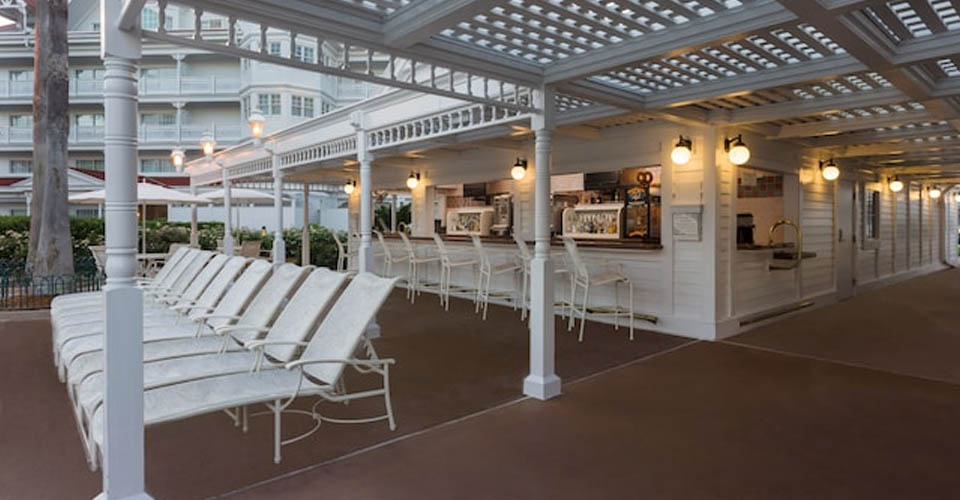 A more quiet option when staying at the pool is the Courtyard Pool with a zero-enty access and bubbling fountains. Snacks and plenty of adult cocktails can be purchased from the Courtyard Pool Bar.
Open from 11:00 AM to 7:00 PM
RESERVATIONS
Disney Grand Floridian