Disney Resort with Skyliner Transportation
How many of the Disney Resort with Skyliner locations are there in Disney World? If you have not had a chance to ride the Disney World Skyliner yet, you are in for a real treat. As with other Disney transportation, the Skyliner is just another way of getting you from your Disney Resort to other Disney Locations. As the Disney Skyliner expands service across Disney World, it will connect guests to other Resorts but for now it has connections to:
Disney Parks
Disney Resorts with Boarding Station
Boarding one of the Gondolas of the Skyliner directly from your Disney Resort is like starting the day with a ride. So far, these are the Disney Resorts that offer service directly to the property.
Disney Resorts within walking distance to a Skyliner Boarding Station
All of these Disney Resorts are very close the to Boarding Station at Epcot and should be considered on this list. While not connected to any of the resorts, it is very close to all of the Disney Resorts located around the Seven Seas Lagoon.
It will be exciting to watch for additional routes as they are discussed at Disney World but for now, this is what we have.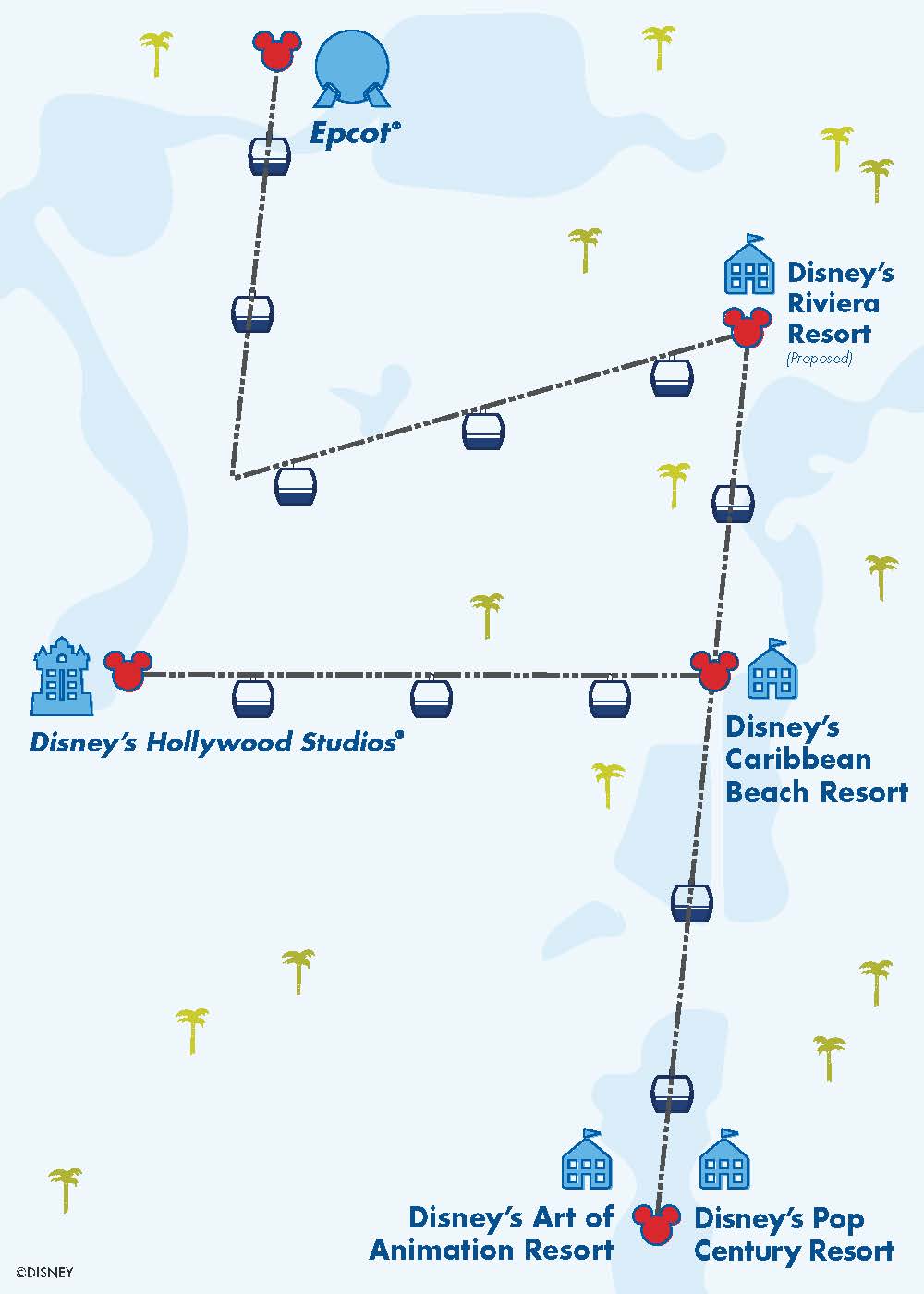 Disney Skyliner Boarding Stations
Taking a look at the Disney Skyliner Map (shown above), you can see how all of the routes connect. Traveling the entire route would take some time but it is a fun adventure if you want a break from the parks and would like to try something different. It is also nice to see some of the other resorts and maybe, stop off for a bite to eat.
Estimated Ride times to each Station:
Once you ride on the Skyliner, you might find it one of the preferable ways to travel in Disney World. It seems more like a ride than a mode of transportation. The kids love looking out of the windows and seeing the Disney World surroundings.
Disney Skyliner Schedule
You can use the Disney Skyliner for many of your visits to the Disney Parks and Resorts it services. Disney's Skyliner runs from 6:45 AM until 10:30 PM. Be sure to check the times when you will be visiting as this time can change based on the time of year.
How many people can board a single Skyliner Gondola?
Each of the Gondolas on the Disney Skyliner is designed to hold up to 10 people.
More information on the Skyliner
For additional information on the Disney Skyliner system, check out the article, All about Disney's Skyliner Transportation. Most of your questions will be answered here.