Relax in the South Pacific atmosphere at Universal Orlando's Premier Royal Pacific Resort. The list of things to do at the Royal Pacific Resort is quite long. If you are traveling with kids, the first thing you will want to show them is the huge Resort Lagoon-style Pool with Kids Splash Park. They will have hours of fun keeping cool in the Orlando heat splashing in the pool, playing in the water fountains and launching water through the multiple water cannons at each other.
So much to do
Once you see how many things there are to do at the Loews Royal Pacific Resort, you might wonder how you are going to fit it all in. Kids will have a great time on the nights that Dive-In movies are running. If you have not been to one of these events, it is a great place to sit and relax by the pool while a family friendly movie is playing on the big screen. If you enjoy taking a walk or exercising on your vacation, there are a few options available to you. The beautiful paths that lead around the Universal resorts offer trails in lengths of 1.5 or 3.8 miles in length. If you find that you want to be inside for a little while, the kids can hang out at the large game room located by the pool area while you look around the resort. There is plenty to do and see while you are at this resort and don't forget that you also have access to the other Universal Resorts during your stay so use your time wisely to get in as much as you can.
Fun things to do at the Royal Pacific Resort
Beach Volleyball Court
Outside of the Lagoon Pool, you will find a sandy beach near the lake with a Beach Volleyball court set up for family and fun with friends.
Walking and Jogging Paths
You will find a couple of very nice Walking and Jogging Trails that snake through the lush gardens of the Universal Resort Property. Enjoy the scenery on either the 1.5 or 3.8 mile loop trails.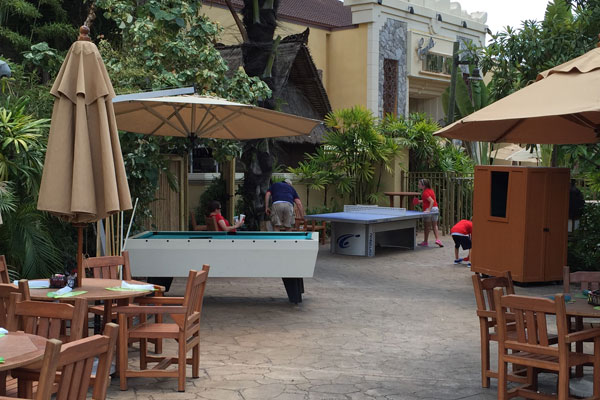 Ping Pong and Pool Table
Family fun and gentle competition with Pool Table and Ping Pong Table outside at the Pool area
Loews Loves Kids Program
Every once in a while, you need to take a break from being a parent and enjoy some time as an adult. Loews knows that this an important time and that you have already given so much to your kids so they have created the Loews Loves Kids Program. When you drop your kids off for a night of fun, when you return, you might have a hard time pulling them away. Go ahead, schedule that romantic time away and let the staff worry about your kids for an evening.
RESERVATIONS
Loews Royal Pacific Resort