Diving into the Westgate Lakes Spa and Water Park Resort: An In-Depth Review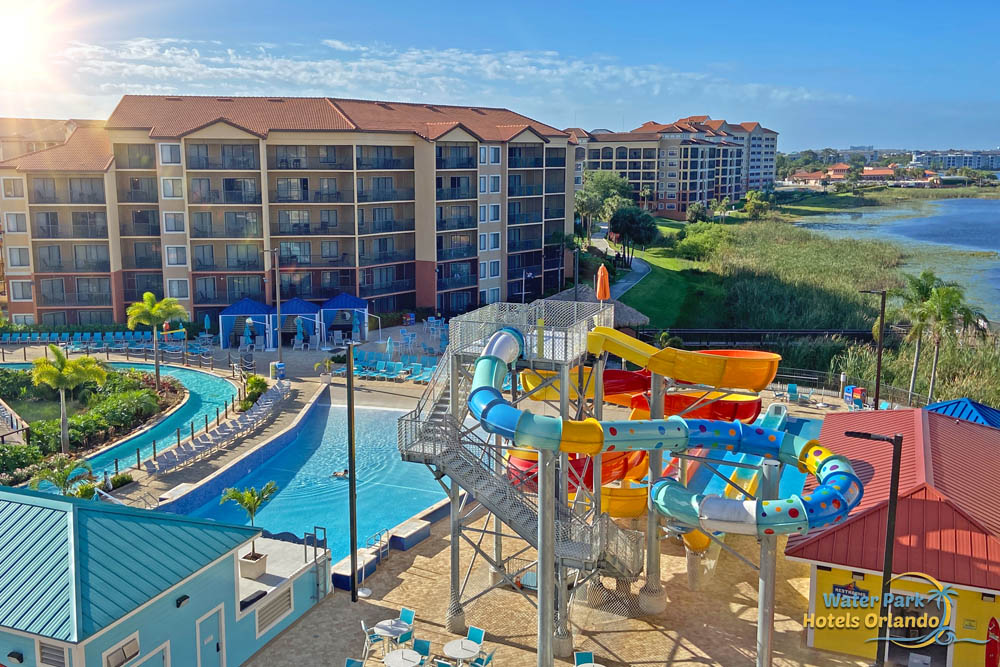 Disclaimer: Before we share our experience at Westgate Town Center, I want to express my gratitude to the resort for sponsoring my stay. Their generosity made it possible for me to fully immerse myself in the resort's many amenities and experiences, and I am grateful for the opportunity. This in no way, shape, or form skews our honest review of our experiences.
Looking for an unforgettable adventure in Orlando? As your trusted Water Park Hotels Orlando travel guide, we've personally experienced all the thrills, relaxation, and luxury the Westgate Lakes Spa and Resort Orlando, Florida has to offer. So, take this journey with us as we explore the exhilarating water park (built in 2021), our favorite tranquil pool (the resort's amenity pool outside of the water park), and all the activities available to visiting guests. Plus, we'll dish on all the juicy details of our stay regarding our deluxe accommodations. So, grab a float and join us as we recap our our adventures.
Get ready to be blown away.
Our adventure started at the Westgate Lakes Resort with amazing views of Big Sand Lake, incredible grounds and a newly installed water park, as of 2021, Treasure Cove.
But, our adventure did not end there. After leaving the Westgate Lakes in Orlando, we moved on to the Westgate Town Center Resort where we had the opportunity to try out one of their Renovated 1 Bedroom Grand Villas. Be sure to check out our Westgate Town Center Review after finishing the review on the Westgate Lakes Resort.
With so many options at the Westgate's Kissimmee resorts we really have a lot to share.
Our First Stop: The Treasure Cove Water Park at Westgate Lakes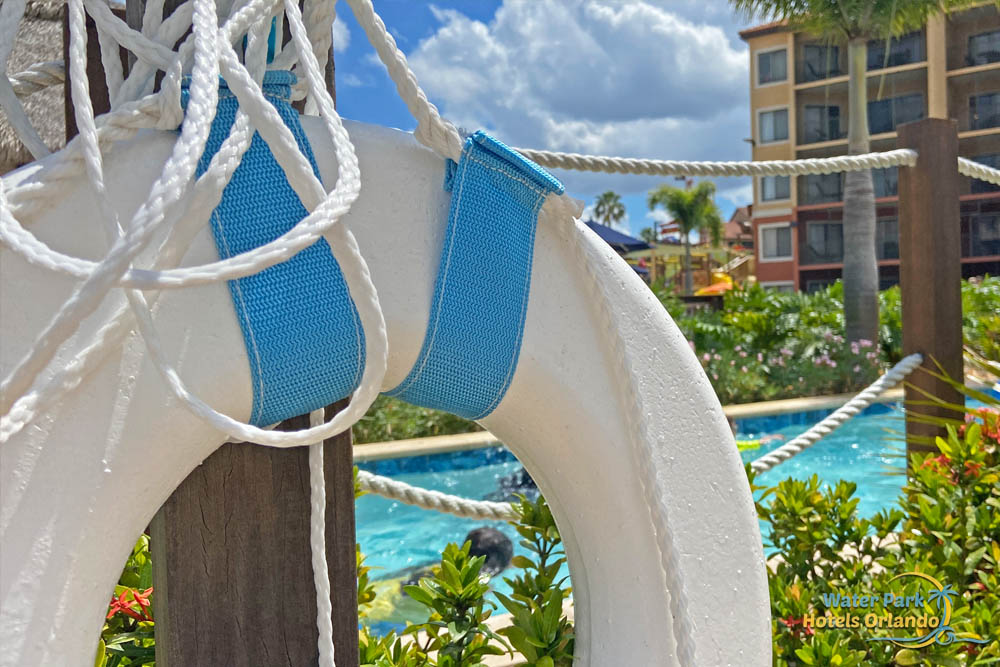 Cool Down at the Treasure Cove Water Park – the Ultimate Place to Be on a Scorching Florida Day open daily from 10 AM to 7 PM (at the time of this post)
Let's face it! Water Park resorts are exciting, and the thrills you find at the Westgate Lakes Treasure Cove Water Park are no different – except for one wavy thing. Of course, you might expect to see a kid's splash park, lazy river, and even a water slide, but are you ready for the most exciting part? How about a wave pool? Yes, it is true, a WAVE Pool! Treasure Cove is one of only a few water park resorts in Orlando offering a wave adventure.
From Slides to Splash Pads: The 5 Features That Made Our Water Park Adventure Unforgettable (in no special order)
Yes, as travel journalists, we know everyone has their own ideas on what makes a water park special. It might be the thrills you get when you zoom down one of the water slides, or it could be relaxing as you float along the lazy river. However, at the Treasure Cove water park, we found many features that stuck with us and made it exciting to return multiple times during our stay.
#1 – TREASURE COVE'S WAVE POOL
At the top of our list has to be the Buccaneer Bay Wave Pool! Sure, it might not be as large as some of the wave pools you see at full-size water parks, but come on, it's a pool with waves (AND it's at a resort of all things – which is not common)! That alone should put it at the top. Don't you think? Add to the fact that at this time, there are only a couple of Resorts in Orlando with this floating, bobbing attraction. Both kids and adults were having a blast as they waded out to the deepest section of the pool, anticipating the waves to start up again. While not huge waves, they are still a lot of fun for families to enjoy together.
#2 – SETTING SAIL ON THE TREASURE COVE LAZY RIVER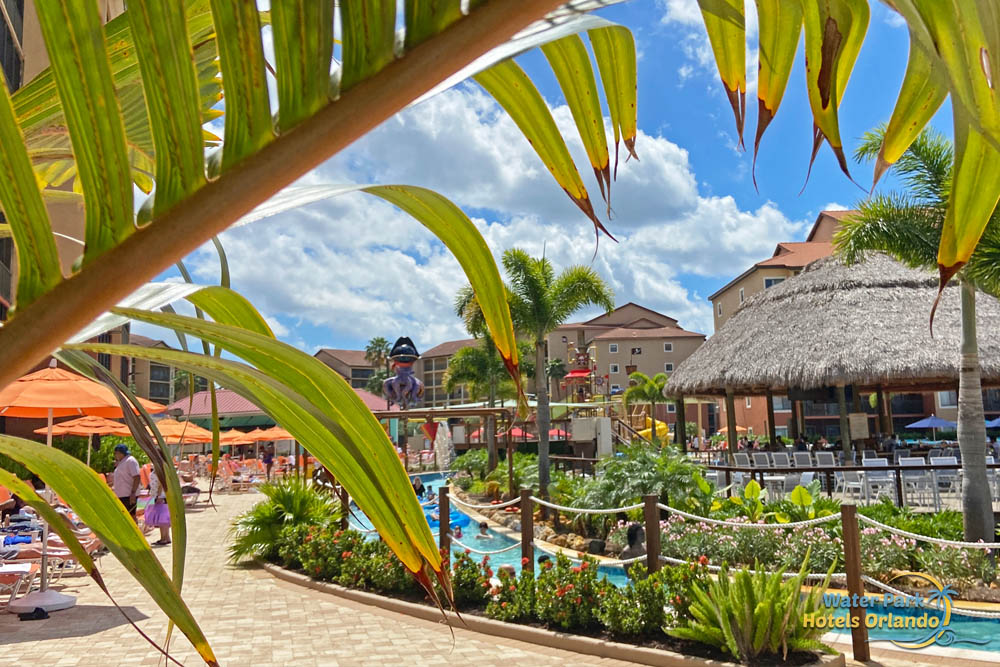 Grab your pirate ship (ahem, blue tube) and make your way into the warm waters of Treasure Cove's Castaway Creek Lazy River. It's true; you will not be "shivering me timbers" when you enter this Lazy River because it is heated. The first day we were at the Treasure Cove Water Park, it became cloudy, rainy, and chilly. We consider situations like this a perfect opportunity to put the resort's "heated" pool water to the test. And, man did it feel good! In fact, it was one of the most comfortable heated temps we've experienced at a water park resort in Orlando. Disney's pools are not even this warm. To give you an example of what it felt like: The air temperature was in the 60s and the water felt as warm as bath water. It was truly amazing.
Floating along the lazy river is a great way to relax but watch out for the dumping buckets. Getting past them takes some fancy maneuvering and good timing if you want to get by without them dumping on you, but it is also fun to get soaked by them. Multiple water fountains and sprayers keep guests cool as they enjoy the peace of floating along this fun adventure. Entering and exiting the lazy river is easy, with steps at both ends of the park.
#3 – WE CONQUERED THE WATER SLIDES OF TREASURE COVE & THEY WERE SPEEDY!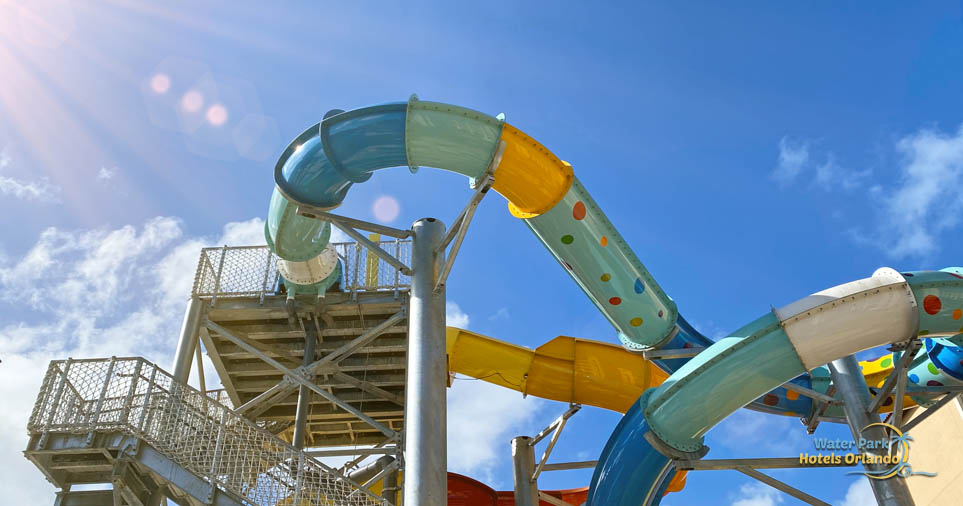 Get ready for heart-pumping excitement as you climb the towering water slide 30-foot structure! As you ascend the four flights of stairs to the top, you'll feel like a real swashbuckler; however, you will not be forced to walk the plank (whew!). As you approach the 2 water slides, the anticipation builds, wondering which to try first (we loved both of them).
The red and yellow open flume slide is a great start, twisting and turning as you fly through turns and spirals before hitting the ultimate splashdown.
The blue water slide is where the true adventure lies! With a surprise drop at the end, you'll reach lightning speeds before making a huge splash. We enjoyed both of these water slides but have to pick the blue as the most exciting.
Want to learn more? Check out additional information on the Westgate Lakes Treasure Cove Water Park.
#4 – SCRUMPTIOUS BURGERS & PINA COLADAS: OUR WATER PARK DINING EXPERIENCE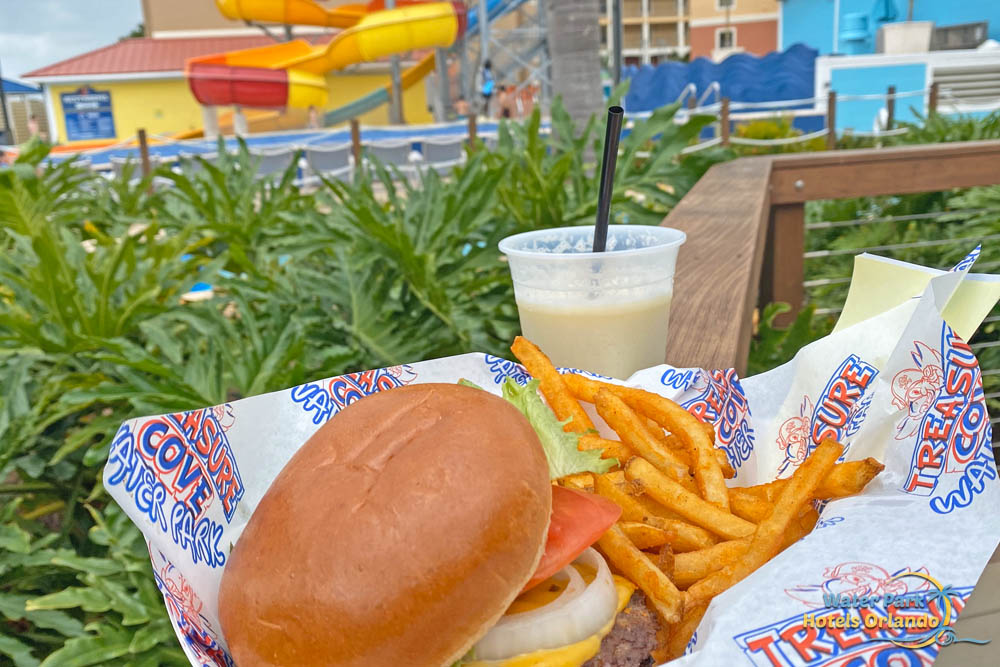 Engaging in water play and pretending to be chased by pirates can truly stimulate one's hunger. We thoroughly enjoyed hanging out at the Rikki Tiki Tavern across the walking bridge – perfectly placed on what seems like its own little island. We are burger lovers and they were delish, but the fries here (and across the Westgate Lakes resort in general) were the best tasting fries.
FYI: Find a seat around the bar or at one of the many tables around the Rikki Tiki island's perimeter. Bar stools are also provided along the island's edge overlooking the water park and the lazy river. You can order your favorite adult beverages from the bar and get food for yourself and the kids. No reason to dock your ship and head to the local pub. Everything you need is at the Rikki Tiki Tavern.
#5 – KIDS JUST WANT TO HAVE FUN: AND FUN THEY WILL HAVE AT LITTLE PARROTS SPLASH ZONE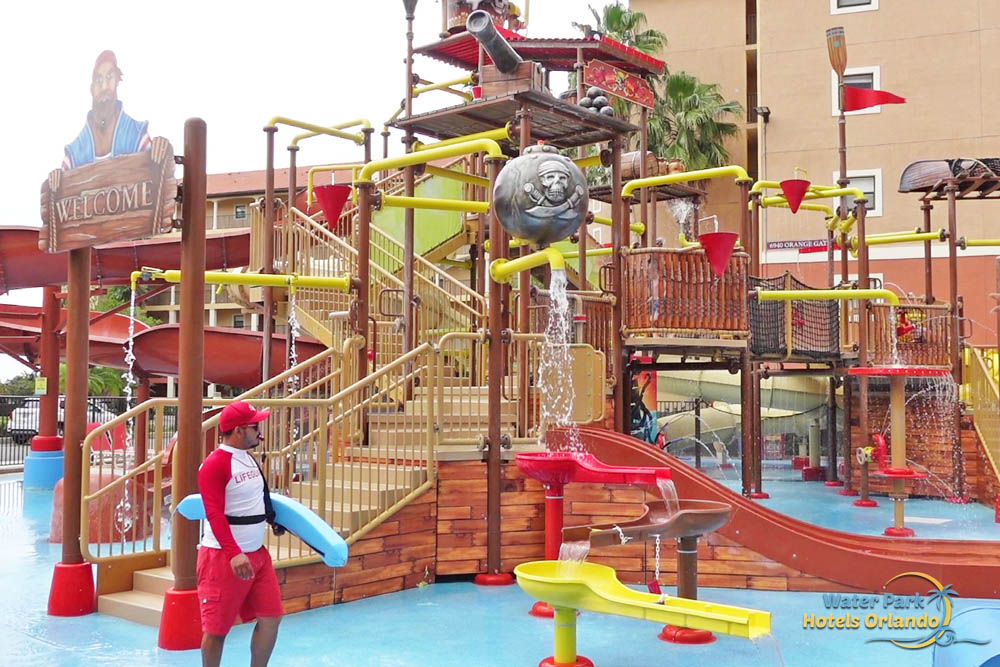 Make a splash with your little ones at the Little Parrots Splash Zone! When you enter the Treasure Cove Water Park, turn left and let the adventure begin. The colorful splash zone has water cannons, sprinklers, and a giant bucket that tips over to drench unsuspecting people below. And that's not all – there are three amazing water slides sized perfectly for kids. Let the fun begin!
Oh, and parents, Treasure Cove offers plenty of lounge chairs by the splash park with a canopy over top, providing some additional shade to keep you comfortable. You might want to get to the park early for your seating; they fill up quickly.
SAIL SMOOTHLY: 6 TIPS FOR NAVIGATING YOUR DAY AT TREASURE COVE WATER PARK
Score the best spot for your day by arriving early (entrance opens at 10 AM).
#1. Cabanas: Make your day at the water park extra special with a private cabana (be sure to book ahead)! Inside, you will find a mini-fridge, fan, lockbox, lawn chairs, towels, and TV. But the ultimate luxury? Having a personal server to fetch you tasty treats and cold drinks while you soak up the sun! Don't wait – reserve your cabana as soon as you get to the resort and sit back to relax and take in your special day.
#2. Crowds: Plan to arrive early and hit the water rides first to beat the crowds and make the most of your time at the water park. We found that the orange lounge chairs and tables on the right side of the main entrance tend to fill quickly, but don't worry. There's plenty of other seating around the perimeter to choose from. FYI – the kid's splash park seating area tends to get crowded as well – but the canopy shade is awesome.
#3. Our Raves: We really LOVED the fact that the Westgate Lakes Spa and Resort, Orlando Florida had both tables and lounge chairs WITH umbrellas as well as cabanas. However, Westgate's other resort with water park (Westgate Town Center) only had tables with umbrellas (plus loungers without umbrellas) – and no cabanas (read the Westgate Town Center Review here). That's not to say that we did not LOVE the Westgate Town Center's water park – because we certainly did. The good thing is that you have two water park resorts to choose from under the Westgate brand – according to your preference.
#4. Clearing up some confusion about access to the water park and fees: It's important to note that access to Treasure Cove Water Park is not included with all Westgate Lake Resort stays. For guests, there is a water park fee of $25 per person (at the time of this post). However, if you're an owner at Westgate Lakes, you're in luck as complimentary access to the water park is provided. We found that, for the most part, guests understand the additional cost, and those who want access are happy to pay the extra fee to get in. There are also ways to get both water park and villa discounts by booking directly via the Westgate's website.
#5. Guest DISCOUNTS are available: When booking your stay at Westgate, don't forget to sign up for the World of Westgate Loyalty Program (WOW) for free (no strings). As a member, you can receive a 25% discount on water park admission and various discounts on accommodations and resort fees throughout the year. We signed up because we are planning to return as well as visit other Westgates. The free part of this membership program does not have anything to do with the time share opportunities that Westgate is known for – it's just a way to save money. ANOTHER TIP: It's important to note that you can sign up for a time share presentation and receive a deeply discounted room rate if you book through Westgate directly (and if you become an owner, you get free water park admission).
#6. Our wish list: Okay, let's get this straight. We absolutely loved our time at Treasure Cove Water Park. The slides, the lazy river, the wave pool – all amazing. But if we had to nitpick one thing, it would be the size of the towels. They are small. Simply ask for two towels per guest to fix this dilemma (it seemed most days attendants were handing them out).
Surprising Facts About Our Cozy One-Bedroom Deluxe Villa at Westgate Lakes Spa and Resort, Orlando Florida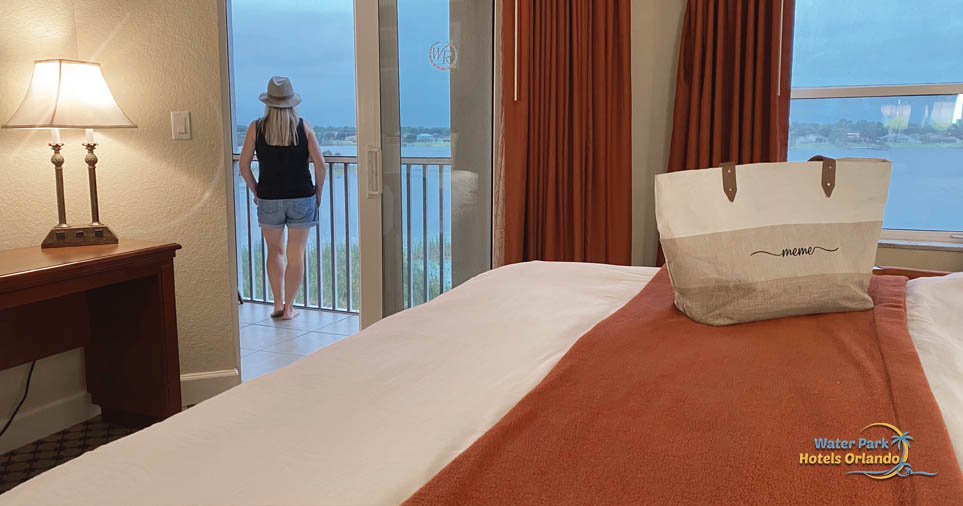 For those residing in snowy regions, the arrival of spring is marked by the chirping of birds, as you will understand if you have experienced the long-awaited arrival of spring. The sounds we heard from our special balcony overlooking Big Sand Lake were so delightful that it seemed as if we were basking in the charm of a never-ending spring day (both day and night). There was not a moment we didn't have our balcony doors open – even overnight while we slept. So peaceful. By the way, if you don't like noisy nature sounds during certain times of the day, we couldn't hear them unless we had our balcony door open.
We can only share our experience on the building we were assigned to at Westgate Lakes (building #60, 5th floor). That said, we stayed in a one bedroom deluxe villa, and it was like having the amenities of home but with an added private balcony overlooking breathtaking Big Sand Lake.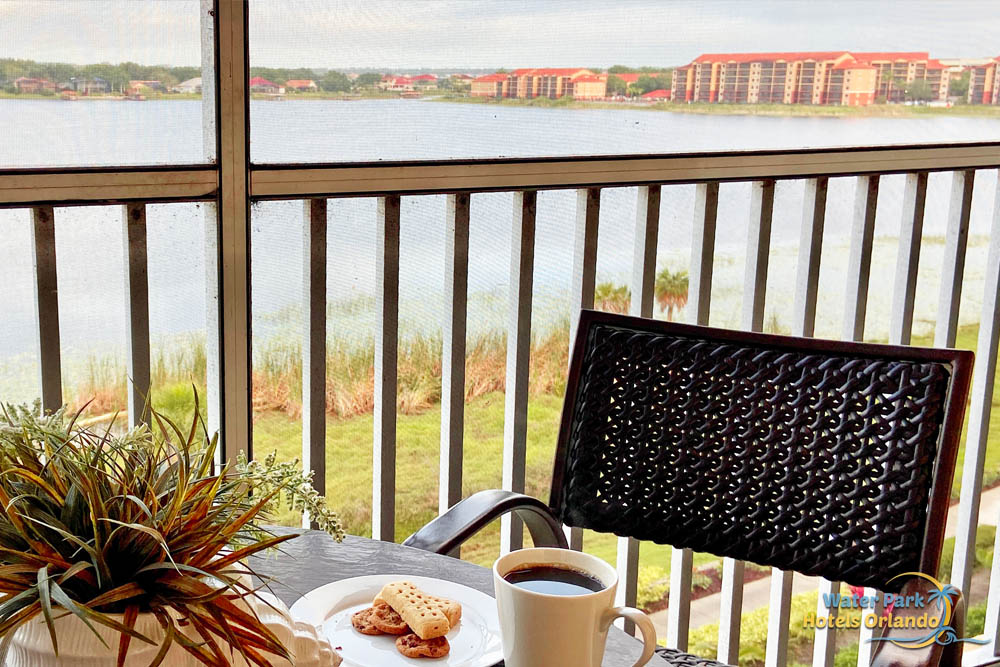 From our balcony, even the cloudy days – from dawn to dusk – were a sight to behold. We loved sipping on our morning coffee while taking in the glistening waters and colorful skies. It was the perfect start to each day. We will certainly return! In fact, we personally extended and paid out of pocket for an additional couple of nights because we enjoyed the location of this villa so much.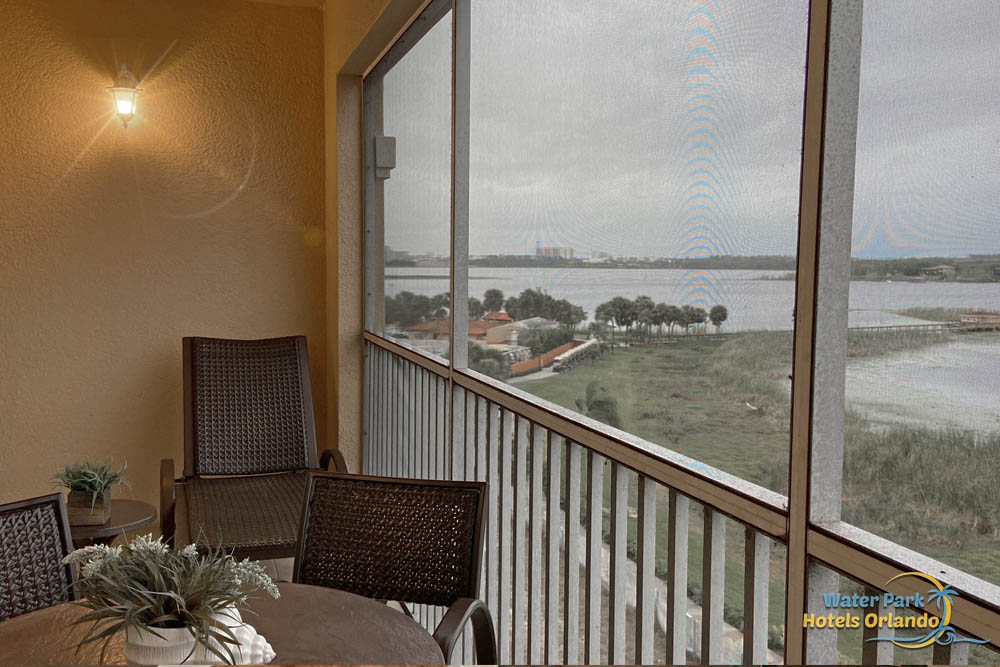 Did we mention the Magic Kingdom fire works that we caught one night by accident – from our very own private balcony?!? Pleasant surprise!
We had no idea that guests staying in building #60, and many of the Westgate Lakes buildings facing Big Sand Lake, will catch a glimpse of the Magic Kingdom fireworks every night (if they are watching out for it). To our surprise, we didn't see anyone observing them from the walking trail below – on any given night. We assume that this is not a well-known fact (PSST! Get to the walking trail between 8:30pm to 9pm!).
WESTGATE LAKES SPA & RESORT ORLANDO, FLORIDA – INSIDER TIPS (in no particular order)
#1 – Westgate's Cozy, Warm, & Welcoming Aesthetics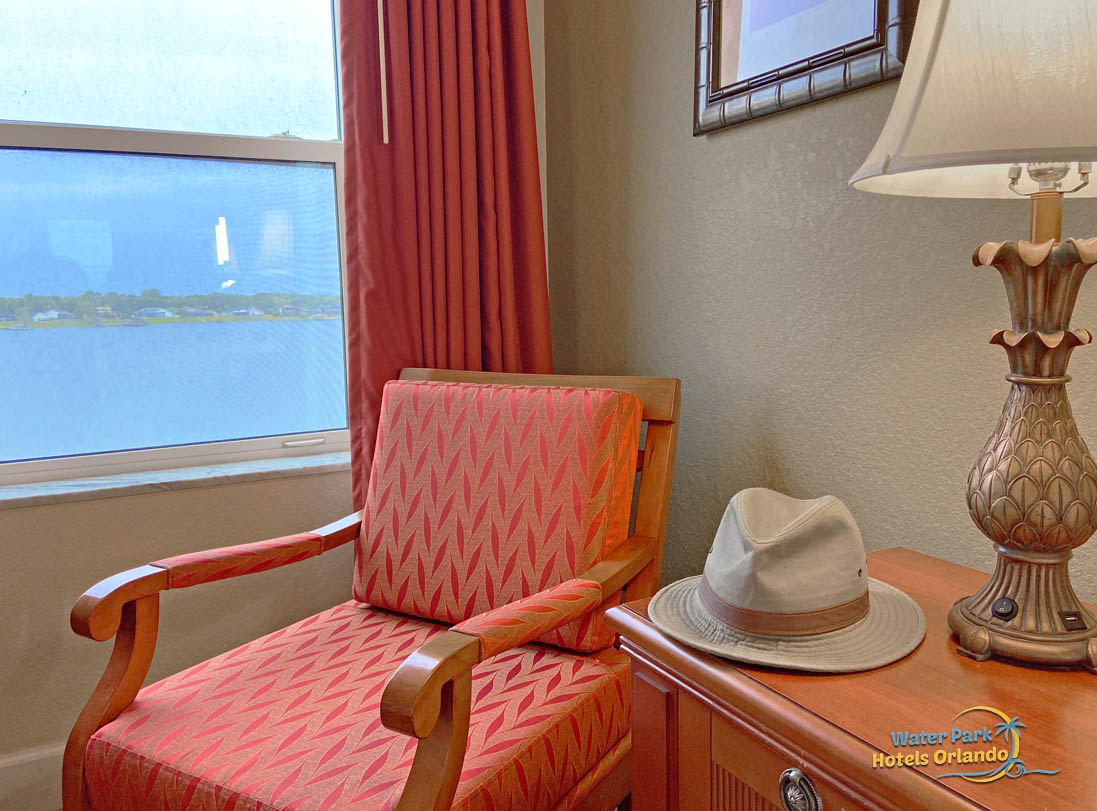 The earthy tones of the Villa's decor, a signature of the Westgate brand, created a cozy and welcoming atmosphere. While it wasn't as modern as the Villa we stayed in at the Westgate Town Center Resort; we still loved it's cozy, clean feel. For a more in-depth comparison, check out our Westgate Town Center Review.
#2 – We Indulged in the Most Heavenly Amenities Inside Our Villa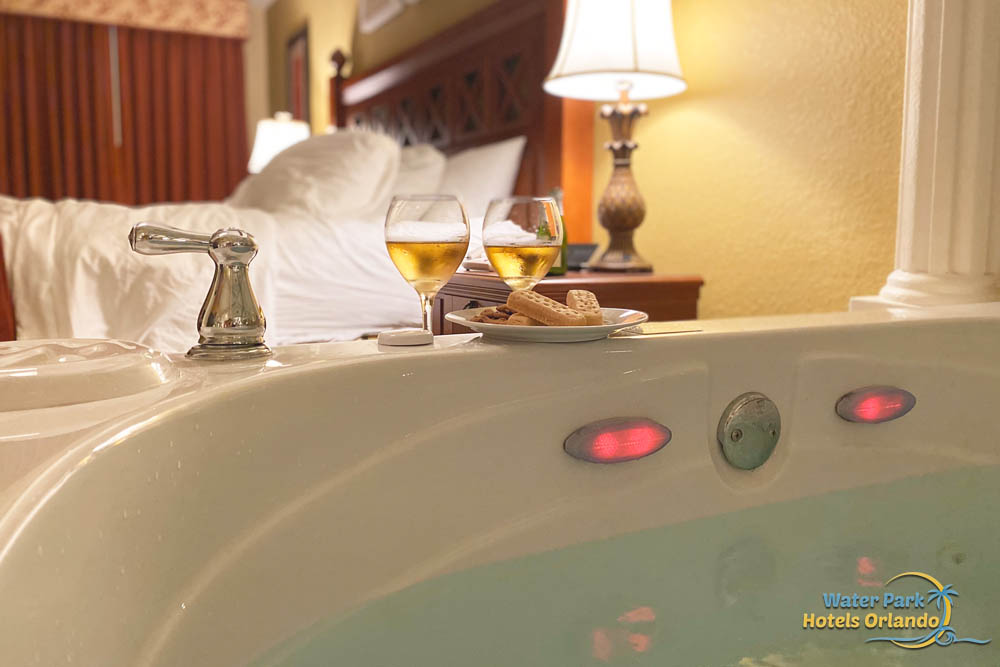 From the moment we arrived, we knew we were in for a treat when we saw the villa's indoor highlight tucked away in the corner of the bedroom. And we sank right into it with a sigh of relief as our aching feet found respite after walking 10K+ steps around this grand resort property every day! The warm, soothing water was just what we needed to relax and rejuvenate for the next day's adventures. Trust me, once you experience it yourself, you'll be just as grateful as we were.
#3 – Comfy Beds at Westgate Lakes Spa & Resort Kissimmee, Florida. We slept WELL.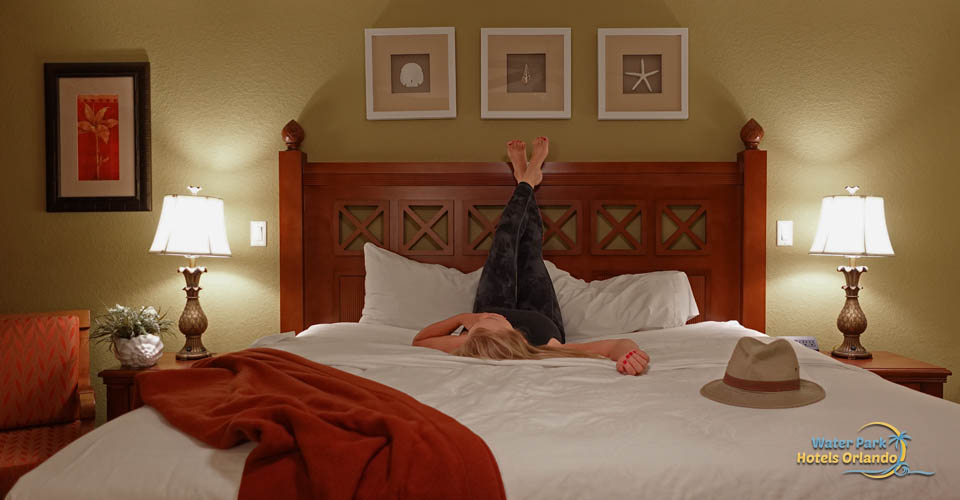 #4 – Explore the Rest of the Features
From the fully equipped kitchen to the spacious living room area, we had everything we needed for a comfortable stay – including a washer/dryer combo located in the kitchen of the villa. The villa also boasted top-notch entertainment with TVs in the living room and spacious bedroom.
Find out more about the Westgate Lakes Villas, with 1, 2 and 3 Bedroom options.
#5 – Oh – Did we Mention That Westgate Lakes Spa and Resort is Pet Friendly?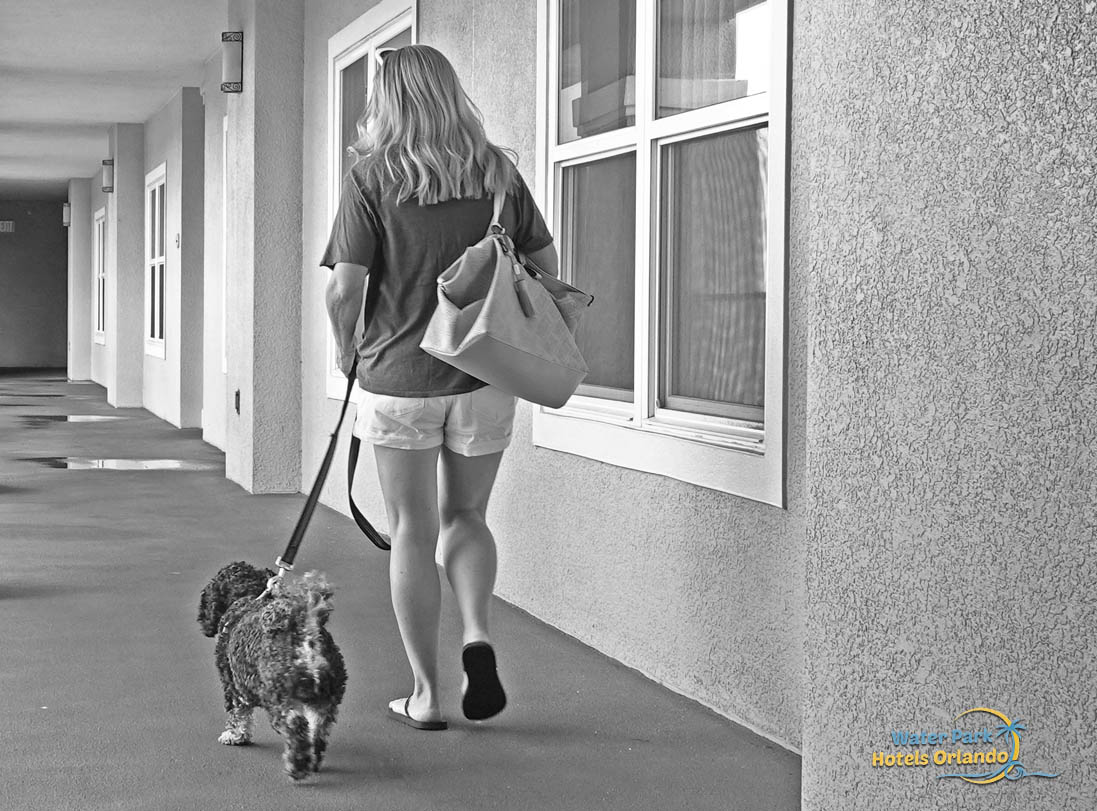 As pet owners, we know how challenging it can be to find accommodations that allow pets. That's why we were thrilled to discover Westgate Lakes Resort. This pet-friendly resort is one of the few water park resorts to allow pets in the Orlando area. While there are certain pet fees and policies to follow, we appreciated the opportunity to bring Jack along on our trip and make unforgettable memories. And when we needed to board him for a few hours, Pet Paradise was conveniently located nearby. So if you're looking for a pet-friendly resort that provides all the comforts of home, Westgate Lakes Resort is worth considering.
If you want to bring your pet along, you might find it worth your time to read through some additional Westgate Lakes Resort Pet Information.
Overall, we thoroughly enjoyed our stay in the one bedroom deluxe villa at the Westgate Lakes Spa and Resortin Orlando, Florida. The stunning lake views, spacious accommodations, and thoughtful amenities made it a memorable and comfortable experience. We can't wait to come back!
Unlocking the Secrets to a Perfect Stay at Westgate Lakes Spa and Resort Orlando, Florida
Tailor Your Experience with Special Requests
Westgate Lakes Resort recently opened the Treasure Cove Water Park (as of 2021) and, along with it, renovated 400 Villas that overlook the water park (we believe around 2019). As for our building #60 (located further away from the water park), it seemed like it was newer but not the newest. It was most likely renovated during an earlier renovation phase prior to 2019. Although it would be nice to go back and stay in a villa showcasing a 2019 renovation – we really loved where were assigned. It was super quiet and on the end of the property – allowing us to better digest the views of the peaceful lake – without much noise from other guests.
You may be wondering about how to book the latest and greatest villa (or – a villa in our building #60). So, be sure to request your preference when booking directly with Westgate. Or – better yet – if you are shopping around for the best Westgate water park resort to stay in – we also reviewed the deluxe one bedroom grand villa at Westgate Town Center. Check out our Westgate Town Center Review here.
Beyond the Water Park: Don't Forget to Discover the Hidden Gems – Our Top 5 Picks
#1 – Birds, Ducks, & More Birds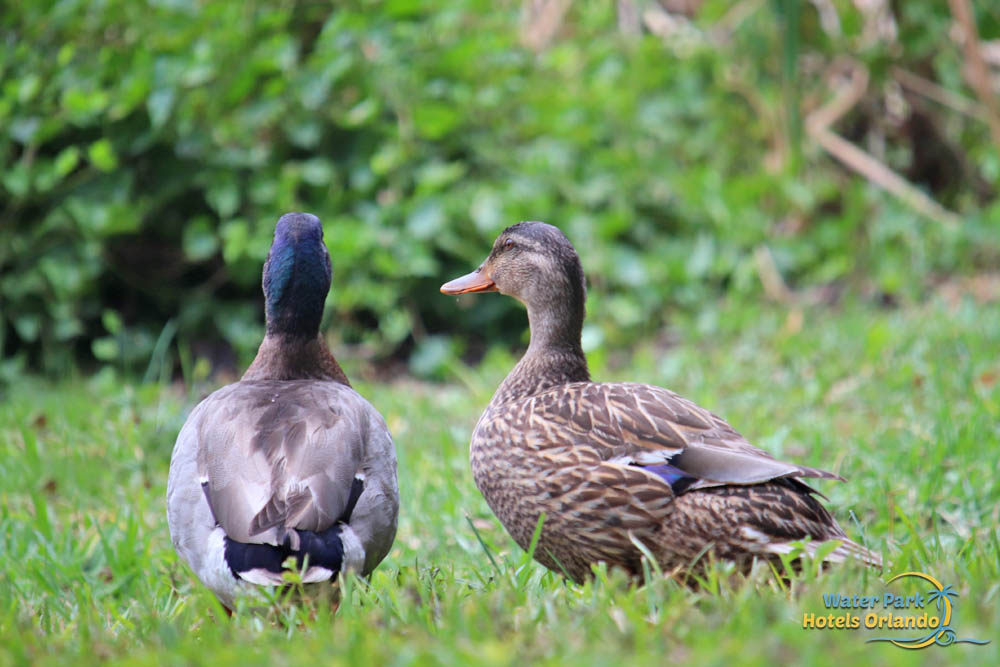 Bird lovers, listen up. When stepping onto the stunning grounds of Westgate Lakes Spa and Resort in Orlando Florida it's hard not to feel a sense of tranquility wash over you. The chirping of birds and the sun's warmth made me feel connected to nature in a way that's hard to find in everyday life. And yet, despite the peaceful surroundings, there's a sense of fun and adventure in the air, perfect for families or anyone looking to create lasting memories.
#2 – The Grounds – A Hidden Oasis!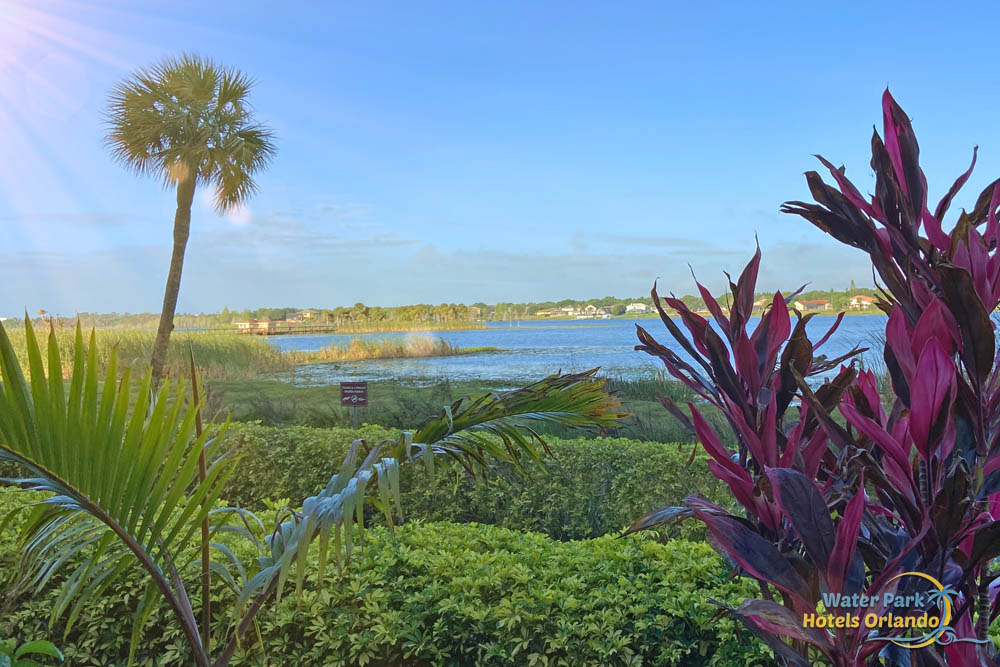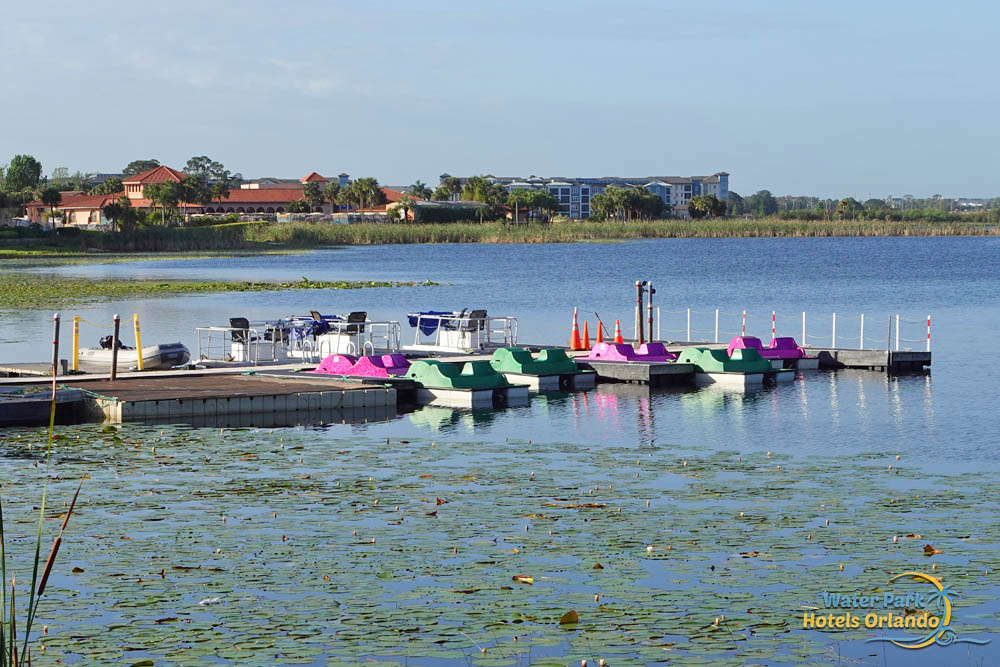 As we ventured daily along the winding paths we couldn't help but feel appreciative to have found this oasis – a true hidden gem! The lush, green surroundings nestled against Big Sand Lake make for a truly peaceful escape – not to mention the nooks and crannies you'll run into if you explore.
#3 Our Favorite Pool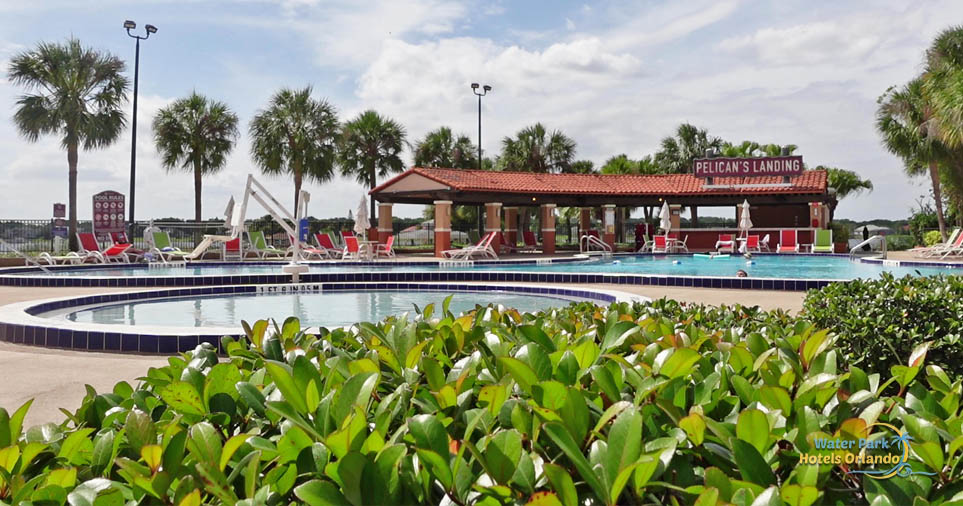 Since there are seven pools, which is best? Well, sure, this is subjective, but we vote Pelican's Landing Pool as the most beautiful and quietest pool (to the right of building #60 – if you are facing the building from the lakeside – just a short walk down and on your left). It was never crowded out of the few times we visited. On the flip side, If you are looking for the most crowded pool with lots of things to do and a bar, try out the Cirtus Breeze Pool by the main entrance to the Water Park (where the Activities Center is located).
There are many Westgate Lakes Pools located around the entire resort.
#4 Activities GALORE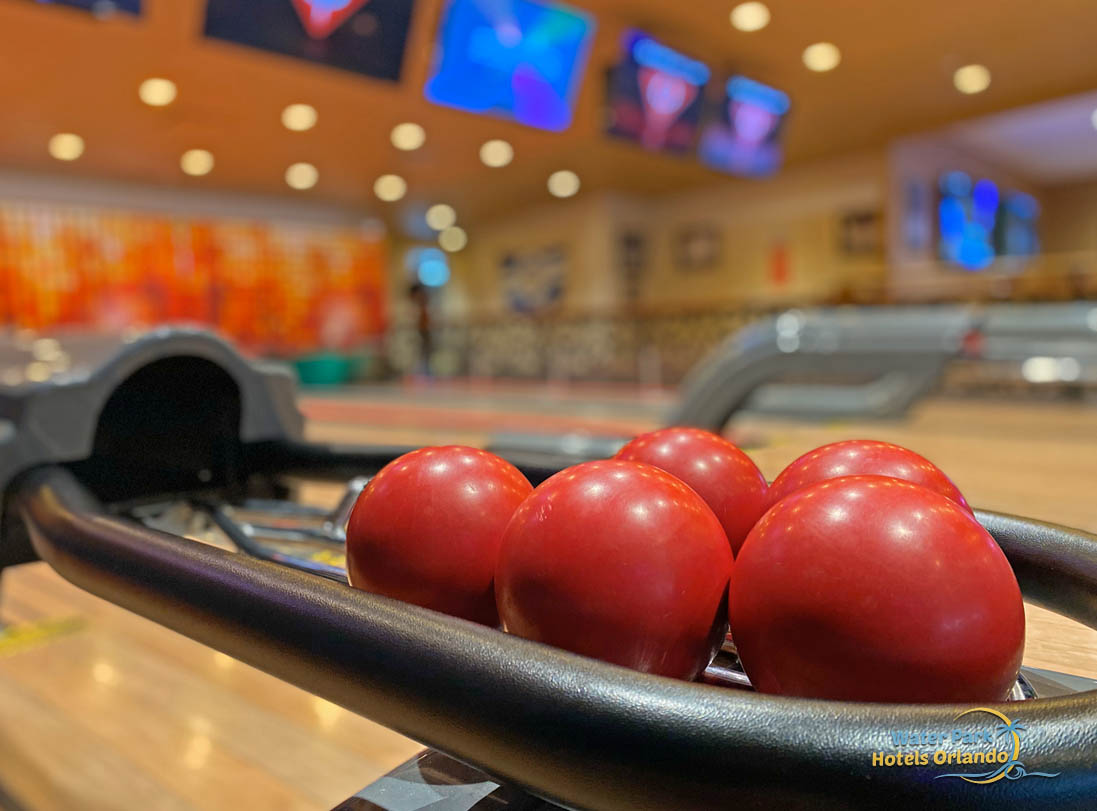 At the Westgate Lakes Resort and Water Park, the activities never stop! After splashing around in the Treasure Cove Water Park, head to the Activity Center for even more excitement. Get your adrenaline pumping by renting bikes or pedal boats, challenge your family to a game of Pirate Mini-Golf, or show off your skills in the state of the art arcade (near Drafts Sports Bar and Grill). Feeling competitive? Try your hand at mini-bowling (inside Drafts Sports Bar and Grill). For a more relaxed vibe, grab some friends for a game of Connect 4 or ping-pong. Let's not forget the fitness center and sand volleyball court. What a perfect way to stay active on getaway. With so many Fun things to do at the Westgate Lakes Resort, you'll never want to leave!
#5 Casual Dining at Westgate Lakes Spa and Resort Orlando, Florida
We were blown away by the food served at Drafts Sports Bar and Grill. Honestly, the first night we ate at Drafts, we could not finish everything and had to take some food back to the Villa. Boy, we were glad we had a full kitchen to eat leftovers. The variety at Drafts was amazing.
Dinner options: We personally tried the Pulled Pork, Onion Rings, Chili Fries, Brisket with Cole Slaw, and Fried Chicken (our favorite) – not all in one night, of course.
BEWARE OF BREAKFAST: We were almost embarrassed over breakfast at Drafts. We ordered the full stack pancakes not realizing just how huge they were. Not just big, but absolutely HUGE and almost as tall as a multi-layer cake.
Pizza Pickup & Delivery: Another option at Westgate Lakes is the Pizza at the Marketplace & Deli. As you walk in the Marketplace, at the back corner, you will find a deli where you can get an amazing sandwich and order a Cordovano Joe's Pizza. Ordering was easy, and it was only about a 20-minute wait. We ordered the Meaty Joe with Pepperoni, Ham, Sausage, Ground Beef, and Bacon. Yes, it was a lot of meat but, WOW, what a great pizza.
Sid's Bistro: Sid's Bistro is located in the main check-in building. We tried the chocolate Frappuccino, a muffin, and a coffee cake. It was all wonderful as we sat at a table in the courtyard.
The Hidden Juice Bar: You have got to visit the Fitness Center at Serenity Spa (3rd floor of the check-in building) to grab a protein shake. We had a custom-made chocolate, banana, and peanut butter shake. Wow. And while you are at it, schedule a message at the spa – the best part is the hand and foot massage (personally verified!).
Our Journey's End: Reflections on The Westgate Lakes Resort Orlando Fl
We found the Westgate Lakes Spa and Resort Orlando, Florida an excellent choice for travelers seeking a comfortable and laid back vacation. Its stunning location on Big Sand Lake, spacious accommodations, thoughtful amenities, and pet-friendliness – plus a very young water park – it's simply a one-stop resort – with everything you need at your fingertips. Overall, we highly recommend it and can't wait to return for another adventure.
Don't Miss Out on Our Other Westgate Resort Review
Westgate Town Center Resort – Another Orlando Option with Water Park: In addition to our Review of the Westgate Lakes Resort, we stayed at the Westgate Town Center Resort. Visiting the two properties was very helpful and gave us a great understanding of how Westgate goes above and beyond to make a special place to stay. Want more details? Check out our Review of the Westgate Town Center Resort.
RESERVATIONS
Westgate Lakes Resort & Spa