Beaches and Cream Disney World
One of our favorite places in Disney World to visit for an old-time Diner vibe, is the Beaches and Cream Disney Soda Shop. Located at the Disney Beach Club, it is situated nicely at the back of this resort and easily accessible from the neighboring Yacht Club Resort. As one of the best places to get ice cream in Disney World, Beaches & Cream is worth the visit.
What time is Beaches and Cream Open?
Open for Lunch and Dinner, you can get your fill of delicious food and desserts between 11 AM and 9 PM.
Nearby Resorts to the Disney Beaches & Cream
Dining at the Beaches and Cream Disney World Restaurant is available to everyone, even if you are not staying at the Beach Club Resort. Since there are so many connected Resorts off of Crescent Lake, staying at any of these Resorts puts you within walking distance of the Beaches & Cream Soda Shop.
Even if you are not staying at one of the resorts nearby, be sure to take the time to head over and get a great meal or some amazing ice cream treats. If you take your kids, they will want to visit every day you are in Orlando.
How to get to the Beaches and Cream Soda Shop?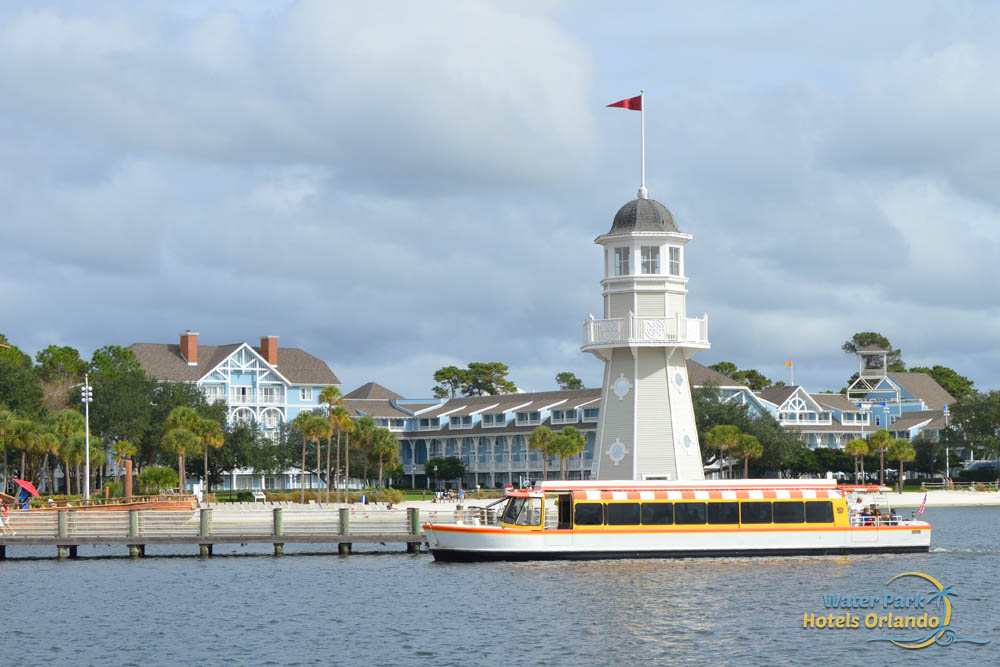 If you are staying at any of the Resorts on Crescent Lake, you can walk or take the water taxi to the Yacht Club pier and head over to Beaches and Cream. You will find the Beaches and Cream Restaurant behind the Stormalong Bay Water Park. If you are staying outside of this resort area, you can take Disney Transportation to the Beach Club or take the Skyliner to Epcot. From the Epcot World Showcase entrance/exit, a short walk will get you over to the Beach Club Resort where you will find the Beaches and Cream Shop. If you are visiting Hollywood Studios, you can also hop on the water taxi to the Yacht Club or take the Skyliner to the Epcot station.
Can I visit if I am not staying at a Disney World Resort?
Yes, you can certainly visit even if you are not staying at one of the Disney World Resorts. Most of the time, you can drive to the Disney Beach Club Resort and tell the security at the entrance that you are dining at the Beaches and Cream restaurant and they will let you through without a problem. You can also pay for parking at the Transportation and Ticket Center and catch a bus over to the Disney Beach Club and spend some time checking out all of the sights around Crescent Lake and enjoy a meal or dessert at the Beaches and Cream Ice Cream Shop.
Advanced Dining Reservations (ADR)
The Beaches and Cream Soda Shop went through an expansion in 2019 to accommodate more guests coming in. Although it is larger than it was, it is still recommended to get an Advanced Dining Reservation at least a few days if not weeks before visiting. This Soda Shop is very popular, and being in the center of so many resorts, it stays very busy. You can set up your Advanced Dining Reservations on the Disney MyExperience App or online at Disney World Online. Trust me, you will be glad you did.
What to expect when visiting?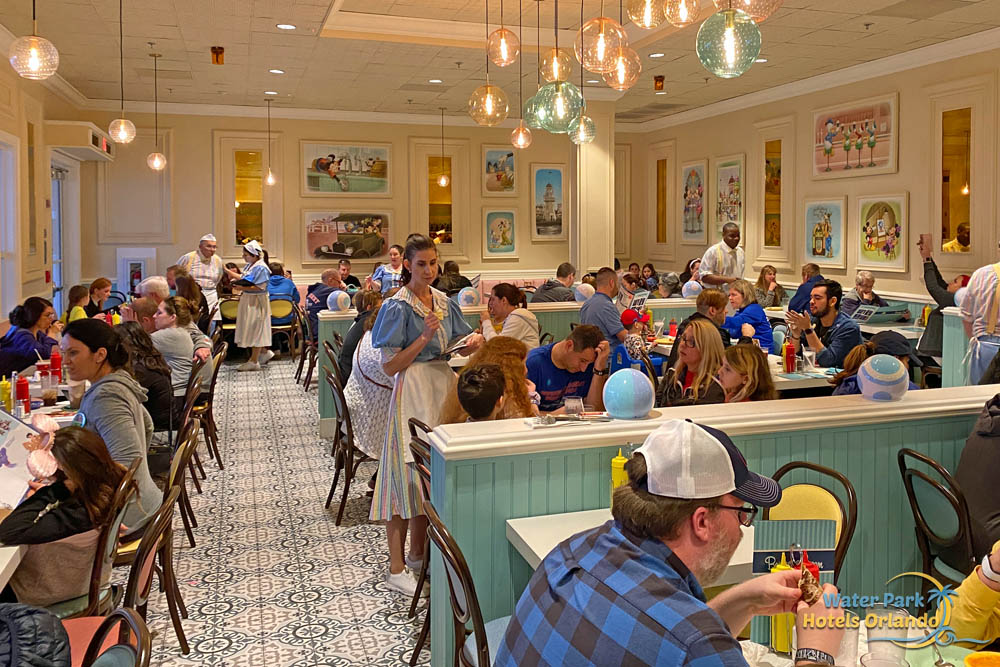 As you venture to the front of Beaches and Cream you will be greeted by a cast member checking guests in at the podium before entering the establishment. This is done to keep down on the crowding inside since the restaurant is not huge. As you make your way in, you will take a step back in time, to a 1950s Diner. The seating at the Soda Fountain bar, tables, and even colorful booths call out to you as you are taking to your seats to place your order.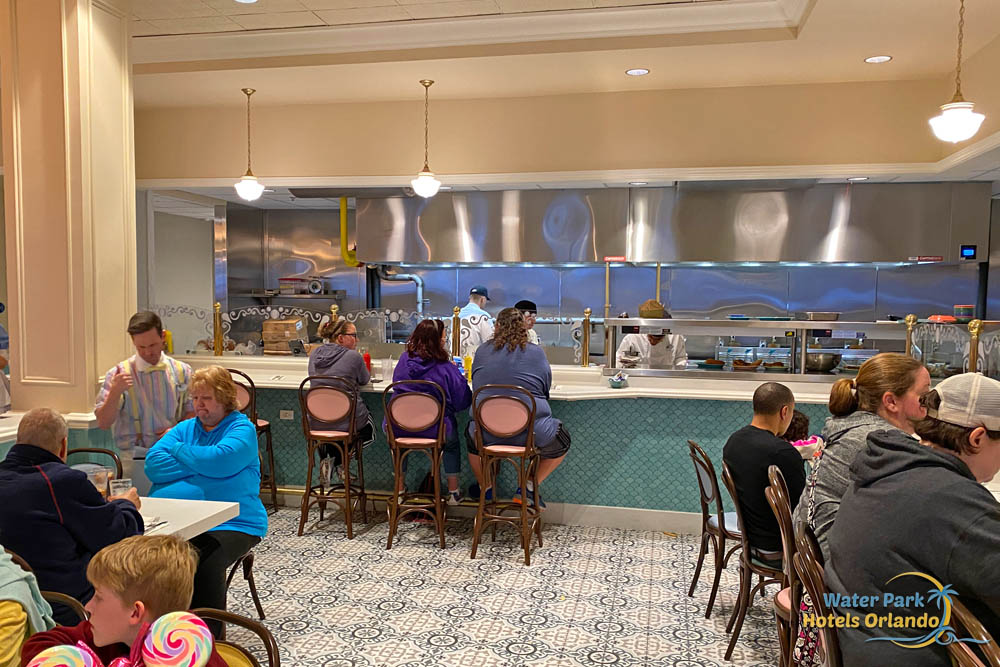 The colors are pastels to bring in that vibe of days gone by. The waitstaff is also decked out in period attire ready to give you a very memorable experience all the way around. Everywhere you look, you are treated as if you are a special guest in a very special place.
What is on the Menu at the Beaches and Cream Soda Shop?
Many guests stop by Beaches and Cream Disney World just for the incredible desserts, but there are so many other things to try. Entrees include items like an Angus Beef Burger, Grilled Cheese, French Dip Sandwich, and more. Add some delicious sides with Chili and Cheese Tots, Onion Rings, or French Fries and you have a great meal in front of you. But, the real treat comes when you get down to the Desserts. Amazing Malts and Shakes are a favorite among guests but the real treats start with the Sundaes. Most of the Sundaes are plenty for up to 2 people, these would include the Banana Split, Fudge Mud Slide, Snickers Sunday, and even the Old Fashioned Sundae. If you want something for your whole table, consider getting the Kitchen Sink. Check out the Full Menu on the Disney World Site.
What is so great about the Kitchen Sink Sundae?
First of all, the Kitchen Sink is not your typical Dessert. Oh no! When you order this Sundae, you should have at least 4 people ready to dig in. The large bowl is filled with 8 scoops of ice cream, brownies, snickers, and just about every topping available in the Soda Shop. Once this creation has been finished, lights go off in the restaurant and everyone's attention is focused on your dessert as they make a spectacle while bringing it to your table. It is a fun event and worth trying even if you can't finish it all.
Just in case you wanted to see all of the ingredients that go into this massive dessert, here is the list:
½ cup fudge topping
½ cup butterscotch topping
½ cup peanut butter topping
1 banana
1 cinnamon spice cupcake
1 angel food cupcake
2 scoops of vanilla ice cream
2 scoops of chocolate ice cream
2 scoops of strawberry ice cream
1 scoop of mint chocolate chip ice cream
1 scoop of coffee ice cream
3 tbsp chocolate syrup
¼ cup marshmallow crème
¼ cup strawberry topping
¼ cup pineapple topping
1 whole can of whipped topping (14 oz)
1 brownie
1 candy bar (2 ounce)
4 chocolate cookies with cream filling
1 tbsp sliced toasted almonds
1 tbsp dark and white chocolate shavings
1 tbsp chocolate cookies with cream filling
1 tbsp chopped jellied orange slices
1 tbsp milk chocolate chip morsels
1 tbsp peanut butter chip morsels
1 tbsp chocolate sprinkles
1 tbsp rainbow sprinkles
½ cup maraschino cherries
Does Beaches and Cream have a walk-up window?
Excitement overcomes you as you are walking to the Beaches and Cream Soda Shop. Just thinking about the various desserts makes you feel giddy inside. As you get to the entrance, you are asked if you have a reservation, it is at this point you are very thankful that the Beaches and Cream Soda Shop has a To-Go Window. The seating inside of the restaurant is limited but you can order any dessert you would like from the to-go window (except for the Kitchen Sink). Sit at one of the many tables that lines the back side of the Disney Beach Club overlooking the 3-Acre Water Park, Stormalong Bay. This is actually a preferred location for many people instead of sitting inside.