Are there many Water Park Hotels in Orlando?
It is important to understand that the number of Water Park Hotels Orlando offers are many, but not all of them are the same. So, let's start with the question; What makes a Water Park Hotel in Orlando? Some might be excited if the Hotel has a water slide or a lazy river. If so, there are even more options available, and we will look at those as well. To make our list of Hotels with a Water Park, the Hotel (or Resort) must have at least two (2) water park features. Water Parks features can include:
Water Slides
Lazy River
Kid's Splash Park
Wave Pool
Pool Area
Of course, most Hotels in Orlando have at least an Outdoor Pool, but we also like to see a variety of Water Park Features to call it a true Water Park Hotel.
Best Water Park Hotels in Orlando
Six Large Water Slides, Lazy River, and Kids Splash Park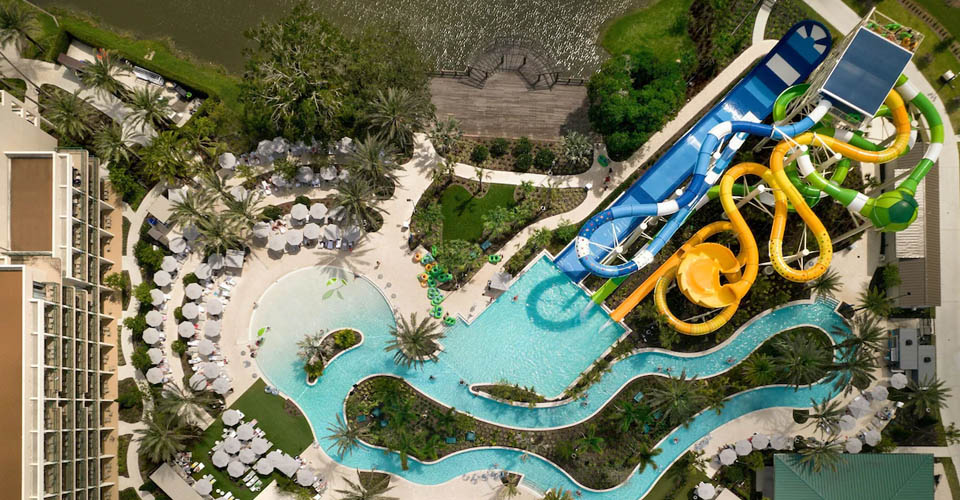 With the addition of the River Falls Water Park at the Orlando World Center Marriott in 2022, kids, teenagers, and adults can find something fun to do. Almost everyone enjoys a lazy river, and the long 575-foot slow floating river at the World Center Marriott adds relaxation to anyone's day. Slipping down one of the three (3) amazing water slides adds hours of fun. Relax by the huge Falls Oasis Resort pool on your comfortable lounge chair or rent a cabana for the day and add some additional pampering. The kids' splash area is located behind the Falls Resort pool with sprinklers and interactive water fun, as well as a small water slide for the little ones. Thrill seekers will want to head to the drop slide to the left of the lagoon pool. From this tower, you can experience a speed slide and two additional body water slides.
Check out more information on Orlando World Center Marriott Pool and Water Park.
Amazing Water Park Experience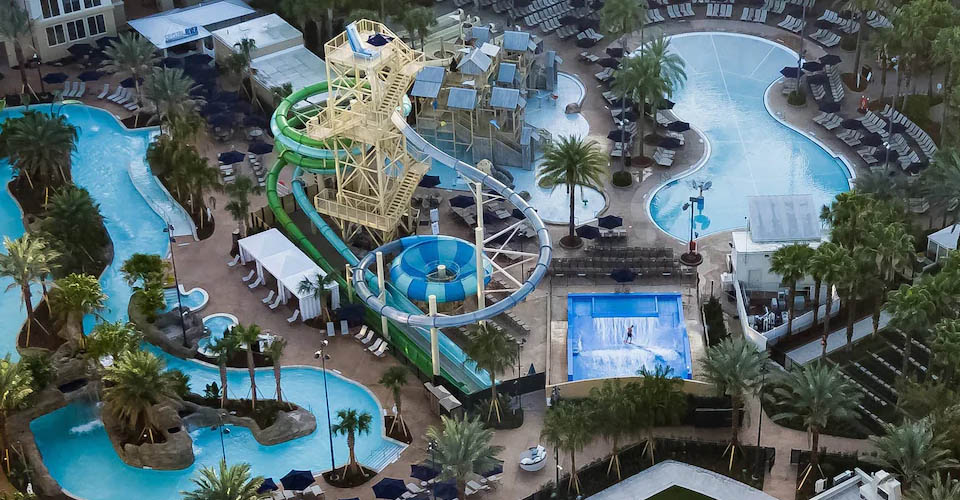 In 2021, the Gaylord Palms Resort Orlando expanded the already wonderful water park to include a lazy river and two (2) more enclosed water slides. This brought the total number of water slides to six (6), and guests love the addition of the 525-foot (approximate length) lazy river. Kids already had a fun area with the treehouse splash park. Zero-entry all around the treehouse helps with safety, and there are so many places to climb, walk through sprinklers and take on the water slides that extend from the tops of the structure. Looking for something different? Try out the Wake Zone, wave rider system. Enjoy your boogie board on an exhilarating stream of water constantly flowing beneath you. A large zero-entry pool with seating and cabanas is also available to have a more relaxed water stay at the Gaylord Palms.
Check out more information on Gaylord Palms Resort Water Park & Pool.
Long, 700 Foot Lazy River in Tropical Setting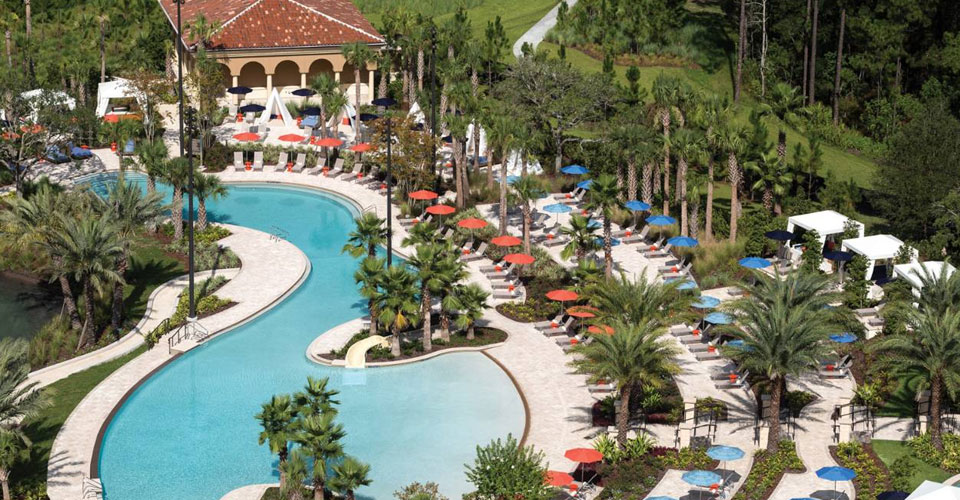 As one of only a few 5 Star Hotels in Orlando, the Four Seasons Disney World Resort stands out with multiple water park features. Guests love the 700-foot (approx. length) lazy river that floats through a beautiful landscape around the property. Two large water slides twist and turn from the top of "The Mansion". One of the water slides is an open flume, and the other is enclosed. Both water slides are body slides and do not require an inner tube. Smaller kids will enjoy frolicking in the massive splash zone with plenty of water fountains, spraying jets, and huge blasts of water from stone towers that shoot water up to 30′ in the air before it sprays everyone below. A large family pool is a great place to relax on your comfortable lounge chair or rent a cabana for the day for a more special time around the pool and water park.
Check out more information on Four Seasons Disney World.
695 Foot Lazy River, 2 Large Water Slides, Kids Splash Park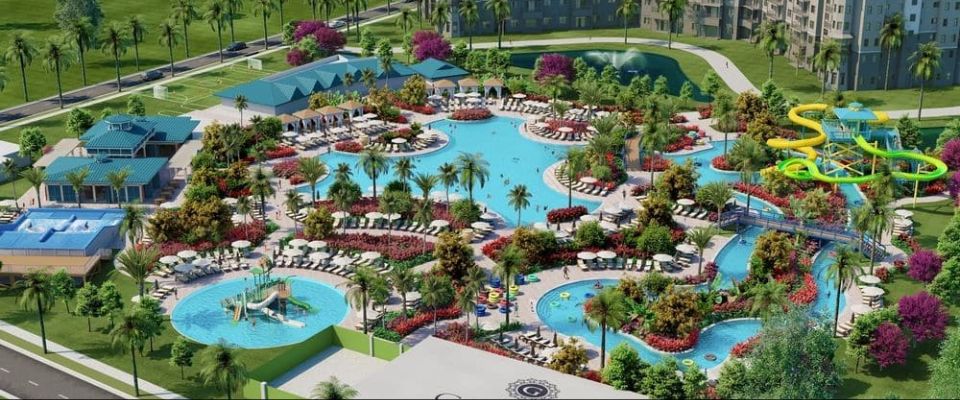 Grab a tube and float along the 695-foot lazy river or zip along through the two large water slides at the top of the tall tower. Water Park fun is a wonderful family adventure at The Grove Resort Orlando. Thrill seekers might want to give the Flowrider a try. Flowrider is a unique experience where water is thrust beneath you as you ride a boogie board or work on your surfing skills. It might cost a little extra to ride the Flowrider, but it is a fun test of your water-riding skills. Smaller kids will have a real blast at the kid's splash park. With a couple of different levels, kids will love climbing around and sliding down the three (3) small water slides made just for them. Zero entry and shallow water make this space a safer area as your child splashes around under the many sprinklers and water fountains. Relaxation is also part of the fun, with the huge pool offering multiple zero-entry points, plenty of lounge chairs, and cabanas for rent if you really want to be taken care of for the day.
Check out more information on The Grove Resort Orlando Surfari Waterpark.
850 Foot Lazy River, Large Water Slides, Kids Splash Park & a Wave Pool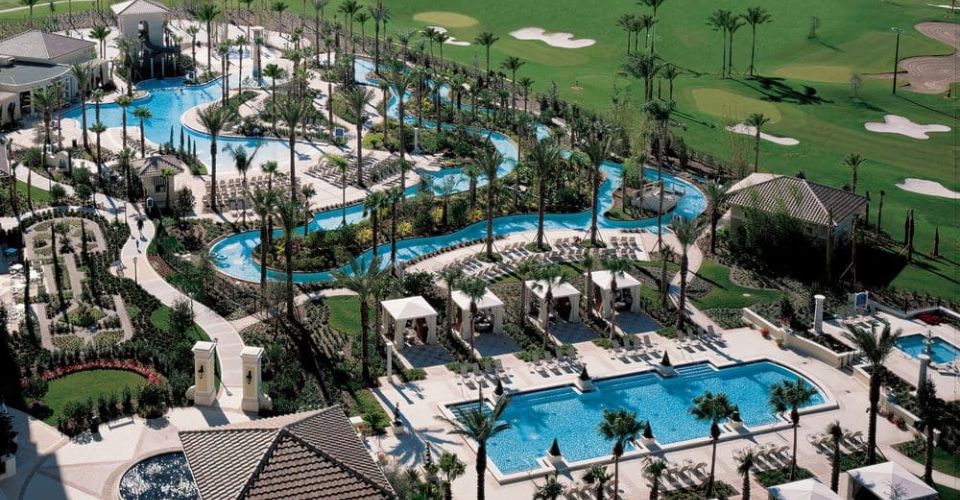 Floating along on one of the longest Water Park Hotel Lazy Rivers in Orlando, this 850 foot long river helps to take your cares away from every day living. Lush grounds and tall trees make you forget about everything else, and it is so relaxing to sit in your tube and float along. More thrilling fun is close by with a large, 125-foot enclosed corkscrew water slide at the main family pool. What will really grab your attention is the Wave Pool with over 131,000 gallons of the wave, rumbling action. It is not often you will find a wave pool at a Hotel, but the Omni Orlando at Champions Gate has you covered in this area. Bob along in the waves and take in the Florida sun at this great water park. Kids also have their area with shallow water, spraying fountains, and multiple small water slides. There is truly something for each age at the Omni Chapionsgate.
Check out more information on Omni Orlando at ChampionsGate Water Park.
Do any of the Disney Resorts have a Water Park?
When you think of Orlando, it might be good to know what Disney Resorts offer Water Parks and Water Park features. Disney Resorts have amazing themes and the Pools are wonderful as well. Let's take a closer look at the options you will find if you decide to stay at one of the Disney World Resorts.
What about the Universal Orlando Resorts with Water Parks?
Disney is great but so is Universal Orlando. Rivals to the Disney Experience, Universal Orlando has some great theme parks, water parks and amazing themed hotels. Booking one of the Universal Orlando Resorts with Water Slides or Universal Resort with a Lazy River certainly adds to the fun of your trip. There is another option to consider and that is, what Resorts are close to the Volcano Bay Water Park? While not essential, being able to walk to Volcano Bay from your resort is a neat experience. No matter which resort you book at Universal Orlando, you will get free transportation to the full Water Park Volcano Bay.
So many choices
Finding that perfect Water Park Hotel in Orlando might seem difficult, but breaking down what makes your trip exciting for you is what really matters. If you have younger kids, finding a Hotel with kids splash park might be the most important thing to look for. Teenagers might be more interested in the larger water slides and lazy river. If you are heading out on a romantic adventure for two (2), quiet spaces along with the fun environment might match what you are looking for.
Our Water Park Category Criteria
Understanding the criteria that are used to place a property in the Orlando Hotels with a Water Park is important. While most of the resorts will not have all of the features that a full water park has, many have a couple of features that really make them stand out from the other Hotels in Orlando. Finding Orlando Hotels with water features like these are a great find.
Water Slides
Lazy River
Zero-Entry Access
Wave Pool
Hot Tubs
Kid's Water Playground
As an added bonus, you might find that some of these hotels have additional fun water amenities on the water and not just in the water. These can include Water Sports like;
Waverunners
Canoes
Pontoon Boats
Paddleboats
Hotels listed with a Water Park (on our site), offer at least a couple of these features. After looking at the options available, we are hopeful that you can find that perfect place to fit your next Orlando getaway.
Other Hotels in Orlando you might consider
We understand that Hotels in Orlando with a Water Park might add to the cost of your stay. If you cannot find exactly what you are looking for in these Hotels, here are a few other options to look at.
It is also good to understand that some of these properties will show up in the Water Park Hotels in Orlando section as well. That is because the water park hotels offer each of these water amenities.
It takes some time to find the right Water Park Hotel in Orlando
It is worth the time to investigate all of your options. Be sure to look at all of the properties that catch your eye and compare the features they have.
Please Note:
Although the information for the hotels provided was correct when added, it is important to check on the latest information when booking.
View All Resorts in Orlando with Water Parks